Sam Allardyce has done it again; worked his magic at a lowly, troubled club, brought a camaraderie to a side once bereft of confidence and given his players the opportunity to express themselves as footballers.
Anybody can beat anybody
Sunderland have just evaded relegation for the fifth time in five Premier League seasons, this time with Allardyce in charge and it's pretty much down to Big Sam's modern psychological approach to football that has got Sunderland fans' ambitions for next season to soaring heights.
In an amazing run of form, where the Black Cats were defeated just once in their last 11 games, the team was almost unrecognisable from the side under Dick Advocaat.
Sunderland now have players who appear to feel passionate about the club, with Jermain Defoe in tears after the victory over Chelsea, and Younes Kaboul, a man who was once quoted as saying "I wouldn't join Sunderland, even if there was an earthquake", unable to contain his emotion once survival was confirmed against Everton.
Club legend Niall Quinn once said: "I learned my trade at Arsenal, became a footballer at Manchester City, but Sunderland got under my skin... I love Sunderland".
Is it possible, in this day and age of money and greed, that the same can happen in today's football world? It would appear so, especially now Allardyce has the entire team rooting for each other.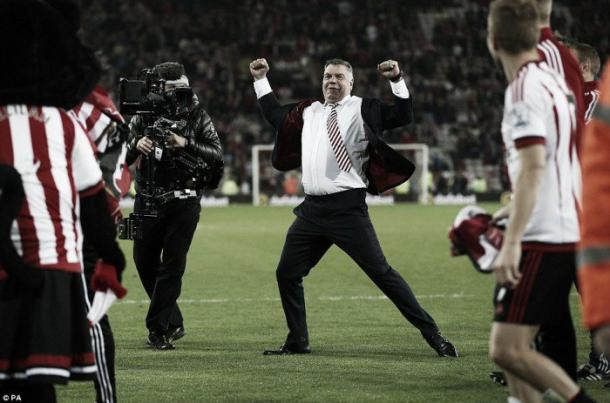 Emulating Leicester is unrealistic
Of course, it has been proven this year that any one team can beat anybody on their day in the Premier League - see Leicester City for example, and it is no different to the sides lingering close to the bottom of the highest tier of English football this season.
The Mackems are aware that their side are unlikely to repeat the feat of the Foxes next season, but who's to say if Sunderland can start the next season the way they ended this one, they will not be able to climb the league, and finish in a solid league position for the first time since Steve Bruce was in charge?
The feeling around the Stadium of Light, and inside the Academy of Light, is one of ambition, elation and the feeling that "something special is just around the corner", quoting the views of one fan, showing his child the brick he purchased in the wall of the Stadium itself a few days after his birth.
Lifetime of misery
If you are a Sunderland fan and have been for more than 15 years or so, you'll be very aware that 'something special' rarely happens in the North East these days, and that belief garnered at the beginning of the season usually wanes from the first kick-off in August, where the side in red and white are, more often than not, defeated.
It is the general consensus around Sunderland, that if you bring up your offspring to support the Lads, then you are setting them up for a 'lifetime of misery'. After the false dawns of the past 10 years they have had to endure, even the most pessimistic fan can find nothing bad to say about their side's recent performances, especially that of Allardyce's astute signings in the winter transfer window.
An inside joke at the club at the minute is that the Sunderland are busy going through an alphabetised encyclopedia of footballers, and Big Sam is onto the letter 'K'. Having signed Wahbi Khazri, Jan Kirchhoff and Lamine Kone - three players who have been instrumental in their survival push - fans will be hoping that the gaffer can continue his astute business in the summer transfer window and perhaps move some players on.
Hearts on sleeves
It has been made abundantly clear by Sunderland supporter that they will not tolerate players who lack respect for their club or its history, and they have made it quite clear to some that they're not welcome back - see Darren Bent and Jack Colback, for example.
All Sunderland fans have ever asked for are players who wear their hearts on their sleeves, such as Kevin Ball and John Kay. They don't have to be world-beaters, they don't have to have ridiculous levels of skill, all the fans want is emotion and the willingness to run themselves into the ground.
Sam Allardyce believes he can emulate the success Peter Reid had at the helm of the club, and with a bit of quality and guile added to this current squad in the transfer window, who's to say he can't?