Now that the dust has settled on yet another tense finish to a Premier League season for Sunderland, the time has come for fans and staff alike to look forward to the upcoming season and what it may hold in store for the club.
With the transfer window nearing closer, clubs are beginning to make moves into the market and Sam Allardyce will be no different, even if there has been little news regarding Sunderland as of this moment.
One thing that will be firmly on the minds of Allardyce and his coaching staff, is the goalkeeping situation at the club, with Vito Mannone and Jordan Pickford both looking to cement their place as the club's number one goalkeeper for the 2016/17 season.
Pickford has 'a big future' at club and international level
Both aforementioned keepers were out of the first-team picture at the beginning of the season, with Costel Pantilimon handed the starting spot as Mannone remained on the bench, whilst Pickford was sent out on a season long loan to Preston North End.
In January however Pantilimon was sold to Watford, leading to Pickford being recalled by Allardyce and used as an understudy to Mannone for much of the campaign, as the Italian regained his confidence and became an important player for his side during the relegation run-in.
Pickford impressed in his three first-team appearances last season in away games against Arsenal, Tottenham and Watford respectively, despite not being on the winning side in any of these matches. He did impress his manager enough to earn a new contract, signing a four year deal in January that keeps him at the club until 2020.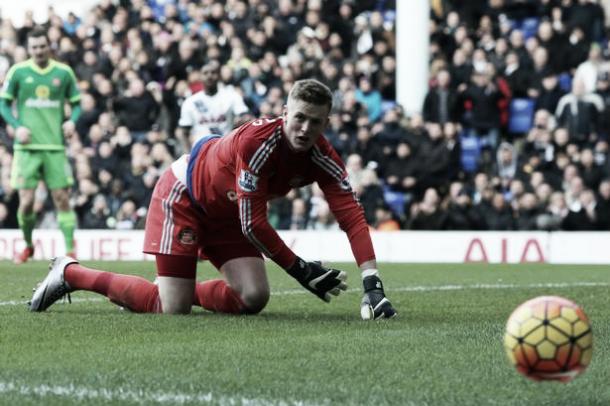 Mannone himself told The Chronicle back in February that his Washington-born colleague "has got a big future", and whilst still playing for the Black Cats, keeper Pantilimon admitted that 22-year old Pickford "is the future for England and this club".
Has the future become the present?
But has the future come earlier for Pickford than his colleagues expected?
Whilst out on loan at Preston earlier in the season, Pickford played 24 games for the club and kept an impressive 12 clean sheets, leading to him becoming a key player for the Lilywhites, who sat in 17th place at the turn of the year.
One thing that he has been commended for during his career so far and something that he possesses over Mannone is his distribution. Pickford is able to clear three quarters of the pitch with one kick, and as seen when he assisted Nathan Redmond from inside his own box whilst playing for England Under 21's against Kazakhstan, it is not just an aimless punt.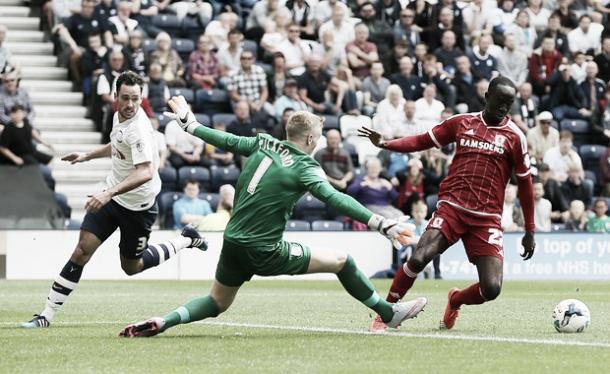 With an average distribution length of 61 metres according to Squawka, his kicks travel 16 metres further on average than those of Mannone, although the Italian has slightly more accurate distribution with a 46% completion rate compared to Pickford's 39%.
Pickford betters Mannone in the punches and catches department, with 3.63 catches per game compared to Mannone's 3.58, and 0.87 punches per game compared to Mannone's 0.63.
What this shows is that Pickford commands his area with slightly more confidence than his colleague, which is something that Allardyce may value if he looks to set his side up to hit teams on the counter as he did last season.
The huge difference in distribution length and command of the 18-yard area could see Allardyce hand the number one shirt to the Sunderland academy product over Mannone, as this would get counter attacks underway very quickly and would make Pickford a tool in assisting goals and not just preventing them.
Tough decision to be made
At 28 years of age however, Mannone will not want to warm the bench for another season, having already done so when he was dropped by Gus Poyet after conceding 10 goals in two games against Southampton and Arsenal in the 2014/15 season, and may look to leave the club if he feels his chances of first-team football are close to zero.
There is no doubt that Allardyce certainly has a decision to make, and will upset someone whatever he decides to do, which is part and parcel of football management.
Pickford would perhaps be the more popular choice with fans however, as he is a Sunderland fan and has been at the club since he was eight years old, and would represent a success for the academy having come through the ranks at both club and international level.