After a fantastic season saw him score 18 goals in all competitions, it can easily be argued that the performances of Jermain Defoe kept Sunderland afloat last season and it came as no surprise to anyone that the club wanted to keep ahold of him for the future. Sunderland's star striker signed a three-year extension that will potentially see him finish his career with the Black Cats, and the news continues what has been a positive post-season for the club.
Sam Allardyce is working hard on building his side ahead of the new campaign to ensure Sunderland are not involved in another relegation scrap, and Defoe is very happy to be playing such an important role in his plans.
Happy to stay
Defoe claimed he was "delighted" to stay at the club which has made him feel "at home as a player" making it a simple decision for him to re-sign with the club. After such a season a new deal was always going to at least be offered, but Defoe admitted he wanted to be "offered a new deal", which shows his passion for the team.
Whilst some may point out that Defoe (33) is no longer at his peak and is winding down his career, 18 goals in his first "full season" with Sunderland would quickly counter that debate and the fact that Allardyce has claimed he is a "young 33" shows that his manager isn't concerned by his age. Defoe has always "looked after" himself to make sure he stays fit enough to play at the highest level and Defoe thinks he showed that with his "performances" last season.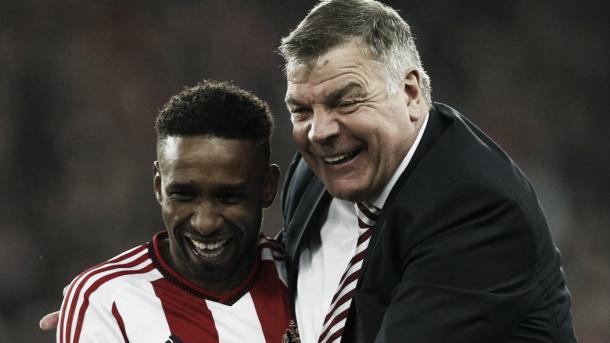 Confident for next season
Defoe is ready for the new season following the disappointment of missing out on an England call-up and has already set himself "challenges" for the new campaign which Sunderland fans will be hoping see's him find the back of the net consistently once again.
He has been encouraged by the work of Big Sam since he joined the club and credits the "good signings" made in January for the "strong" finish they had to the season and he thinks that playing under "this manager" Sunderland can have a "good season" next year and Defoe resigning is without doubt a positive start.