While all eyes around the footballing community are on the UEFA European Championships currently taking place in France, one player is flying the flag for Sunderland, former midfielder Jordan Henderson.
Born in Farringdon, Henderson's hungry for success worked his way to the top. Nw 25, the midfielder showcases his talent wearing the Liverpool shirt and was given the honour of captaincy.
Joining the Black Cats aged eight before starting to rise through the clubs youth system, the hard work and dedication paid off when he made his first team debut at Chelsea in 2008.
With Henderson's inclusion in Roy Hodgson's 23-man squad for the Euros, has lifted his desires and passion after the unfortunate event of injury to keep from the last set of games at the back end of last season; although he has yet to be in the starting line-up for England.
However, with injury comes with the worry of fitness and form, but every time Henderson comes back from injury he is better than ever so he shouldn't have any problems getting back into the England squad.
The Euros always brings big expectations and mass media attention, Henderson has kept his head out of the cloud and kept his ego firmly intact which was a lifestyle laid out for him on his first day he walked into Sunderland AFC.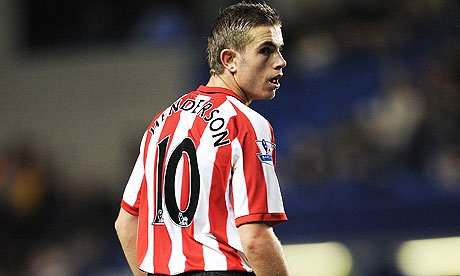 Discipline is the key
Having Kevin Ball at the realm of the academy back in the day was all about discipline drilling it into the future stars of football, which continues to this day: "Bally was really, really heavy on certain things and that made it hard but he drilled it into you and that was important."
He continued, saying the "discipline side of it was massive" and admitted "it is huge" for himself, as he has seen "a lot of good players and talented players" that lacked the discipline and "the right attitude" fall away from "playing football anymore".
His time at the academy "was great" but it wasn't all plain sailing, getting a minute to impress is hard enough so luck had to play a massive part. But when he did finally get his moment, it was something special although it didn't reflect in the score-line.
Roy Keane was the manager to give the future super star the moment to shine and it came as an un-expectant surprise
"Roy Keane was the manager and at half-time at Chelsea he told me to go out and warm up," Henderson said. "He told me I was coming on and while it wasn't great because we lost 5-0, just to get flung in at the deep end was a great experience," he reflected.
It was a dream come true for the former Sunderland man to be able to play "for the first team at the Stadium of Light", to be able to get a "feel" and experience playing in the Premier League.