Sunderland AFC striker, Jermain Defoe, has said that the atmosphere during the Black Cats 3-2 win over Chelsea, was the best he has experienced in his career.
Crucial victory
​​Sunderland went into the clash at the Stadium of Light with Guus Hiddink's side, in desperate need of three points, to aid in their Premier League survival push.
It didn't look to be heading that way as first-half goals from Diego Costa and Nemanja Matic, had canceled out Whabi Khazri's equaliser.
However goals from Fabio Borini and Defoe secured a victory, and Defoe said that the atmosphere from that game, was the best he has experienced.
He told The Chronicle that it was the "best" and "beyond the Premier League" which he said many would say is the "best league in the world" with the "best fans" but said on that day the stadium was "electric."
Defoe continued saying that the fans "turn up in numbers" week in, week out and said that he has told "close friends and family" that no matter "how the season has gone" or the team haven't "played well" that the fans "always come back the next week." ​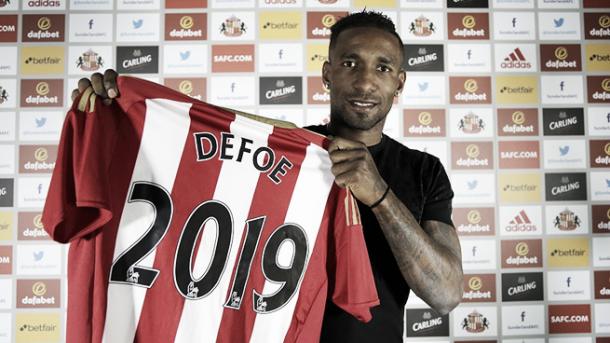 Extending his stay
​Defoe was Sunderland's star player last season, with his 15 league goals been crucial in their eventual survival, and his importance saw him extend his stay at the club with a new contract which will see him stay on Wearside until 2019, and shared his delight at extending his stay.
Defoe told Sky Sport News HQ that he was "delighted" as since he "walked into the football club" he has received "nothing but love" from "people inside the club" and the "special fans".
He continued saying that when you come to Sunderland "as a player" and "experience" the atmosphere as a player, Defoe said that you want "more and more."
Sunderland AFC will take on Hartlepool United at Victoria Park on Wednesday, July 20 with kick-off at 7:30pm BST.