Sunderland and Republic of Ireland captain, John O'Shea, has played down suggestions of international retirement after Ireland's 2-1 defeat to France.
Luck ran out
Martin O'Neill's side were in dreamland after Robbie Brady fired home from the penalty spot after two minutes. However, a brace from Atletico Madrid's Antoine Griezmann sealed their exit.
O'Shea made two starts in France, and was a late substitute on Sunday after Shane Duffy's dismissal, and the 35-year-old, along with Shay Given and Robbie Keane, are expected to call time on their international career.
When asked about his plans after the defeat to Didier Deschamps side, O'Shea decided to focus on his country's achievements.
He said that he will not "get involved in that" but enjoy some time with a "special group of players" and "special backroom staff" and "coaching staff."
O'Shea continued saying that they will "reflect on some positive things" and things they can "improve on going forward" but admitted that they will have to "wait and see."
Talking about Duffy's dismissal, he said that it was "so unfortunate" for Duffy as he was "playing so well" and had to "take that chance" as it would have been the "end of it" if Griezmann had scored a third.
O'Shea continued that he took the card "for the team" as they were still "plugging away" and trying to "get that equaliser" but said that he was "so proud" of everyone involved.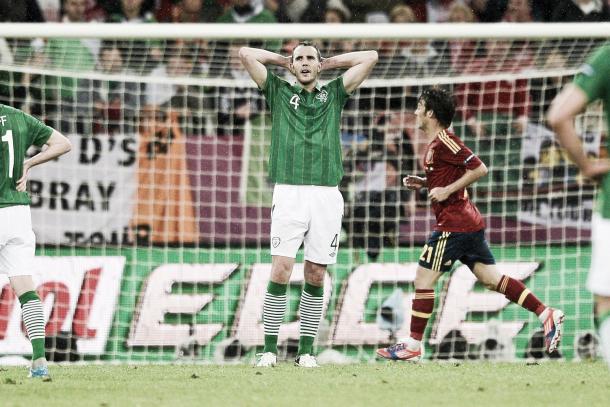 Massive improvement
Ireland's performance in France was a massive improvement on the previous tournament back in 2012, where they failed to win - scoring one and conceding nine. But O'Shea said that it can't be compared to their previous performance.
O'Shea said that there was "no comparison" and that it was "special moment" when the players showed their "appreciation" for the fans at full time.
He continued saying that it is something the players are "fully involved with" as the fans had the "team" the "players" and the "staff" to be "proud of."
Sunderland AFC will take on Hartlepool United at Victoria Park, on Wednesday, July 20 with kick-off at 7:30pm BST.