Sunderland striker Jermain Defoe has backed manager Sam Allardyce for the newly-vacant England post following Roy Hodsgon's decision to resign, though says he should also remain on Tyneside.
It has come as no surprise to anyone that Allardyce has emerged as a contender for the role. Allardyce has the experience and is a well-respected manager in the game with the only stopping block seemingly coming from his current job at the Black Cats.
Allardyce has been the boss at the Wearside club for less than a year and after helping them avoid relegation, he made it very clear that he wants to try and help steer the club away from the bottom of the league. But that was before a dream England job became available.
Defoe was Allardyce's star player during last season and the Englishman believes Allardyce would make a great choice for the national team job, but hopes he could balance it with his Sunderland duties at the same time.
Two jobs at once
Last season, Sunderland were saved by both Defoe's goals and Allardyce's fantastic management, which has left the striker hoping that Big Sam will stick around to continue the work he has only just started.
Defoe admitted that he "obviously" hopes Allardyce "stays at Sunderland" but he also proposed that potentially his manager could perform "both roles" at the same time.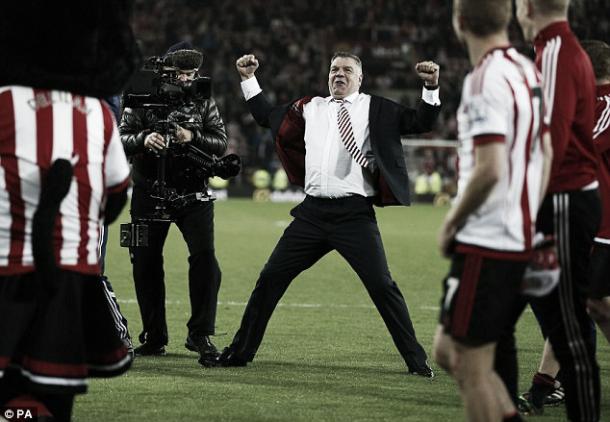 Whilst that is something the FA will be unlikely to go for, it is certainly a possibility given the lack of establish competition for the role.
Allardyce certainly has the knowledge to manage his time correctly to balance both jobs should he want to, but the worry would be that he couldn't commit 100 per cent to either job as his responsibilities would always be split.
It is clear from the way he talks about Allardyce that Defoe is a big fan of his work and has plenty of respect for his boss. The striker declared that Allardyce "didn't complicate things" when he arrived at the club, which helped them to survive against the odds.
He also revealed that Big Sam told his squad that he didn't care about how they played as long as "we win," a mentality that England certainly lacked in the Euros as they crashed out to Iceland in the last 16 earlier this week.