Two of Sunderland's players had a very different round of 16 feeling with one - Emanuele Giaccherini - making his way into the Quarter-Finals whilst the other - John O'Shea - found himself on a plane back home to prepare for the season ahead.
Giaccherini's Italy triumphed over Spain in a confident and dominant fashion as they continued to look like one of the tournament's best teams, whilst O'Shea's Republic of Ireland crashed out at the hands of the host nation, France. Both men have played vital roles for their countries during this year's European Championship, yet both have very different roles at Sunderland.
O'Shea has been a regular in the Black Cats side ever since joining the club, captaining them to safety this season, whilst Giaccherini didn't kick a ball in Wearside as he was on loan away at Bologna after struggling to ever make an impact since moving in 2013. However, both men have performed brilliantly during Euro 2016 for their respective nations, especially Giaccherini as he is currently putting in some of the best performances of his career in a tournament that could define Italy's capabilities as Antonio Conte signs off as manager.
Italian success
It has been an amazing tournament for Italy so far. Having come in with very few expectations, people have been surprised by the Azzurri and the convincing manner that they have played in with Sunderland's Giaccherini being one of the standout players in the squad. A player that Sam Allardyce is rumoured to not be interested in at this point, he has impressed with his work rate and abilities.
So much so that Italy manager, Conte has, according to rumours, become interested in bringing him to Chelsea as one of his first official signings for the club. Today Giaccherini's agent claimed that he will "Fly to Chelsea" if Conte calls at the end of the Euros. It is clear that Giaccherini is having a fantastic tournament and with a Quarter-Final now around the corner against Germany he has the chance to continue his Summer success in a big to impress other managers if Allardyce doesn't show any interest, but at this point, Sunderland may want to keep him.
Retirement around the corner for O'Shea?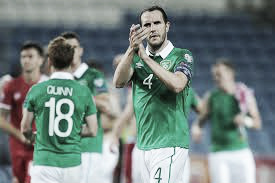 O'Shea's time in the Euros has come to an end despite a fantastic effort against France, who had too much for Ireland to cope with as two well-taken goals from Antoine Griezmann dealt the fatal blows that knocked out his side. Since then, questions have rung regarding his International future with retirement whispers growing louder and louder but he has quickly played down those rumours.
He has now returned home and will begin his preparations for next season as he hopes to lead Sunderland to a more successful season.