Sunderland under-18 academy player, Dan Pybus is savouring the step-up to the club's under-21 squad with one beady eye on the dream of the call-up to the first team.
The young midfielder – can also play up front undeniably well – scored 15 goals in his 23 appearances last season in the red and white kit.
Hard training session is vital
Speaking to safc.com, the club's official website, Pybus spoke about his Cinderella dream come true once he got the orders to start pre-season training with the older group.
With his first few sessions already done, he said they were "tough" with the number of "different tests and the yo-yo especially" proving especially tough. However, as time goes on, fitness levels will start to improve ready for the future ahead.
The England under-16 player says he is already looking at another stage in the development plan, with "one more changing room to go"; that of Sam Allardyce's first team squad.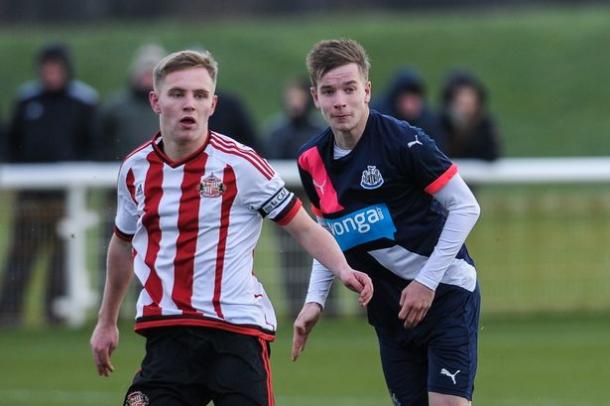 Potential future top goal scorer
Having such a great season last year, and hitting "double figures" shows he is already a proven goal scorer for the under-18 side.
Over the last three seasons' Pybus has scored 15 goals. However, going to the big time could possibly see fewer goals from the youngster.
"Scoring goals from midfield is what I want to do," he said. Pybus admits hitting 10+ goals is "definitely" an aim, but recognisies he "need[s] to be getting in the team" first.
Pybus added: "Pre-season is a really important time because it sets you up and gives you the best preparation for the season ahead."
"I have been around the Under-18s changing room for a few years now," the youngster added.
He says it is "good" to have a move to "the other side of the building", before going back to his comments about the move to the first-team.