Vito Mannone followed in the footsteps of Jermaine Defoe and Patrick van Aanholt yesterday and agreed a new deal, tying him down to 2018.
The 28-year-old played a key role in Sunderland's Great Escape after having a tough time in the previous season. However, the keeper has overcome his omission from the team and expressed his delight at signing a new deal.
Mannone deserving of an extension
He said, "I'm really pleased. What a way to start the season."
Mannone described it as a "massive boost" for him and his family, continuing "we love it here. I love the club and the fans, so it's a great deal for me."
He admitted he has had "to fight hard in the past" going through "up and downs", explaining it is a "great achievement" to put pen to paper.
He added, "Hopefully we can have a great season ahead of us."
The Italian acknowledged the three years he'd spent at the club and admitted that he'd "enjoyed" his football on Wearside.
Mannone continued, "During your holidays, you obviously enjoy your family time, but it's always in the back of your mind of missing football."
He feels players "miss the games", which is "especially" prominent after a team has "done well towards the end of the season".
He concluded, "I'm glad to be back and I can't wait to get going."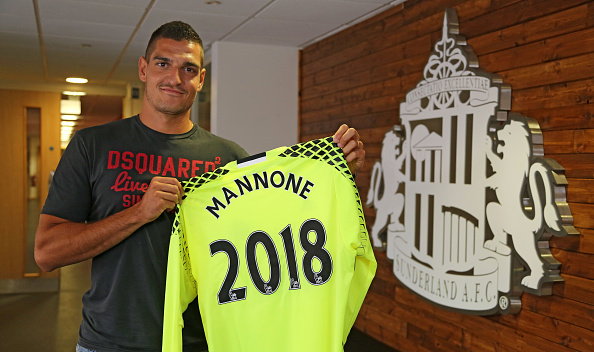 Pre-season starts
Mannone and his team mates returned to the Academy of Light yesterday in order to prepare for pre-season.
The Sunderland players are like to be in high spirits following last season's last-gasp drama where they secured Premier League safety and relegated rivals Newcastle United whilst doing so.
It is unclear whether Mannone will play second fiddle to up and coming star Jordan Pickford, however, the new deal suggests he will be number one.
The former Arsenal fan enjoyed a successful first season on Wearside and was a heroic figure in the club's road to Wembley. He became Sunderland's shootout hero in their semi-final at Old Trafford, so much so that the Sunderland fans coined their own chant for the keeper.
Though, he fell out of favour after hitting poor form following the club's 8-0 loss at Southampton which undoubtedly knocked his confidence. That said, following Costel Pantilimon's departure to Watford, Mannone hit form again and helped Sunderland secure top flight football.