Sunderland youngster Tommy Robson, is relishing his chance with the first-team as he joins them for their pre-season camp in Austria.
Big opportunities
​The 20-year-old made his breakthrough with the senior side at the end of last season, making his debut alongside fellow newbies - Rees Greenwood and George Honeyman - in the 2-2 draw with Watford.
His progression has been rewarded with a place on the pre-season trip to Austria. The first-team are been through their paces, and Robson is loving the opportunity that has been handed to him.
He told safc.com "it's been really, really good", that he has been "enjoying the training" and the "sessions are a real good workout" for the side.
Robson concluded "It's really intense out there", and believes the "training games are harder than the actual running in that heat".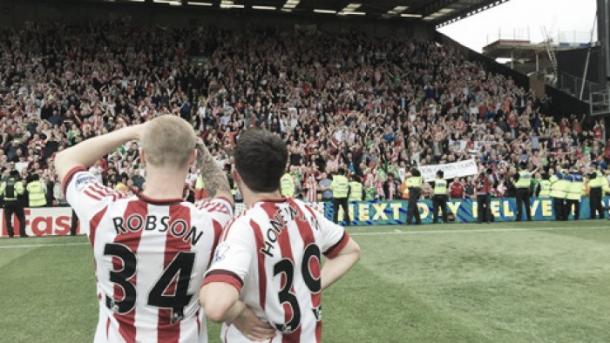 Young revolution
Robson is one of a handful of talented youngsters currently coming through on Wearside. Robson has been joined on the trip by the likes of Lynden Gooch, Josh Robson, Max Stryjek, Ethan Robson and Josh Maja, and believes that it is positive to have so many youngsters there.
Robson said he feels it is "going really well" adding "all the players have made [him] feel comfortable" and he has been "made to feel welcome".
He concluded that it is "also good that there are a lot of young lads here on this trip" and players he has "come up through the ranks with".
He believes it is "nice for us all to be able to work together" with the "senior players and experience it all", before stating the "main aim of this trip is to build fitness and after the first couple of session you can already feel it".
Sunderland AFC will take on Hartlepool United at Victoria Park on Wednesday, July 20 with kick-off at 7:30pm BST.