With Sunderland's pre-season schedule now underway in Austria, fans can begin to count down the days until the first game of the new Premier League season against Manchester City on August 13.
This season's pre-season schedule takes the Black Cats on a tour of Austria and France, with matches against Stade Nyonnais, Dijon, Montpellier and Borussia Dortmund confirmed to be taking place in the aforementioned countries.
Further matches against Hartlepool United and Rotherham United will also take place on home soil, as manager Sam Allardyce looks to prepare his side correctly for the season ahead, something that seems to have been a problem in recent years for Sunderland.
Slow starts a consequence of globe trotting pre-season schedule
Last season the club jetted off to the United States, Canada and Germany, with the sheer amount of distance the team travelled for mere friendlies seen as a contributing factor to the shocking start to the 2015/16 Premier League season that left Dick Advocaat's men winless after nine games.
Their fortunes were turned around after Christmas, with only four losses coming in 2016 compared to a staggering 13 in 2015, something that has become a theme for the Wearsiders in recent seasons and has led to various dramatic escapes from relegation in the final weeks of the season.
Allardyce's men will travel a total of 1,679 miles during their pre-season schedule, with only Hull, Everton, Southampton, Middlesbrough and Watford clocking in a lower amount of miles out of all 20 Premier League clubs.
When you consider that last season's schedule saw Sunderland travel 11,650 miles in total, it comes as no surprise that players seemed as if they had been ferried around the globe for marketing purposes rather than ensuring that they were fit and ready for the season opener against Leicester, a game that saw the eventual champions outclass Advocaat's side who looked well and truly lost out on the pitch at the King Power Stadium.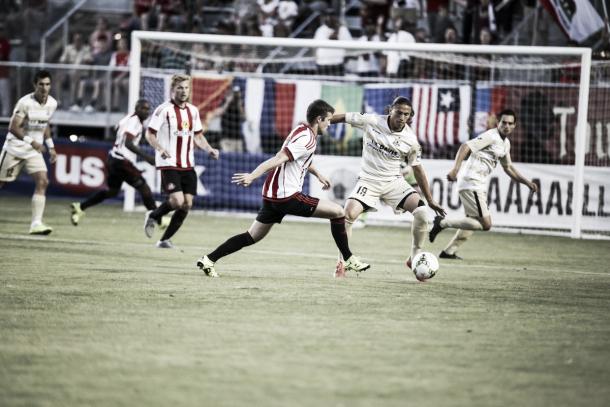 Patrick van Aanholt and Lee Cattermole seemed to suffer from the lack of preparation the most in the first half of the season, with the former seen out of position countless times and the latter left chasing the shadows of players much fitter than himself.
It came as no surprise that when Allardyce took over from Advocaat in October, he found a team not only short on confidence but desperately lacking fitness, with the statistics showing that Sunderland were the most unfit side in the Premier League.
The blame cannot be solely contributed to pre-season, as there were undoubtedly other factors at play in their dreadful start to the season, but why the higher ups at the club saw fit to send the club to the other side of the globe for a few non-competitive games when fitness should have been the main concern remains unknown to many.
In addition to the sheer miles travelled, the opposition that the club chose to face whilst abroad was questionable to say the least. Arguably the strongest side they faced in pre-season was Hannover 96, a side who would go on to finish rock bottom of the Bundesliga with a gap of 11 points seperating them from the relegation play-off spot.
Established opposition provides a more stern test
Managers are quick to address that results are meaningless in pre-season and that it is all about building fitness, the only problem with Sunderland's preparation last season being that they were able to lose to opposition such as Doncaster Rovers, Mexican top-flight side C.F. Pachuca and American third division side Sacramento Republic whilst building zero fitness at the same time.
This time around the club have arranged games against teams such as Borussia Dortmund and Ligue 1 side Montpellier, teams who you would expect will provide a testing match that the players may actually take seriously, something that they seemed to forget to do during last season's preparations.
As well as this, the shorter distance travelled by the team will mean that more time is spent on the training pitch and less time is spent in hotels and airport lounges, allowing for Allardyce to prepare his team much more effectively than his predecessor Advocaat.
Whether this pre-season schedule will herald better results in the opening months of the 2016/17 Premier League season remains to be seen, but it is clear to see that Allardyce is keen to break the trend and prepare the side as best he can in time for the opening fixture against Pep Guardiola's Manchester City.