Sunderland forward Jermain Defoe has told that Sam Allardyce and his coaching staff are putting the team through their paces at their Austria training camp.
The Black Cats are going through a gruelling training programme in preparation for the new season to start in just over a months' time.
Hard work starts now
The squad have been cycling, swimming, doing weight training and running to raise their fitness and endurance to a higher level to compete, and avoid another relegation battle in the bid to move into a mid-table slot.
It's been hard for Defoe and the rest of the squad, but admits that the players will certainly feel the benefits of the training programme come the start of the Premier League.
The desire to 'have a good start' to the campaign is high, with the importance that they 'put in the hard work now'. The area the squads is in a 'nice place and quite', he added, which allows players to get into the mindset and to be 'focused' in getting 'down to the hard work'.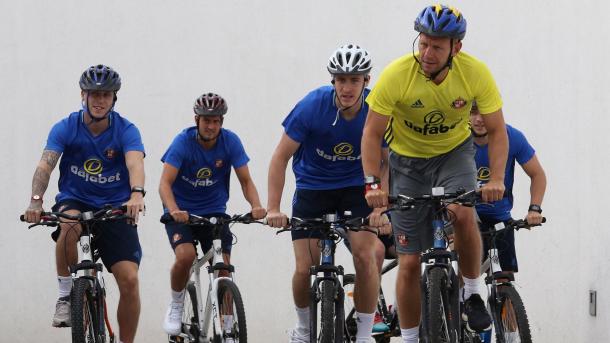 Allardyce has 'three sessions a day' planned for the Lads, but the main aim to make sure they are 'flying' when it come to the first game of the year and to continue on from such a high from last term.
For Defoe he has personal goal which is to stay fit, he even went as far as his own fitness workout during the off-season, despite being one of the older members of the team.
"I did a lot of power work [in the summer]," he said. This was to "give [him] a base" to work on and when his "legs feel strong".
He concluded, "People say you have to do it like you love it and its hard work, but at the end of the day if you put in the work you get rewarded."