Sunderland kick off their pre-season at neighbours Hartlepool United this Wednesday, and here's what to expect from the Black Cats' opponents.
Who are Hartlepool United?
Sunderland don't have to go far to kick off their pre-season as they make the short trip down the North East coast to play Hartlepool, who they've played many a friendly encounter with. The Monkey Hangers, as they are known, are in fact one of the most consistent teams in football league history, having never been relegated or voted out the Football League. However, they have never made it higher than the third tier since their league bow in 1920.
The closest they've come to making it into the top tiers of English football was in 2005, where they led Sheffield Wednesday 2-1 with eight minutes to go in the League One play-off final. A controversial penalty and sending off decision meant the game went into extra time, and they ended up losing 4-2.
Last season
Hartlepool had an interesting season in League Two last term, as they ended up switching managers midway through the campaign after Ronnie Moore left the club following their remarkable escape from relegation the previous year. Though, with the club lying third bottom in February of this past season, he left by mutual consent.
Craig Hignett took over and drastically changed the club's fortunes on the pitch, eventually guiding them to a 16th place finish where they finished 17 points clear of the relegation zone. The United job is Hignett's first in management after leaving his assistant role at Middlesborough, where he spent the main years of his playing career in the 1990s.
Key players
When talking about key players for Hartlepool, it is hard to look past their number 10 and top scorer from last season, Billy Paynter, who notched 14 goals for them in League Two. Another big name in their squad is Trevor Carson, formerly of Sunderland. Although he never made a competitive appearance in eight years at the club, the Northern Irishman showed great promise and put that to good use at Victoria Park last season.
Similarly to Carson, defender Matthew Bates is a big player for Hartlepool. Like his goalkeeper, he spent many years at a big North East club, Middelsborough. Unlike Carson though, Bates made plenty of appearances for the club in both the Championship and the Premier League.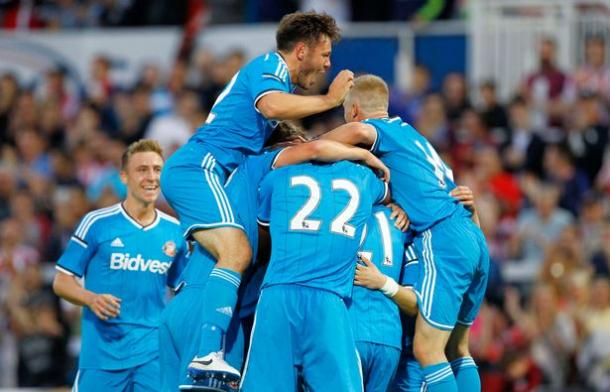 Their aims for upcoming season
For the last two seasons, Hartlepool have had serious concerns about a first ever relegation out of the Football League. However, with a lot younger manager than previously at the helm, they should be rejuvenated as a club and be looking to push on under Hignett, who had a great record at the end of the season. A playoff push is not beyond them.
Previous meetings
With the two teams being neighbours in the North East and always a couple of divisions apart, they've agreed to meet each other every few years for a pre-season meeting, always played at United's Victoria Park ground. The two most recent of these clashes ended in comfortable wins for the Black Cats with a 3-0 success in 2014 and a 3-1 win in 2011.
However the last time the teams met competitively was at the Stadium Of light in the 2004 FA Cup third round. The game was a magnificent occasion with Hartlepool bring 10,000 fans up to Wearside, although Sunderland would prevail 1-0 on their way to the semi-finals that year, despite being a second tier team at the time.
A stern test for Sunderland then to kick off what's set to be a very unpredictable pre-season with manager Sam Allardyce holding talks with the FA over the England job in the last week, meaning assistant Paul Bracewell will most likely take charge of the team in Hartlepool.