This time last year, the Sunderland first team were losing to Doncaster Rovers and turned in a performance which left many fans pessimistic for the coming season.
They looked unfit, lacking any sort of unity, and of course, an absolute shambles from the front all the way to the back. They lost to a team that was relegated to the bottom tier in a frankly pathetic performance.
Fast forward 15 league games into Sam Allardyce's reign and the club found themselves deep in the relegation zone, five points from safety. It looked like the job Big Sam took was a ticking time bomb, waiting to blow up in his face at any moment. But yet, he turned the club around and walked away as a hero.
Sunderland have become a club sick of fighting at the wrong end of the table year in and year out and end of season performances have given hope to the fans genuine optimism for the next season, although Allardyce will no longer be the man at the helm.
Big Sam's big joy
Ripping back his jacket to flex those muscles to a fever pitch crowd, Allardyce led the supporters in celebration on that very special and very memorable Wednesday night against Everton, having once more proved to be the perfect man for a relegation scrap.
His second game in charge was a triumph: a 3-0 win over arch-rivals Newcastle United. It turned out to be the rare point in a wave of eight defeats in 11 matches in the winter months, however, January sparked something special and the Sunderland fans dared to dream again.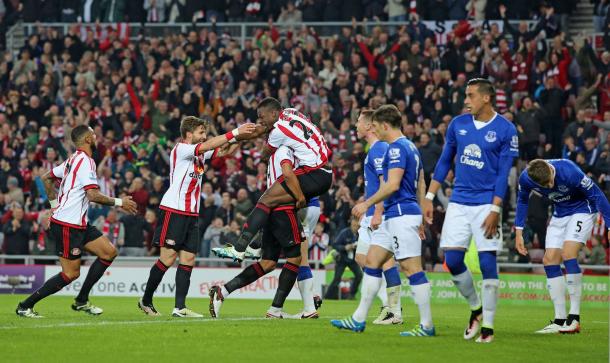 The new signings changed the club's future for the better although it was still a scrap. Many fans would have been happy to simply see Sunderland go down fighting.
But from February, the Blacks Cats lost only one game, against Leicester City. However, it wasn't exactly a result to be ashamed of given that they went on to win the league emphatically.
It was crunch time for the club, and they only got better: 11 points from their last five games says it all really.
In Allardyce, they found a manager who seemed to relish under the searing heat of pressure, especially when the players had to roll up their sleeves to mean business.
He turned them into a more organised and united team, teaching them to work together, to achieve greatness and success and retain their Premier League status.
Key to success
Sunderland fans needn't be remind that the key to the club's success in the latter stages of the season was the important and quality signings Allardyce made in the January transfer window.
Wahbi Khazri arrived from Bordeaux to provide creativity in the midfield, while Jan Kirchoff, a £750,000 signing from Bayern Munich, added a significant character on the field.
Lamine Kone, the two-goal hero against Everton, arrived from Lorient to add physical presence in the back line too.
Although Allardyce didn't bring in Jermain Defoe, the new manager reinvented what Defoe does best, which is score goals. Since Christmas, he scored five goals in his first two games of 2016 and found the net a staggering 11 times in Sunderland's crucial spell.
The off-season so far has been turbulent and the FA taking Allardyce has put Sunderland back on a roller-coaster, the club losing 11 players and a manager who many believed could bring stability to a club that desperately needs it.
But with the blueprints left behind by Allardyce for David Moyes, there could be an exciting season ahead.