It is understood that key midfielder Jan Kirchhoff will require a scan to learn the extent of the hamstring strain he suffered in Sunderland's 1-1 draw against Montpellier HSC on Saturday.
Although a massive blow to the team, there has been promising news developing that striker Jermain Defoe, is progressing "very well" after a thigh strain picked up during training earlier in the week.
Bad timing
Even though there is no news on the date he is set to return to the squad, defensive midfielder Kirchhoff could potentially risk missing the start of the Premier League, starting a week on Saturday, and his absence is a real blow.
It was a double blow for Sunderland in their match, saw both Kirchhoff and Billy Jones limping off the pitch in the first-half, the final match of the French tour before moving back to Austria for their final pre-season game.
Extent of the injuries
Robbie Stockdale speaking to the Sunderland Echo explained that Kirchhoff came off and went straight down the tunnel with a little niggle. He confirmed it as a "hamstring strain" and said his next stage will be a mandatory "scan", and revealed the club won't know the exact damage for a "few days" yet.
The German midfielder pulled up away from the ball and after trying to soldier on, he signalled to the bench that he couldn't continue on and slowly walked from the field.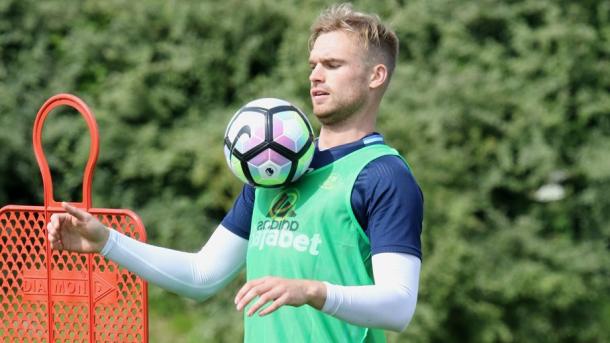 Within five minutes after Kirchhoff had come off, right-back Jones also limped off the pitch to be replaced by Sweden international Seb Larsson as David Moyes was forced into making two changes before the half-time whistle.
Comparing to Jones' injury, Stockdale insisted that he had pain in his "hip" so he was brought off the pitch just as a "precaution."
Added headache for Moyes
To regards to Defoe, Stockdale added: "Jermain is progressing very well actually."
He refused to issue a "date" on his return, but the team said that they are very optimistic that the injury itself is not "as bad" as they first thought.
Left-back Patrick van Aanholt wasn't put at risk after he suffered from tightness in his groin from Wednesday night match against Dijon FOC.
The "decision" to rest van Aanholt had to be made and in the end "it wasn't a risk worth taking," continued Stockdale.
His "fitness levels" last season were "fantastic", so it isn't really an issue for the club as he did some "light training" and it is very likely he will be starting on the pitch when the whistle blows for the start of the 2016/17 Premier League season at Manchester City.
But the injury list keeps on growing, as Jack Rodwell sporting heavy strapping on his right calf as he joined the others in the stand at the ground in Aix-les-Bains.
Stockdale explained that the midfielder picked up the injury in "training on Friday" but declared it was only minor and not an injury that will keep him out for months like "other clubs."
Having not picked up any major injuries yet in pre-season training or the friendly games, he declared that the injury problem "looks" to be much "worse" that what it really is.