On Friday, Sunderland will conclude their pre-season preparations with a rather tough final friendly against Borussia Dortmund.
BVB finished the Bundesliga last term with statistics that would have won them the league 90 per cent of the time. However, with the mighty Bayern Munich to contest with, they had to settle for second place yet again.
They were also beaten by the Bavarians in the DFB-Pokal final, missing out on more silverware, and were knocked out by former manager Jürgen Klopp in the Europa League - Liverpool 4-3 winners in the second leg of a thrilling quarter-final tie that will go down as a classic.
However, having lost Klopp and started a new era under Thomas Tuchel, it was the perfect season going forward; laying the foundations for future success.
The team started to play exciting football again, football that was not only easy on the eye but devastating to opponents too. With 39 goals from Pierre-Emerick Aubameyang in all competitions, they have one of the most feared forwards on their side again and will look to pick up where they left off last term, this season.
Chopping and changing
As is often the case for Dortmund though, this summer has seen them lose plenty of their big names.
Mats Hummels, İlkay Gündoğan and Henrikh Mkhitaryan have all left for a combined sum of €104 million, but BVB have reinvested that money in eight signings of their own - with €20 million left to spare.
As is the Dortmund way, most of these new arrivals are talented youngsters, with three 20-years-old or younger and none older than 25.
Teenagers Emre Mor and Ousmane Dembélé have sparked their fair share of excitement at the club, while the likes of Mario Götze, Sebastian Rode and André Schürrle - while all still young - bring experience of the league and the records to show they can perform in it.
Sunderland will be tasked with keeping these talents under wraps on Saturday, as they look to ready themselves for the new Premier League season and install a confidence boost heading into their opening fixture.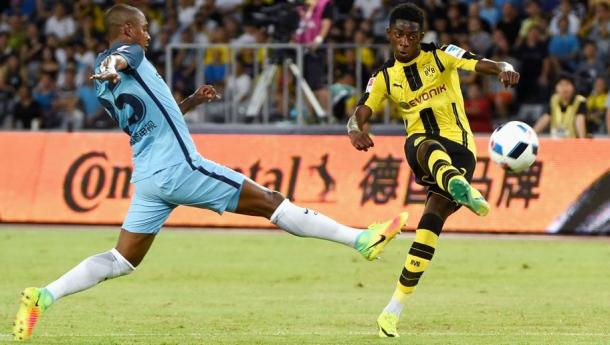 Contrasting preparations
Sunderland's pre-season has been rather straight-forward. The league kicks off on Saturday 13 August, so they have scheduled six friendlies in the run up to this, all in relatively close proximity.
An Austrian training camp was followed by a tour of France, and now the Black Cats will conclude preparations with this friendly against BVB, back in Austria.
For Dortmund, however, things have been a little more complicated.
To start, their first competitive game is next week against Bayern in the Supercup, but they then have a two week wait until the Bundesliga season starts. Five days before the league begins, they also have a DFB-Pokal fixture too against fourth-tier Eintracht Trier.
So, the team's upcoming schedule reads: Friday 5 August, Sunderland friendly; Tuesday 9, Athletic Bilbao friendly; Sunday 14, Bayern Munich in the Supercup; Monday 15, SV Sandhausen (who will have opened their 2. Bundesliga season up three days prior) friendly; Sunday 21, Hallescher FC friendly; Monday 22, DFB-Pokal tie with Eintracht Trier; and, finally, Saturday 27, 1. FSV Mainz 05 on the opening weekend of the Bundesliga season.
It's all very hectic coming up, and has been hectic in the build up too. After playing a handful of friendlies in Germany, Dortmund have been in China taking part in the International Champions Cup this past week and will arrive in Austria with a few plane miles on their shoulders.
All things considered though, this is a big game for both teams in preparation for the new season. Both have competitive fixtures next week and will not only be keen to test themselves against top flight opposition, but to defeat the opponent that stands before them to strut confidently into next weekend.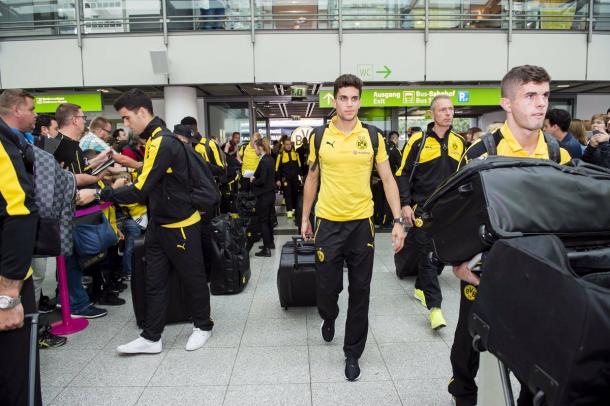 Dortmund fan Chloe Gallot gives us the lowdown on BVB
So we know all about Dortmund's turbulent summer, their successful but unsuccessful past season, and some of the talented names on their books.
We know that they've been travelling the world in pre-season while Sunderland have kept their mileage down, and we know that the Germans have a crazy August of fixtures, both competitive and uncompetitive, coming up.
But what do we know about the team on the pitch? How will they play? Who will play? Can Sunderland defeat them?
To get all the information we're after about the Black Cats' upcoming opponents, we spoke to Dortmund fan Chloe Gallot about the team ahead of Friday night's encounter.
Q: How has Dortmund's pre-season campaign gone so far?
A: Quite good I'd say. All of the team's new players - except [Raphaël] Guerreiro, who's arriving on Monday at team training - have been well integrated. Sebastian Rode has made a good impression which is really promising for the new season. Obviously it's difficult to compose with the loss of players like Gündogan and Mkhitarayn, but it seems like Tuchel and the team isn't really traumatised. Though it's only speculation at this point, we still have to wait and see what happens in the rest of the transfer window.
Q: With the Supercup fixture coming two weeks before the Bundesliga season starts, has this affected the team's pre-season at all, sandwiching a competitive game in between friendlies?
A: No, nothing has changed. Moreover it'll be a plus I think; it'll help the team to see if they are well prepared. It's a good challenge for them to play against Bayern now, even if their team will be quite young. The dark point is that just the next day Dortmund play a friendly game against Bilbao so Tuchel will have to manage it, but the team can trust him. He's a great coach who's always well organised.
Q: Sunderland are likely to field as best a full strength XI they can manage in this game, with it their last pre-season friendly before the Premier League starts. What type of team can we expect from Dortmund?
A: We will probably have a strong XI too especially because Tuchel will have his whole team with him except [Sven] Bender, [Matthias] Ginter and [Marco] Reus, who's still recovering from his injury. Players like [Julian] Weigl and [Lukasz] Piszczek are going to be back after Euro 2016 so they will certainly have some playing time, for instance. Anyway, you can be sure that the XI will be as competitive as possible.
Q: How has the void left by Mats Hummels been filled? How is Dortmund's defence looking after his big departure?
A: It could've been worse I think, even if another central defender would be a good addition to the team. Marc Bartra is a good defender. He's quite different from Hummels, though it's rare to have players like him so it's normal. It's a big loss but it's far from being impossible to play without him. During the friendlies so far, the defence hasn't looked too weak to be fair. Sokratis [Papastathopoulos] and Bartra haven't had many automatisms yet but it will come. To sum up, I think the team are handling the loss correctly.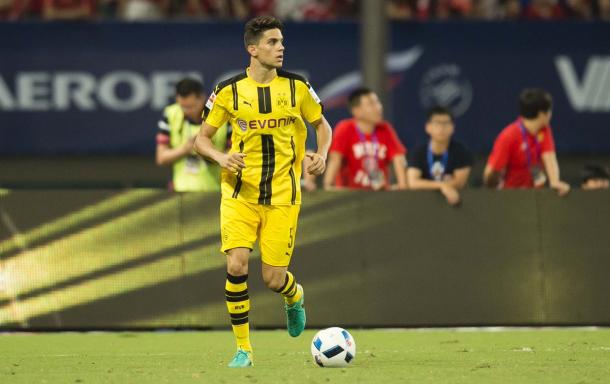 Q: Sunderland's defence enjoyed a strong end to last season, which has carried over into the summer's pre-season campaign. What talent will Dortmund have on show that the Black Cats should be concerned about?
A: It's a tough question. The team have many good talents but the most dangerous at the moment is surely Ousmane Dembélé. He's impressive! He's fast, skillful and ambidextrous which is an important detail. They will have to keep an eye on Emre Mor too if he plays. He's a raw talent such as Dembele but he can be really dangerous.
Q: Finally, what tactics can we expect to see from Thomas Tuchel's side this Friday?
A: Certainly the same as Dortmund use all the time; they will play in 4-2-3-1 shape with Aubameyang likely to start upfront. Dembele, Mor and [Shinji] Kagawa will probably play behind him and [Gonzalo] Castro should start the game too alongside Rode in the holding midfield roles; he's been impressive during the summer. The defence will not be really changed though Piszczek will maybe be introduced for 45 minutes. It'll be quite classical for the first half but not for the second one as Tuchel will certainly make many substitutions.