Whilst Jermain Defoe's injury may be bad news for Sunderland, Fabio Borini is looking at it as an opportunity to show the Stadium of Light what he can do.
Of course Sunderland fans are already aware of what the Italian is capable of after a hit first season on Wearside two seasons ago, however, his return a year later was less than inspiring. The striker did score some important goals but ultimately underperformed throughout the season and he will be keen to get back on track in Sunderland's new era under David Moyes.
Borini is now looking to cement his place as a central striker for Sunderland. Defoe's thigh injury means he will miss the rest of his side's pre-season and may miss Sunderland's first game of 2016/2017 campaign away to Manchester City. And as Borini is the club's only other senior striker, it's up to him to bring the goals.
Happy with pre-season programme
Whilst the former Liverpool man claims he is happy wherever he plays, so long as he is scoring goals, it's no secret that his favoured position is the central role. The Italian described himself as a "born striker".
He was keen to point is handful of games during pre-season have came from him playing in different positions: "I played up front and scored against Montpellier, the other day I played wide left and scored and back home I played behind Jermain [Defoe] and scored again."
He added, "As long as we are attacking, keeping the ball and creating chances then that is good enough for me."
Defoe's recovery may be progressing well, however, his lack of game time in pre-season will be a worry for David Moyes and his staff.
Borini is keen for his teammate to return to action: "It depends on his recovery, I don't know how long he will be out. Hopefully as soon as possible he is back because he was our top scorer last season and hopefully he will do it again."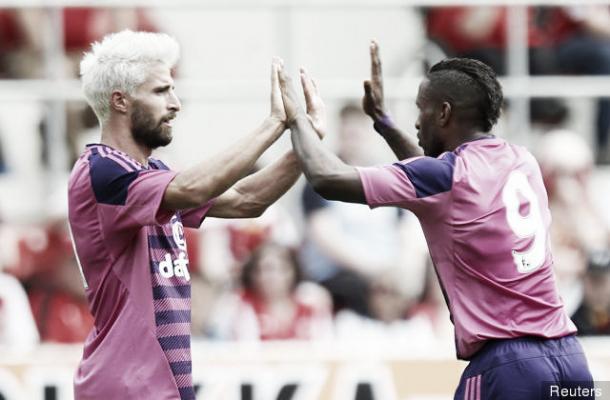 Though he is aware that Sunderland cannot just rely on Defoe and has called on his teammates to help the striker out: "That is up to me, Jeremain [Lens] and Wahbi [Khazri] to get more goals too."
David Moyes addressed the press for the first time as Sunderland boss today and seemed confident on the transfer scene. And Borini is keen to see some new faces in the dressing room: "Doing the whole season with two strikers is tough and because Jermain is out injured it is basically me up front."
He explained, "If something happened to me then we would have no other option than to play someone out of position."
But did admit a new arrival wouldn't be a bad thing, "Someone coming in is more than welcome to create depth in the squad and give a different option up front."
Life under Moyes
Despite the lack of transfer activity, Borini is enjoying life under David Moyes and remains optimistic for the season ahead. The striker described the first impressions of the new manager as "really positive" and revealed that he "works on the pitch daily". Something which Sam Allardyce was against.
He said: "He works personally with the team and he is good. I think also you can see the experience he had in Spain because he works tactically very precisely on what he wants - and he is really positive."
Borini continued, "We have had so many games in a short period, the new manager wanted to see what we can do naturally first and then probably give the instruction personally to players."
And from a personal point of view, Borini is relieved at the lack of speculation at his future pointing out: "This is the first time that I am staying with the same team for two years in a row. It is a good feeling of stability for me, to know that I am going to be in the same house, the same team-mates and wear the same shirt - it is a good feeling."