It's been a hectic summer for Sunderland Football Club.
From the endless England speculation surrounding Sam Allardyce, to the manager actually leaving the club, to David Moyes swiftly arriving a few weeks before the season.
From the collapse of the Davide Santon deal in early July to - almost exactly one month later and just a week before the Premier League's big kick off - Sunderland making their first, and to date only, summer signing in Papy Djilobodji.
Add to this the ongoing speculation regarding Lamine Kone's future, the still-not-complete Yann M'Vila deal and the lack of depth in the squad heading into this weekend's game with Manchester City, and it's been a typically 'Sunderland' start to the season.
However, there have been many positives, despite all of this.
An unbeaten pre-season campaign, which included games with household names Montpellier and Borussia Dortmund, is a big one which will give the team huge confidence heading into the new season.
Furthermore, the Academy of Light has given Sunderland fans reason to be optimistic. With Joel Asoro shining in the win over Dijon FCO, while teenager Joshua Maja is set to be mentored by veteran striker Jermain Defoe this season, the departure of Allardyce doesn't necessarily mean the opportunities he gave to young players will no longer exist.
And that leads us to our next bright spot; Moyes. A man who transformed former basement battlers Everton into a staple of the Premier League, fans of the Wearsiders will be eagerly awaiting a repeat of that trick at the Stadium of Light.
Moyes achieved this at Goodison Park with the help of promising youngsters, granting the likes of Wayne Rooney, Ross Barkley, and, current Sunderland man, Jack Rodwell their senior debuts as teenagers.
There are things to be positive about, things to be concerned about. But overall, it's always exciting when the new season gets underway and this year is no exception, as our writers give their opinions ahead of what are sure to be nine more dramatic months in the North-East.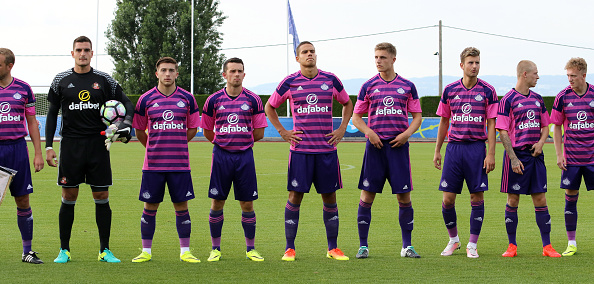 Is Moyes the man for the job?
The one big change this summer at the Stadium of Light is the managerial one.
Allardyce is the new man in the England hot-seat, paving the way for former Everton boss Moyes to return to English football.
The Scot endured a baptism of fire in his shot at the big time, receiving nothing but criticism in his reign at Manchester United as he was given the impossible job of succeeding Sir Alex Ferguson.
After a difficult spell in Spain with Real Sociedad, he is back in home comforts though now. Giving a struggling team some stability is the name of the game, and it seems that he is the right man for the job, right?
Ameé Ruszkai: On paper, Moyes is the perfect man for the job that needs doing at Sunderland. Add to this the growth he has experienced as a coach over the last few years - stints with both Manchester United and Real Sociedad acting as steep learning curves - and he could potentially go on to have even greater success on Wearside than he enjoyed on Merseyside. He will need the backing of board - particularly in a financial sense before the end of the month - but he is certainly capable of putting a stop to Sunderland's regular relegation battles.
Aaron Stokes: David Moyes is a fantastic choice for Sunderland. His Premier League experience with Everton proves that he has what it takes to oversee a long period of stability in the top flight, something which Sunderland desperately need.
Jack McGraghan: Allardyce leaving was obviously a huge disappointment to anyone that follows Sunderland, with it being even more of a kick in the teeth that the FA have seemed to ignore Sunderland players for England selection in the past (Kevin Phillips, Darren Bent and more recently Jermain Defoe come to mind). I think that the fact Ellis Short has targeted Moyes as his first choice for the last five managerial appointments Sunderland have made is a sign that he has complete faith in the man, and all the fans can really do at this point is place their own trust in him when it comes to the start of the season.
Being in a similar situation to the one he inherited at Everton will stand him in good stead, and I expect Moyes to be able to mimic the gradual progression seen on Merseyside in the North-East. No one is hoping for miracles, just a solid season in mid-table would be perfect for Sunderland fans at this moment in time.
Eve Sayers: Moyes is the perfect replacement for Allardyce as they share a similar long term vision and both have excellent Premier League records. Albeit, Moyes is a lot stronger. Moyes worked on a small budget at Everton and has an excellent eye for the youth team so I have no doubts that he'll be able to build on the foundations left by Big Sam by using the current players at his disposal whilst bringing in his own men.
James Rutherford: Moyes is definitely the right choice. There is longevity in Moyes, just as there was in Allardyce. Sunderland need a period of stability and the Scot has shown he can do that with his time spent at Everton.
Danial Kennedy: Myself like many others who follow Sunderland wouldn't have wanted Allardyce to leave at all this summer, but it would be ridiculous to expect him to turn down the top job in English football, which he has been passed up for previously. However I do believe that Moyes is the right man to succeed Big Sam. Despite failings at both Manchester United and Real Sociedad, Moyes has shown what he can do with a mid-table team in Everton, and I wouldn't put it past him to have success again.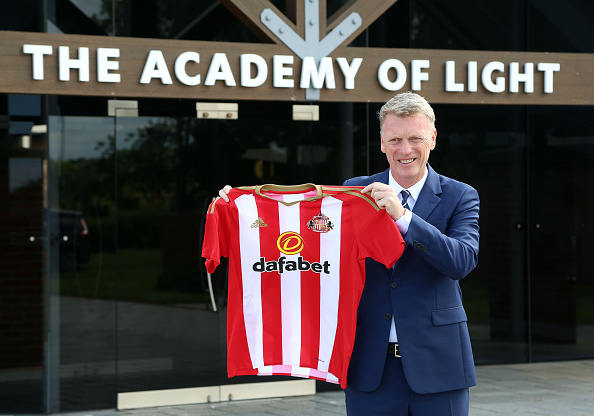 Should the new man in charge target immediate progress, or simply survival?
Moyes' arrival has brought a great sense of optimism to Wearside, with fans seemingly very confident of the Scot having an immediate impact to take the Black Cats to a comfortable mid-table finish.
The manager's record in the league suggests that this isn't impossible, especially with him guiding Everton to a seventh placed finish in his first full season in charge on Merseyside.
However, given the hectic preparation for the club - which has included managerial uncertainty and a lack of signings for some time - is to expect so much from Moyes so fast, unfair?
AR: The objective this season for Sunderland should be to simply survive. Although Moyes is starting the season with his new club, he's hardly had time to make his mark on the squad or properly get his game plan across. Keeping the club in the top flight while doing so will lay a good foundation for a second season, when he can really crack on with his revolution at the Stadium of Light.
AS: The team has spent so many of the last few seasons scraping survival so that needs to change. The aim has to be realistic, however. I'd say their target should be mid-table by Christmas, meaning they can spend the second half of the season playing with no pressure of fear of relegation. Anywhere above 15th would probably be deemed as a good season.
JM: The main aim is of course to avoid being involved in any sort of relegation battle if possible, and failing that, securing Premier League safety a few weeks before the final game of the season would probably be considered a decent enough first season for Moyes at the club. A cup run would also be a nice thing to have going on, as that can help with the confidence in the side - as seen when Gus Poyet reached the League Cup final and FA Cup quarter-final in the same season.
ES: The aim should definitely be mid-table. Just scraping the survival is merely not enough and as good as last season was, fans are tired of celebrating it. That one season of mid-table mediocrity would give the club the stability that they crave and really help them push on.
JR: Survival. It may be the same objective that they've had in recent seasons, but Sunderland still don't seem to be in a position where they can move forward and aim for bigger things. Just like any club in Sunderland's position, the first objective has to be getting to 40 points and confirming your place in next season's Premier League.
DK: The main objective will obviously be to maintain their top-flight status, having struggled near the bottom of the table for a number of years now. If Moyes can rid that survival mentality quickly, it wouldn't be ridiculous to see the Black Cats try push themselves towards mid-table, and a cup run similar to that of 2014 League Cup final appearance wouldn't go amiss to supporters.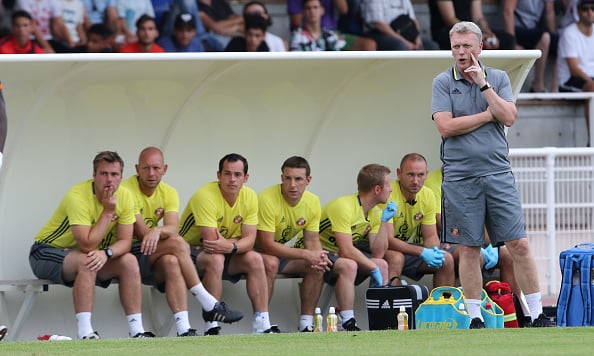 The less documented strengths; what are they?
While the negatives surrounding Sunderland have been well documented in the build up to the season, the positives have been left somewhat in the darkness.
Those that are not total pessimists have been keen to pick them out though; be their points regarding Moyes' Everton tenure, the promising pre-season run or the excitement around the Academy of Light.
Add to that the fact that January arrivals Kone, Jan Kirchhoff and Wahbi Khazri will be heading into their first full seasons on Wearside and in this league - which is especially good for Kirchhoff, who struggled to find full fitness after his mid-season arrival - and this club has plenty to boast about.
Long-standing strengths such as experience, team spirit and a terrific fan following build a lovely stage for these new traits to shine on, but what is Sunderland's biggest strength going into the new season?
AR: Sunderland's biggest strength this season has to be the experience they boast; coupled with a promising youth academy. In every area of the park, there are veterans to guide the young players coming through, from in between the sticks to scoring at the other end. With Vito Mannone fighting with Jordan Pickford for a place in goal, while Defoe mentors young Maja, not only can the experience help Sunderland stay up again, but it can help bring through a new crop of players who can add a freshness to a team looking to push on.
AS: The main strength of the team is probably the experience. All throughout the team there are elder players who know what it takes to win in the Premier League - such as Defoe, Lee Cattermole and John O'Shea. I think the older players will carry the younger players through this season.
JM: Of course everyone will look to Defoe for the goals, and it is no surprise when you consider he scored 15 in the league last year. However, Fabio Borini was some 10 goals behind his as the second highest goal-scorer, while left-back Patrick van Aanholt was third with four. This shows that the attack is not the team's strong point, but the defence certainly is. The Black Cats are better without the ball than they are with it thanks to the rigid shape implemented by Allardyce last season, and Moyes will surely look to continue that style of defending if he wishes to grab as many points as possible. It might not be pretty, but at the end of the day if it works the fans will not care one bit.
ES: The main strength in the team is probably midfield. The defensive three of Kirchhoff, Cattermole and M'Vila is defensively sound and supports the back line a lot, and with Cattermole in the advanced role his passing gives Sunderland an extra edge when they are going foward. The attacking wide players, Jeremain Lens and Khazri, give the Black Cats an immense threat going forward too. Lens has a plethora of skill in his locker and Khazri's set pieces are deadly.
JR: There is no team more experienced in survival than Sunderland. Every year, no matter who is in charge, the Black Cats have always found a way out.
DK: Sunderland's main strength is the resilience Allardyce brought to the squad during his nine month tenure, especially in the defensive area. The addition of defensive midfielder Kirchhoff, centre-back Kone and the form of van Aanholt, Younes Kaboul and DeAndre Yedlin made them a force to be reckoned with. Allardyce also added the services of Khazri, and Borini's emergence as a winger also saw Sunderland prove deadly in attack and they could be a danger going into the new season.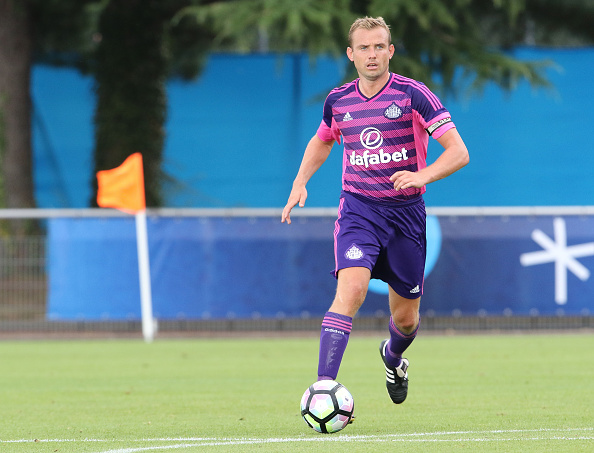 The high profile weaknesses; could they hold Moyes back?
However, as aforementioned, it is Sunderland's weaknesses that have been more well documented this summer.
After being unable to prepare much for the transfer window as their Premier League status hung in the balance, Sunderland then struggled to prepare much for the new season with Allardyce's future up in the air.
When Big Sam finally departed, Moyes was swiftly brought in, but he has had to pre-occupy himself more with getting to know the team and the pre-season schedule rather than cracking right on with transfer business.
Now that the Scot knows what areas of his team need improving, the recruiting can begin, and this looks like it can be the big solution to the weaknesses in this team.
AR: Sunderland's biggest weakness has to be in the goal-scoring department. Defoe's contributions accounted for 31 per cent of Sunderland's goals last season. The Englishman scored 15 league goals to be the team's top-scorer, a very respectable return, but the next scorer was some way behind - Borini, with five. Only nine players currently at the club scored a goal last season. All the stats make for daunting reading, should Defoe fall out of form or sustain an injury. Moyes needs to snap up a source of goals, while those currently on the books need to chip in with a few themselves. Maybe the youngsters can have something to say about this too.
AS: The other day against Dortmund, the bench was very, very weak. Is there enough depth in Sunderland's squad for a long season? I doubt it. The fact Moyes has came in so late means the squad hasn't be able to gel properly and new faces haven't been introduced. This could be a problem.
JM: Sunderland do not have a great deal of players who can pick a pass and carve a defence open whenever they feel like it, meaning that if Defoe is not on form up front or is not playing at all, they have a tough task on their hands when it comes to creating chances. Being overly reliant on Defoe could also prove troublesome should he get injured, with Borini being the most likely replacement if the worst were to happen, and although the Italian has won fans over with his high work-rate in the past, his finishing is simply not on the same level as the former Tottenham Hotspur striker.
ES: There's the gap at right-back which teams may look to exploit if Sunderland fail to bring a new face in. Kone, Kaboul and van Aanholt add stability in the back-line but that missing space could cost the team. Another downfall would be if Sunderland fail to bring in a striker to help Defoe out. Borini and Lens may not be enough and Defoe cannot be relied on again.
JR: If Defoe gets injured, Sunderland will not survive. The striker's goals have kept Sunderland up the previous two seasons, and with no new striker recruited, the pressure will be on Defoe again to get the goals needed for survival.
DK: Despite their strengths, Sunderland are seriously lacking in players, making just one signing so far this summer. Yedlin's return to Tottenham has left a gaping hole in the Black Cats back four and with the failed signing of Santon, another addition will need to be made soon. The striker position is also lacking, with Defoe their only real out and out striker, and with his pre-season injury, there could be worrying times ahead up top.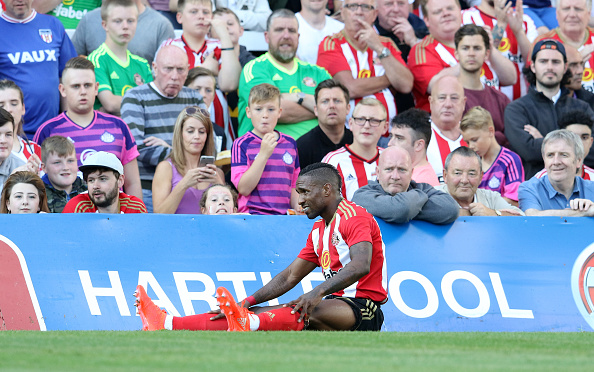 Will Jermain Defoe hog the limelight again, or will their be a new hero?
After plenty of highlighting Defoe's importance to this team above, it was rather unsurprising that he swept up most end of season awards a few months ago.
The striker's trophy cabinet was suddenly sporting a whole host of new arrivals, while our writers almost unanimously singled him out as the club's Player of the Year in May too.
However, there were arguments that, had the likes of Kirchhoff and Kone not arrived halfway through the season and instead at the start, they would have been well in the running for a few awards themselves.
So who will it be this year? Can Defoe continue to lead the way, or will January's arrivals have something more to say over the next nine months?
AR: Most of the time, it's tough to predict who will have a good season and who will struggle to hit the ground running before it's even started. However, it would take something significant to disrupt the form of Defoe, Kone and Kirchhoff from last season, and the Player of the Year debate will be surely led by them later this season. As for a winner, with a more stable season expected under Moyes than the heart-stoppingly dramatic ones of the past, Defoe may not come out on top as he may not need to single-handedly save games. Instead, Kone is my predicted front-runner as Moyes builds on Allardyce's well done defensive work.
AS: For me, it has to be either Duncan Watmore or Defoe. Watmore has been so good when fit and looks like a real talent for the future. Defoe, on the other hand, always seems to score crucial goals. With the lack of strikers in the squad, Defoe needs to be on top form and I feel like he will be.
JM: Providing he stays fit throughout the season and avoids the injuries that have plagued his career in Germany, I expect Kirchhoff to carry on as he left off last season and become the most important player in this Sunderland side. His patience in the tackle and air of relaxation whilst in possession is something that is incredibly refreshing to see from a player in a Sunderland shirt, and the German hardly put a foot wrong once he was moved into midfield last season. As aforementioned, I can only envision injuries or perhaps another storming season from Defoe preventing him taking home the Player of the Season award come the end of the season.
ES: If he stays then Kone without a doubt. The man is a defensive rock and so solid for Sunderland. He also gives the team something in the box when they are going up for set-pieces, as we've seen against Manchester United, Everton and Dortmund.
JR: Kone. The centre back was a star last season when signed by Allardyce, and will only go from strength to strength this season under Moyes.
DK: I do believe that Defoe will come close again in terms of player of the season, but I believe that he will have a lot more competition in the upcoming campaign. Allardyce's additions could have easily pushed for the coveted titles if given more time and I believe that Kirchhoff and Kone will be in good contention this season. Both are already loved by the fans and, on their day, they are up there with the best in the league. If they can consistently do that over the season, then it could be one to remember for the two players.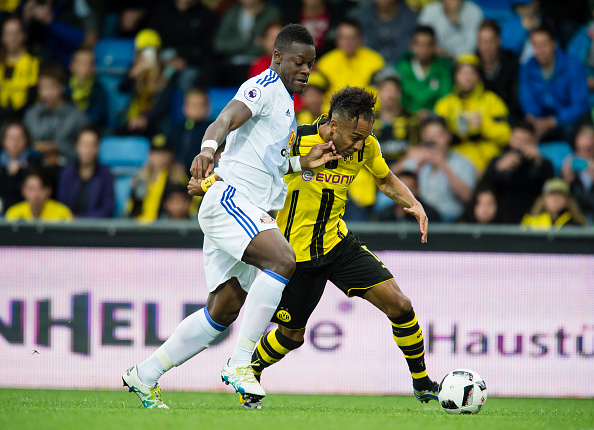 Who will follow Jordan Pickford and Duncan Watmore from the Academy of Light, to the Stadium of Light?
As has been touched upon plenty already in this piece, Sunderland have a lot of promising young players coming through their Academy at this moment in time.
The future looks bright for the Wearsiders in terms of the talent they are developing, with several more than capable of making an impact on the first team just like Watmore and Pickford have.
From marauding full-backs to steady midfielders to prolific attackers, there is a bit of everything in Sunderland's youth set-up, but which young player can make the most significant breakthrough to the first team this year?
AR: For me, Joel Asoro can have a big impact on Moyes' team, due to a mixture of his ability and the squad's lack of depth. With few goal-scorers in the squad, Asoro is likely to get a chance to shine in the cup to start, in order to give Defoe a rest, and should he take these opportunities, the 17-year-old could well be someone Moyes turns to throughout the season to add something in attack.
AS: There are a few youngsters that could break into the team this season but for me, I think it will be Rees Greenwood. The young attacker has been fantastic for the under-21's over the past year and Allardyce rated him highly.
JM: Asoro has been the main player to impress me in pre-season in terms of youngsters, with his blistering pace and calm demeanour in front of goal showing that he may well have the potential to become a top Premier League player in the future if he remains grounded. At just 17 years-old, he has his whole career ahead of him, and if he is handed an opportunity to impress on the big stage by Moyes during the season, it would come as no surprise if he were to force his way into the first-team picture in a similar way to Watmore.
ES: Asoro has looked brilliant in pre-season but his tender age of 17 may prove too young just yet, so I'm backing Tommy Robson to come through. Sunderland short in defence and the youngster can definitely live up to the challenge.
JR: Tom Robson. The defender has featured throughout pre-season and with a space in the defence, Robson could well force his way into the team. He may get his chance via circumstance, but he can shine and really cement his place in Moyes' side. The Scot has a reputation for giving youth a chance, and we should see that this season at Sunderland.
DK: A lot of young talent is currently bubbling under at the Academy of Light, and it will be expected that a number of them can challenge for first-team opportunities this season. The trio of Greenwood, Tommy Robson and George Honeyman are expected to have big impact, having made their debuts at the end of last season. One that has excited many in pre-season has been Asoro, and many will be excited to see what the youngster can do throughout the campaign.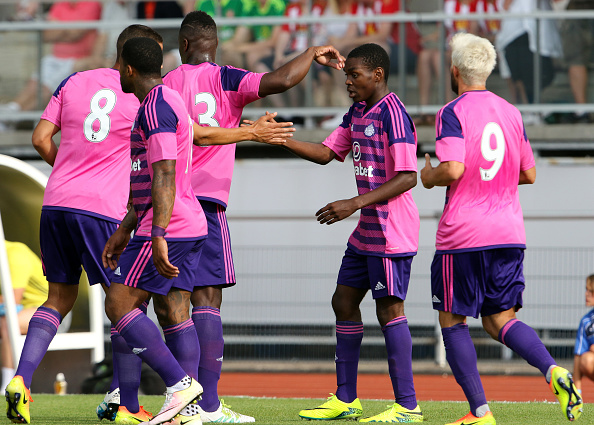 Can Sunderland meet their season objectives?
All things considered, Sunderland will certainly be an exciting team to follow next season.
With drama, as always, assured, and the potential of something positive to work towards for Moyes and his new team, the Black Cats' supporters will be behind them in full voice yet again to spur on some progression on Wearside.
The big question though, is what can Sunderland achieve this season?
AR: As I said before, Sunderland's aim should be to stay up this season and they can definitely do that. Should they surpass the 40 point mark earlier than expected, then they can take each game as it comes and work towards something bigger. However, new signings will be needed for that to occur. I'm predicted a 14th placed finish.
AS: Sunderland need new additions fast. Without these new players, I can't see them being able to escape the constant cycle of battling relegation every year. However, they always seem to pull something out the bag. I predict a 16th place finish.
JM: Of course my heart says that Moyes will guide the club to the seemingly dizzy heights of mid-table in comfortable fashion, but after experiencing many turbulent seasons I know that it is not usually that easy for teams in this part of the country. I do think, however, that he can use the foundations laid out by Allardyce in order to lead the club to relative safety this season, with safety practically secured with five or six games to spare rather than the usual one match. I'm going to go with a predicted finish of 14th for Sunderland this season, which hopefully doesn't leave me feeling like an idiot after the first ten games again.
ES: If Sunderland bring in a few more new faces then I've got confidence that they can achieve a mid-table finish. Moyes is the best man for the club and arguably a better fit than Allardyce. I'm going to predict a 13th placed finish.
JR: Providing more recruits arrive, Sunderland will avoid relegation this season under Moyes. It could even be more safe than usual, with Sunderland often going into the final weeks of the season with their Premier League status still in jeopardy. I'm predicted 14th with Sunderland surviving comfortably, without setting the world alight.
DK: The main objective going into the new season will be survival, there is still a lot to do before Sunderland start the season, with a number of players still needed. However I firmly believe that the Black Cats have the right players, and manager to push away from the relegation zone and start a push to be a mid-table club. I think a 13th finish this term is certainly not beyond them.