A new player on the black Sunderland defender Papy Djilobodji wants to prove his worth and prove Chelsea wrong.
Last week news broke that Djilobodji became David Moyes' first summer signing as Sunderland manager for a reported fee of £8 million.
It was a surprise signing for Chelsea this time last year, however, the centre-back spent that second half of the season on loan to Werder Bremen.
On the final day of Bremen's Bundesliga campaign, Djilobodjis walked away a hero his final goal saved the German club from relegation, but he felt he had unfinished business with the Premier League: "At the end of the season, they wanted me to stay but I was on loan and I wanted to return to England," Djilobodji told L'Equipe.
"It's the best league in the world -- I want to show something there," he added.
A way of thinking
The need to prove that he has "matured" over the past year, with knocked confidence from Chelsea who told him he "wasn't good enough"
Djilobodji only made one appearance for Chelsea, coming on as a sub of seconds in the League Cup game at Walsall.
Even though he has never featured in a Premier League game, however, the former Nantes player enjoyed his short spell at Stamford Bridge.
"I trained, I returned home and I didn't play," he said. "But I was training with the best players in the world -- I learned a lot of things over there all the same."
He said that if he is not given the chance to prove his worth, there isn't anything he can do.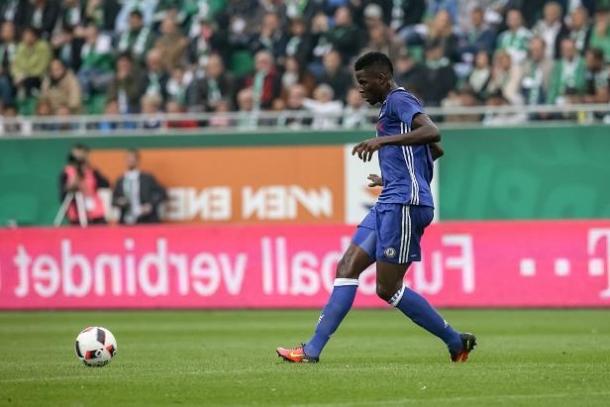 When Djilobodji joined Chelsea is was when Jose Mourinho was still in charge, but the Senegalese international also admitted he never discussed his lack of playing time with the manager.
He is "not the type of person" that will seek the coach out to speak about playing time, he also said that "one of Mourinho's assistants" tried to persuade him to talk "to him" but he was adamant he didn't want to do that.
His way of thinking is what he does in "training" should be "sufficient" enough, and if the manager wants to put him in then "it's good."
He concluded: "And if he doesn't select me, there are no worries, I stay on the bench peacefully."
With the call from Moyes, which encouraged him to make the move to Wearside to help with the plans to finish in the top 10.