Jeremain Lens has said that Sunderland have a plan ready to execute for success at Manchester City.
An energetic and vigorous display against the Bundesliga giants Borussia Dortmund saw the Lads come from a goal down. An accurate Lens free-kick to find the head of Lamine Kone - who sent it past Roman Weidenfeller - earned a draw.
Almost perfect record
With Kone's goal, it made sure the Black Cats remained unbeaten all pre-season. Even though with a late surge in an attempt to win, Dortmund were unable to do so and had to settle for a draw.
This coming Saturday, David Moyes' boys will travel to the Etihad Stadium aiming to gatecrash Pep Guardiola's party, and the midfielder is convinced that the key to a successful game is already in the hands of the Black Cats.
He feels that if Sunderland can "continue" on from the progress made in pre-season, then the team can kick on. The Black Cats do, however, know that the first game isn't going to be easy, even more so as the Lads start the season against Manchester City.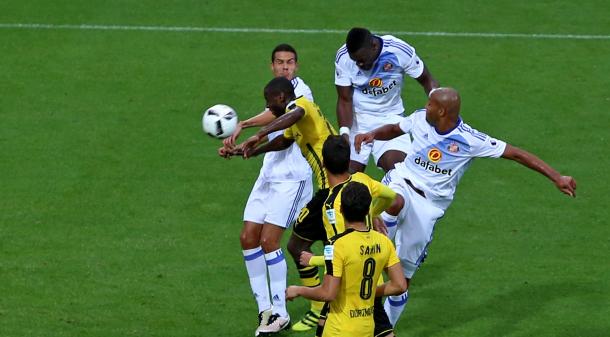 The need to "defend" just like the way they did against Dortmund and to "try to score one goal" to keep the lead, could lead to a push possible more goals; that is the plan.
The Lads have put in a very hard work in "pre-season", with the hopes of starting the season on a positive note to follow on from the highs of the previous term.
Finishing "last season" with a "good record" is a huge help to a "new manager" who is trying very hard to come up with plans to make sure they "start this year" exactly how they finished. With a new member to the team, they have the players and have the "quality" to do just that.
He concluded: "With this squad, we need to do better than we did last year."