Sunderland AFC manager David Moyes has said that there are positives to take despite their 2-1 opening day defeat to Manchester City.
Late McNair gaffe denies Black Cats a valuable point
Excitement surrounded the Etihad Stadium ahead of Moyes' and Pep Guardiola's first official games in charge of their respective clubs.
However it was City that took the lead, with Sergio Aguero firing home a penalty after just four minutes following Patrick van Aanholt's foul on Raheem Sterling.
Despite been behind, Sunderland played well throughout the majority of the contest, with good chances from the likes of Jermain Defoe, before he fired home an equaliser 20 minutes from time.
Moyes' side looked like they might have grabbed a point, but an own-goal from new signing Paddy McNair saw the points snatched away at the death.
Despite the result, the Black Cats played some good football at times, and Moyes believes that despite been disappointed, there are many positives to take from the game at the Etihad.
Speaking to the Chronicle, he admitted the result was "gutwrenching" and explained that his side "did a great job in containing them as best we could," because they "had a gameplan, we knew we weren't going to have an awful lot of the ball and we had just about done the job – but 'just about' is not enough."
He told the club's official website: "We can take positives from the performance because we did an awful lot of good things today," but admitted: "We're disappointed we didn't take a point, which everyone would have said would have been a really good result."
He continued: "The players did great. We gave a couple of lads their debut today and they did a great job," and said he believes that "Defensively we played well throughout the game – just the second goal disappointed me. There were a couple of actions that we'll work on and improve on."
Moyes concluded: "It was great there were so many supporters here and I think they could see the players were at it."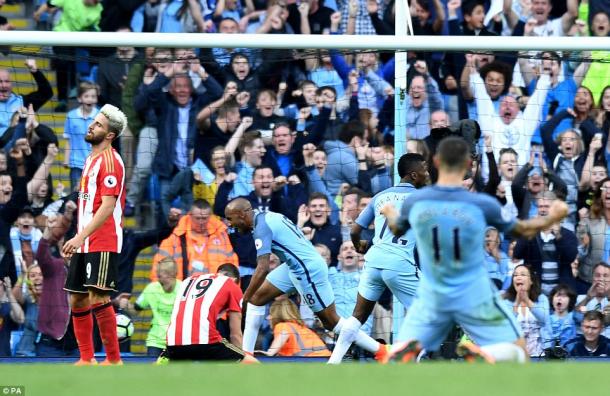 Keep up the work rate
Moyes will attempt to pick up his side ahead of their first game of the season on Wearside, and it set to be a dramatic as they welcome fellow North-East rivals Middlesbrough, will visit the Stadium of Light in the Wear-Tees derby.
Aitor Karanka's side started their return to the English top-flight, with 1-1 draw with Mark Hughes' Stoke City side, with goals from Alvaro Negredo and Xherdan Shaqiri sharing the points, and Moyes has said that his side need to keep up the work rate they showed in Manchester.
He said: "For us to get results, we will need to play like that whether it is against Manchester City or anyone else," and believes "We will need to play at that level and intensity."
Moyes concluded: "I've said to the players that they have to play like that in every game," and believes "They've set the standard for effort and commitment and they'll be getting it from me if they drop below that."
Next up, Sunderland AFC will take on Middlesbrough at the Stadium of Light on Sunday, August 21 with kick-off at 1:30pm BST.