Sunderland were unfortunate to come away from the Etihad Stadium empty handed yesterday afternoon, but there were certainly a few positives that can be taken from what was a spirited performance in Manchester.
A penalty from Sergio Aguero and an own goal from Paddy McNair was enough to ensure that Pep Guardiola's reign over the blue side of Manchester got off to a winning start, but what can Sunderland take from the game?
Gooch impresses on his Premier League debut
Perhaps one of the more surprising inclusions in the starting line-up yesterday was that of the American midfielder Lynden Gooch, who has managed to force himself into the first-team picture after coming through at the Academy of Light.
After his performance though, it would be more of a surprise if Gooch is not in the starting 11 for the Wear-Tees derby next Sunday. The 20-year-old was arguably Sunderland's best player yesterday, and displayed a remarkable air of calmness on the ball more akin to that of a seasoned Premier League veteran than a man making his debut in the competition.
Injuries to Lee Cattermole, Sebastian Larsson and Jan Kirchhoff may have forced David Moyes to give Gooch his first Premier League start, but the American certainly showed why he should be involved in the first-team rather than the Under-23 squad. Should Gooch be given another opportunity to impress against Middlesbrough, a game where he will no doubt see much more of the ball than he did against Pep Guardiola's men, he will need to grasp it with both hands if he is to stay ahead of Wahbi Khazri and Jeremain Lens in the pecking order.
Makeshift side coped well - but signings are still desperately needed
They may not quite be in a position as desperate as Hull City when it comes to squad depth, but you don't need to be a genius to see that Moyes still requires several players in the transfer market if his squad is going to be able to last a full Premier League season.
The aforementioned injuries to Cattermole, Kirchhoff and Larsson have not helped the situation, but even if they were fit and ready to play you would think that Moyes would still be looking to add more quality to his side. Midfield is looking especially bare as of this moment, with John O'Shea forced to play in midfield alongside Jack Rodwell due to the severe shortage of central midfielders currently fit at the club. Reports that Yann M'Vila has agreed to join Sunderland in January once his contract at Rubin Kazan is up have circulated recently, but Moyes may decide that shelling out the reported £6m asking price is a sacrifice that needs to be made to give him at least some choice in the midfield area.
Other positions that spring to mind are the full-back and striker areas, with only two full-backs currently fit and only Jermain Defoe and Fabio Borini able to comfortably fill the striker role. Duncan Watmore has played as a striker in the past, but his hold-up play in particular would likely not be good enough to earn him a starting position in the role should Defoe and Borini succumb to injury in the future.
Until signings are made however Moyes may have to turn to players such as Joel Asoro and Thomas Robson amongst others, with the youngsters perhaps in line to compete for a place in the first-team squad earlier than they might have expected.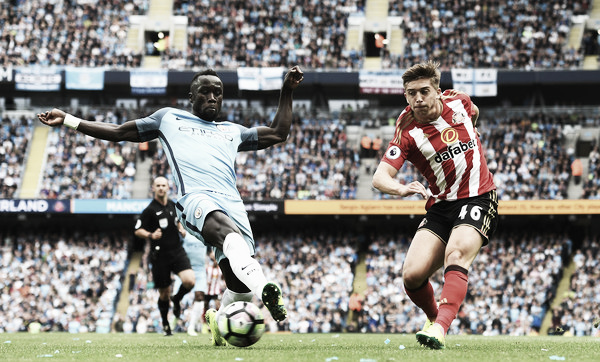 Defoe showing no signs of slowing down despite his age
Now that he is approaching his mid-30s, some pondered over the possibility that Defoe was past his best and could not handle the rigours of the Premier League like he used to. Last season blew any doubts out of the water however, and yesterday Defoe continued where he left off by scoring his first of the season and moving into joint 10th place in the all-time Premier League top scorers table, alongside Robin van Persie.
It was typical performance from Defoe, who always looked to get in behind the defence and through on goal. He had one chance saved at point blank range by Willy Caballero in the first half, but when he was put through on goal by Rodwell in the second half he made no mistake. It was unfortunately not a goal that earned his side what would have been an impressive point, but it did get Defoe off the mark for what fans will hope is another season that sees the Englishman reach double figures once again.
He is now just six away from what will be his 150th Premier League goal, and with the self-confidence that Defoe has it would not be a surprise if that were to come before 2016 is out.
McNair had a debut to forget - Kirchhoff proved that doesn't matter
Although he did not start the match, Paddy McNair would come off the bench to make his Sunderland debut in the 83rd minute of the game as Moyes looked to close the game down and take home a point. Unfortunately it would turn out to be McNair that found the net at the wrong end, as he accidentally diverted Jesus Navas' cross into his own net in the 87th minute of the match.
There was little that the Northern Irishman could do about the goal and he will quickly look to put his debut behind him, but as Kirchhoff proved last season a player's debut does not necessarily provide an accurate representation of their ability, especially when you have only been at the club a matter of days as in the case of McNair.
Perhaps he may not get the nod over O'Shea for the Wear-Tees derby, but expect to potentially see McNair getting his first start against Shrewsbury in the EFL Cup on August 23.
Stadium of Light must become a fortress - starting next week
One thing that has contributed to Sunderland's constant relegation battles over past seasons is their poor home form, with losses against sides such as Crystal Palace, Norwich, Aston Villa and Wigan Athletic in various seasons leaving the club marooned in the bottom three for much of the season. The Wear-Tees derby next Sunday is the perfect opportunity for Moyes to turn over a new leaf and make the Stadium of Light a place that no team looks forward to visiting, rather than a place that sees the team crumble if the opposition get an early goal.
Middlesbrough will certainly not be an easy team to beat, as promoted teams are often full of enthusiasm and drive in their first month playing in the top-flight, but also because of the way that Aitor Karanka sets his team up defensively. He will make the Teesiders a tough nut to crack next week, and will look to ensure that his players frustrate both Sunderland's players and fans in order to try and come away with at least a point from the game.
If Sunderland can set a precedent by recording a win in their first home game for the first time since the 2007/08 season, then perhaps the teams expected to be around them come the end of the season will face a tougher trip to the North-East than they have done in previous seasons.