Former Manchester United youngster Donald Love was thrown in the deep end as he made his debut for Sunderland against Manchester City.
It was always going to be a tough task for Love, having to contend with players who are more experienced and international footballers.
He had a nervy start but settled into the game and looks to make the right-back position his own with Billy Jones currently out with a hip injury sustained during pre-season.
David Moyes is looking to add to his full-back options. However, Love is determined to make sure he keeps his spot having moved up to regular first team football.
"Yes, you never know but I want to keep playing games for Sunderland and doing well," said Love.
The burning desire to "show the fans" what he can do, to gain their support and the need to "play as many games as possible" is there.
Unlucky result
"It was a tough debut against Raheem Sterling - he is rapid! He did me once with pace but it was a great learning experience," he added.
It is exciting times for the 21-year-old after Moyes has "put his faith" in the youngster and because of that he "wants to do well" for the club during his tenure at the Stadium of Light.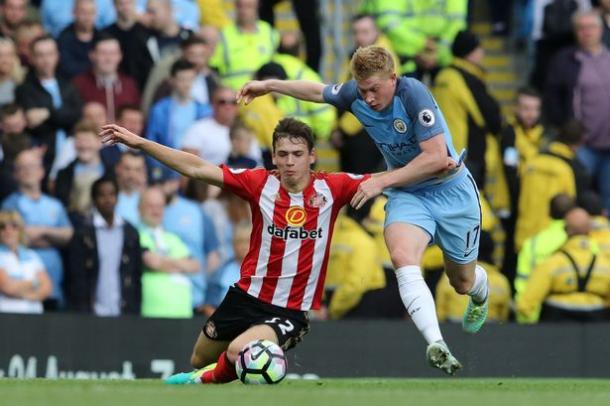 Love is not the only one to experience the transition from Old Trafford to Wearside, following several previous players who had made the switch.
Those who have made the switch to the Stadium of Light have "done well" and Love hopes to carry on the tradition to help "the club move forward".
Youngsters are the future stars of today
"It is good that the manager will put his faith in youngsters and if you do that, then they will go out there and give everything for him," he continued.
Love, who is set for increased competition at full-back, is hopefully of seeing his confidence grow as time goes on, to help try to keep clean sheets and start "winning games".
Moyes is expected to be very busy in the transfer market with three positions that are in need of strengthening.
"I'm working as hard as I can, I am trying to build a team but also want to try and give the young boys an opportunity to play if we can do that," said Moyes.