After qualifying for the knockout stages of the Champions League thanks to an amazing 3-0 victory away to Olympiakos on the final match day of the group stages, the euphoria among Arsenal fans was massive.
Sadly, it didn't last long. At the draw for the last 16 a week later in Nyon, the Gunners were drawn with the current Champions Barcelona, undoubtedly the toughest draw possible.
It's the kind of draw you should expect to get if you finish second in your group, like Arsenal did.
The current Barcelona side are the best team in the world on current form, and this is largely down to their stunning strike force.
Lionel Messi, Luis Suarez and Neymar have been in unbelievable for this season, scoring goals fun, and even having the confidence to try a 'Johan Cryuff' style penalty recently.
Many pundits and rival fans have already written off Arsene Wenger's side's chances in the tie, but there are a few factors that should give the players and supporters belief they can do what is believed to be impossible; beat this Barcelona team over two legs.
This team has the ability to defend
One accusation that has constantly been thrown at Arsenal in recent years is that they don't know how to defend as a team; that when they come up against another big team, they are soft centred and unable to do the dirty side of the game.
However, since some humiliating defeats in the 2013/14 season, which include a 6-0 thrashing against Chelsea, a 5-1 defeat at Liverpool and 6-3 rout against Manchester City, they have managed to disprove this stereotype.
No more so than when they revisited the Etihad to face Man City a year later. The Gunners came away with a 2-0 victory, thanks to a brilliant team defensive performance which included an outstanding individual performance from defensive midfielder Francis Coquelin.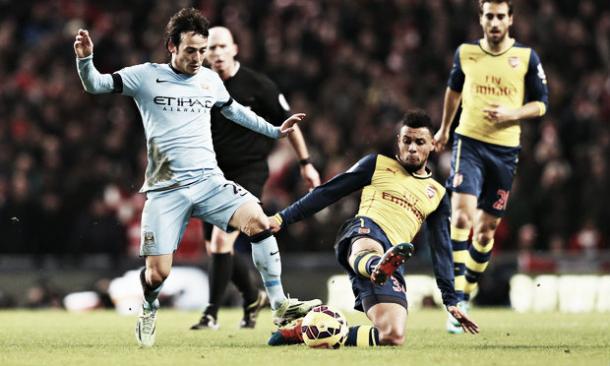 Ever since that game, the stereotype has rarely been used, and Wenger's team have shown they can do it in the Champions League as well. In this season competition, the Gunners beat German champions Bayern Munich 2-0 at the Emirates, in a game they gave up possession of the ball, sat deep and played on the counter-attack, just like they did at the Etihad.
Arsenal will have to be defensively perfect in the first and second legs against Barcelona, but they have shown they can do it, both at home and away.
Luis Enrique's team aren't perfect
The front three of Barcelona have been playing football out of this world week in week out, and its become rare that people talk about any weakness they may have. Despite this, they do exist.
Many pundits over the last few years have pin pointed set pieces as a way to score against Barcelona. In their current team, only centre backs Gerard Pique and Jeremy Mathieu posses any dangerous threat in the air.
Within the Arsenal side, not only are centre backs Per Mertesacker and Laurent Koscielny a threat aerially, Olivier Giroud and Alexis Sanchez are both very dangerous when it comes to deliveries into the box, and when you have a player with great crossing ability like Mesut Ozil, you know you will have a great chance of scoring.
A trait of the current Barcelona side is the full backs pushing very high up the pitch. With Messi, Suarez and Neymar constantly switching positions and attracting the focus of opposition midfielders and centre backs, there is regularly plenty of room for Jordi Alba and Dani Alves to move into.
This leaves space down both wings and leaves their centre backs occasionally exposed, and with the pace the current Arsenal side possess with Sanchez, Theo Walcott, Alex Oxlade Chamberlain and Hector Bellerin, this could definitely by a way from them to hurt the Spanish champions.
Arsenal have players for big European occasions
Having not made it passed the round of 16 of the Champions League since 2010, its clear that Arsenal have been missing players that can win them games against not only the smaller sides, but also against the powerhouses of European football.
But this season has seen a change. The signing of Petr Cech has been a huge factor in Arsenal's title challenge, and he has proved he is vital to their chances at European success too. He made a string of important saves against Bayern Munich and Olympiakos, games in which the Funners had to win. He'd have to do the same against Barcelona, but there is no doubt he is capable.
Although he's not a recent signing, Giroud has also stepped up and become one of Arsenal's best players in Champions League matches. After being sent off against Dynamo Zagreb in the first match of the group stage, the Frenchman, like Cech, produced outstanding performances in the rest of the games, which include a goal in both meetings with Bayern Munich and a hattrick against Olympiakos.
Just like Cech, he needs to produce the quality again when it matters, but he's now proving to the supporters that he is a top quality striker that can be counted on in the big games.
A lot of things could go wrong for Arsenal over the two legs, but a lot of things could also fall in their favour. Despite the undeniable quality that Barcelona have, Arsenal are more than capable of surprising their critics and pulling off the shock of the tournament.