21:50. Unfortunately, that's all we've got time for tonight. I've been Oliver Emmerson, taking you through Barcelona's 2-0 win away at Arsenal in the Champions League. It's been a pleasure, but until next time, goodnight.
21:47. Elsewhere in Europe, Juventus stormed back from 2-0 down against Bayern Munich, coming back to draw 2-2 after seeing Bayern dominate for a long while. However, you'd still make the Bavarians the favourites for the second leg.
21:45. Arsenal weren't terrible at all, their defence was impressive for large parts, as they frustrated Barcelona long into the night. It's their finishing that they'll be most frustrated with, as Giroud, Oxlade-Chamberlain and Ramsey all missed huge chances to swing the tie into the Gunners' favour.
21:40. Two Lionel Messi goals did for the home side, scoring the first after a scintillating counter-attack involving Suarez and Neymar, before winning and scoring a penalty for the second goal.
21:35. It's all over at the Emirates Stadium, and you'd think that Barcelona have pretty much wrapped up the tie heading into the second leg. Coming back from a 2-0 defecit away at any European club would be difficult enough for Arsenal, let alone the best of the best.
Full-time: Arsenal 0-2 Barcelona (Messi 71', Messi 84')
90+1: Save! Suarez crosses for Neymar, who does well to get to the ball first with power considering the angle he ran at, but Cech showed great reactions to save from close range.
90: Three minutes of added time, will we see another goal?
85: Yellow card for Pique, taking down Welbeck, and he'll now miss the second leg. However, given the way that Barcelona keep the ball, they could probably afford to put me alongside Mascherano at the Camp Nou and still progress. Mathieu will probably replace him, unfortunately for me.
84: Messi sends Cech the wrong way, putting it into the bottom left hand corner, and it's 0-2. He hadn't scored against the Arsenal 'keeper before tonight, but he's now bagged a brace to put pay to that statistic.
GOAL! Messi scores the penalty.
83: Flamini not on his toes, fails to react to Mertesacker's pass and Flamini's first act is to concede a penalty. Messi to take.
Penalty to Barcelona!
82: Final change for Arsenal, as Flamini replaces Coquelin.
79: Chance for Arsenal now! The ball is hung up towards Welbeck at the back post, he heads it down for Ramsey, who has his toe-poke saved by Ter Stegen, who has been great when called upon tonight. Arsene Wenger will feel that his side should have got a goal at some point so far.
78: Off the post! Barca get three-on-two, Messi gives it to Neymar who has his shot blocked, but Messi does well to then set Suarez up, but the striker's shot flashes back off the post.
75: It was huge for Barcelona to get that goal, as Arsenal now have two choices. Attack their opponents, and leave themselves vulnerable at the back, or sit back and make sure that they only go to Spain one goal behind.
71: Arsenal's resistance is finally broken, and it's that magical man. Barcelona counter-attack superbly, cutting the home side open. Mascherano heads to Neymar, who breaks clear after playing a one-two with Suarez. The Brazilian dragged two men towards him, and Messi popped up on the right to come and receive the ball, showing great composure to finish in the area. The hosts make their second change of the night, Welbeck on for Giroud.
GOAL! Messi puts Barcelona ahead!!!!
68: Groans ring around the Emirates as another chance for the hosts goes astray. The ball breaks for Giroud in the area, and instead of shooting, the Frenchman looks to pick up Walcott, who ran from the right inside to Giroud's left. Unfortunately for him, the forward showed a lack of awarness, playing it down the right, where Alba was waiting to happily clear.
66: Inches wide! Seconds after Messi gets away from Coquelin and has a shot blocked by Mertesacker, Suarez plays a brilliant ball across the six yard box, but nobody can quite get on the end of it and the ball trickles wide.
65: Arsenal causing Barcelona some problems, a free-kick into the box falls for Koscielny and Sanchez, who both have shots blocked, before Ramsey blasts wide.
62: Messi isolates Monreal in the penalty area, twisting and turning, but the Spaniard defends well to usher the ball out for a corner, which Arsenal defend.
60: Arsenal go so close! Two great chances, as Mascherano firstly goes brilliantly to intercept Ozil's cut-back to Giroud, when the German could have shot. Arsenal get the ball back quickly, crossing for Giroud, who forces Ter Stegen into a superb save down low to his right.
55: Messi breaks free from midfield, running forward and attempting to trade passes with Neymar, who has his return pass intercepted by Mertesacker, chance missed.
50: Change for Arsenal, Walcott on for Oxlade-Chamberlain. The midfielder's failed to recover from a calf injury picked up late on in the first half.
49: Cech forced into action! Barcelona really get in behind the Arsenal defence for the first time tonight, Neymar cutting inside from the right, but Petr Cech saves from a positiion where the Brazilian should have scored.
45: Kick-off, the game is back underway.
20:45. We're just about ready to go again in the second half, who will score the opener?
20:40. Elswehere in Europe, we have seen a goal. Bayern Munich lead Juventus, thanks to Thomas Müller's goal in the 43rd minute. They've been well on top in that one, dominating Juventus, and you'd back them to extend their lead in the second half.
20:35. An intriguing half of football, but no goals yet in this tie. You'd have expected Barcelona to have the lions share of possession, and they did, but they had to wait until the end of the half for their best chance, Suarez heading wide from Alves' cross. Arsenal could, and should, have been ahead much earlier, Oxlade-Chamberlain shooting straight at Ter Stegen when the ball broke kindly for him in the six yard box. Still, it's 0-0, and you'd think that Arsene Wenger will be fairly happy with proceedings so far.
Half-time: Arsenal 0-0 Barcelona
45+1: Just wide! Just about time for one more Barcelona chance, and they were very nearly ahead. Busquets picked out Alves with a brillaint pass, he clipped it back to Suarez who headed across goal and just wide on the edge of the area.
45: Chance! Ramsey gives the ball away sloppily in midfield, and Barca move forward at pace, Suarez eventually slicing an back across the box after Messi set him up. Arsenal almost undid all their good work right on the stroke of half-time, but they should survive until the break now. One minute of added time.
41: Neymar's had a fairly quiet half, but some fantastic footwork there helped him beat two men and set up Rakitic. The Croatian couldn't get his shot away, pulling it back to Messi who wins a corner. Nothing comes of it though, and Arsenal can breathe again.
38: Play resumes, but Oxlade-Chamberlain is still hobbling, but he'll hope to make it to half-time and pray the pain settles down.
36: He tries to be sneaky and go under the wall, but Arsenal are wise to it and it's blocked. The Gunners get a chance to counter and Oxlade-Chamberlain bursts down the wing, but one big touch allowed Mascherano to come across and cover. The two players collided knee's, and both are getting some treatment. The Arsenal man looks worse off.
35: Free-kick to Barca on the edge of the area, as Messi nutmegs Koscielny and is brought down. The same man will take it.
33: More nice play from the visitors going forward, as Neymar attempts to squeeze the ball through for Suarez. Still, Arsenal defended well again, crowding the Uruguayan out as he entered the penalty area.
30: Good work from Neymar to jink inside and whip a ball in, Messi beats Koscielny in the air, but heads high and wide.
26: Big appeals for a back pass in the Barcelona area as Ozil's trickery forces Pique to stab the ball towards Ter Stegen, who gathers. The Arsenal fans appealed more than the players, and nothing was given, probably the correct decision.
22: Close for Arsenal! What a brilliant chance for the Gunners to take the lead, missed. Good play in midfield sets Ozil away down the right, and he pulls the ball back for Bellerin. The full-back has his shot blocked, but it falls to Oxlade-Chamberlain in space on the edge of the six yard box, but he shoots straight at Ter Stegen.
15: We're a sixth of the way into the game, and we appear to have found Arsenal's plan to stop the front three. Hector Bellerin is helped by Oxlade-Chamberlain in marking Neymar, whilst the two centre-back's occupy Suarez. Messi is harder to mark as he drifts inside so freely, but Coquelin is there when he does. It's worked for 15 minutes, can it work for another 75?
7: Arsenal have started well going forward here, as Sanchez plays a long pass to Ramsey after the Welshman makes a brilliant run through midfield. He takes the ball down brilliantly, playing a one-two with Ozil before having his shot blocked by Mascherano in the penalty area.
6: Monreal picks up an early yellow card, a late tackle on Rakitic. He's now on a booking for the remaining 84 minutes, but who's he got running at him all night? Oh yes, Lionel Messi.
3: Barcelona threaten early, Dani Alves flicking a header across the box from a Messi set-piece, the ball just evading Luis Suarez at the back post. It wouldn't have counted anyway, as Alves was offside when Messi put the ball in.
2: Some good early attacking intent by Arsenal, as Ozil looks to release Giroud in behind with a lofted pass. Whilst Barcelona undoubtedly have the best attack in Europe, they don't have the best defence, and that's something the hosts could get at tonight.
0: Kick-off, we're underway at the Emirates!
19:44. Gerard Pique and Mesut Ozil are two players hoping not to get booked tonight, as they'd then miss the second leg due to a suspension.
19:42. The famous Champions League anthem is blasting out of the speakers, and the spine never fails to shiver at it's piercing sound. Not long until kick-off, buckle yourself in!
19:40. There's a fantastic lights show at the Emirates right now, but it's the football we want to see! The players are lining up in the tunnel, ready to come out.
19:30. And finally, a statistic that's even more exciting than the previous two; The game is set to kick-off in 15 minutes! Send your predictions into @VAVEL on Twitter!
19:25. An even more impressive stat; Barcelona have won the Champions League four times in the past 10 years. A remarkable achievement.
19:20. Here's an impressive stat; Arsenal have got to the Champions League knockout stage in each of the last 16 seasons.
19:00. 45 minutes until kick-off, and the Emirates is slowly filling. A reminder that to keep informed on events in Turin, you can go here, and be accompanied by Jonny Walsh for Juventus - Bayern Munich. But to stick with Arsenal - arguably the best team on the planet, stay right here.
18:52. As for substitutes, Arsenal's are; Ospina, Chambers, Gibbs, Flamini, Campbell, Walcott, Welbeck. Sitting on the bench for Barcelona is; Bravo, Vermaelen, Mathieu, Vidal, Adriano, Roberto, Munir.
18:50. So, Coquelin starts in midfield for the Gunners despite only recently returning from injury. He'll have a job on his hands tracking Andres Iniesta, who starts in midfield for Barca. Olivier Giroud is given the nod ahead of Danny Welbeck up front, whilst the aforementioned trio 'MSN' all start.
Barcelona XI: Ter Stegen; Alves, Pique, Mascherano, Alba; Busquets, Rakitic, Iniesta; Messi, Neymar, Suarez.
Arsenal XI: Cech; Bellerin, Mertesacker, Koscielny, Monreal; Coquelin, Ramsey, Oxlade-Chamberlain, Ozil, Sanchez; Giroud.
18:45. The team news is in! Who's starting for each team? Find out now.
Barcelona have been consistent, winning three games in a six day period, scoring 11 goals in that period, only conceding three, as they opened up an eight point lead at the top of La Liga. Their attentions now though will firmly be on European football, as they continue their attempts to begin the first team to retain the Champions League, having defeated Juventus 3-1 in the final last year.
How about the recent form of both teams, coming into the game? Arsenal have, as usual, been toying with their fans emotions. Danny Welbeck brought them crashing back into the title race with a last minute winner in the Premier League against Leicester City last weekend. However, they followed that up with a drab 0-0 home draw against Hull City in the FA Cup on Saturday.
There's been much discussion in recent days as to how many of Arsenal's strongest 11 would get into the Barcelona team, with some saying five or six, and others saying none at all! For what it's worth, my combined XI would be: Cech, Alves, Pique, Koscielny, Alba, Busquets, Iniesta, Ozil, Messi, Suarez, Neymar. Feel free to tweet me, or the VAVEL account, explaining just how wrong I am.
Unsurprisingly, Barca strolled through their group, topping it unbeaten and with 14 points. They drew the first game, then won the next four before drawing their final match, with a weakened team playing. Their most impressive performance was certainly their penultimate game, as they put six past Roma in a 6-1 home victory.
Are they better positioned to defend the Catalan giants this time around? Probably not, in all honesty. Although they have shown their defensive mettle in some games this season, Arsenal have shipped four against Southampton and three against Sheffield Wednesday, although the latter was with a weaker team. Their Group Stage progression didn't impress either, Arsene Wenger's men were forced to defeat Bayern Munich at home and win their last two games against Olympaikos and Dinamo Zagreb, having lost three of their first four group games. Whilst they have shown that they can produce the goods against the top teams, ie the 2-0 win over Bayern at home, they've also shown that they can be dismantled by them - the Bavarians ran riot in Germany with a 5-1 win.
Starting with a question that many have posed in the last week, how exactly do Arsenal stop Barcelona's front three of Lionel Messi, Luis Suarez and Neymar. The sensational trio rocketed Barca to the treble last season, and the way they're going this time around, you wouldn't bet against them doing it again. Suarez took Arsenal apart in a 5-1 win for Liverpool during his time in England, whilst Messi has history against them, scoring four times in a 4-1 win for the Spaniard's against the Gunners in a 2010 quarter final. Arsenal have got the better of tonight's opponents in the Champions League before, but never over two legs, and famously lost the 2006 final against them, 2-1. They haven't reached another final since, and are still searching for their first European Cup.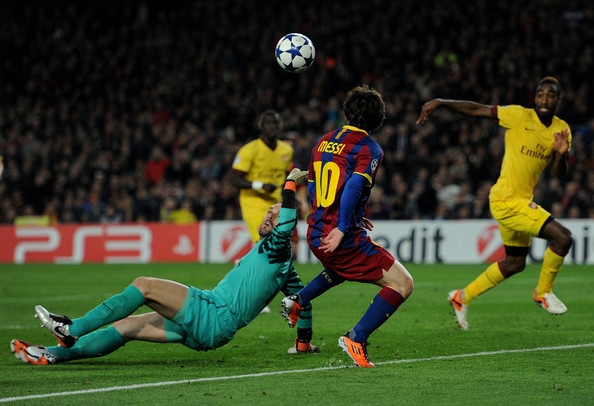 The Champions League roared back into life last week, with Chelsea the only English team to feature, as they went down 2-1 against PSG in France. Despite some fantastic matches last week, surely tonight has to be the most eagerly anticipated pairing of fixtures, with Arsenal and Barcelona playing in London whilst Juventus and Bayern Munich face off in Turin. We'll have live coverage of both matches, and you can follow Juve-Bayern here, but let's turn our attentions back to the Arsenal game.
Good evening, and welcome to VAVEL UK's minute-by-minute commentary of tonight's UEFA Champions League match between Arsenal and Barcelona! This mouthwatering clash is set for kick-off at 19:45BST, as the two teams do battle in the round of 16 first leg, before a return meeting at the Nou Camp in a couple of weeks. Stick with us before kick-off, as we build up to the game, and get that all important team news!