Former England international and also a player who amongst others shaped up women's football in England, Kelly Smith, has agreed to sign a new contract with Arsenal Ladies as a player-coach.
This followed long negotiations which had already been initiated during last season.
A boost to everyone at the club
Smith will be assisting Spanish manager Pedro Martinez Losa on the sidelines, while offering a helping hand in the attack whenever it is required. Unfortunately for her, she had to miss the majority of last season due to an ankle injury suffered earlier in April.
She expressed her happiness on the club website by declaring that she is ''Arsenal through and through'' and that ''the club means everything to [her]. Ever since [she] first put the shirt on, [she has] been so proud to do it every time".
Kelly Smith is regarded as one of England's finest players in women's football, particularly when looking back at her career which started at the age of 16 when she made her debut for Arsenal.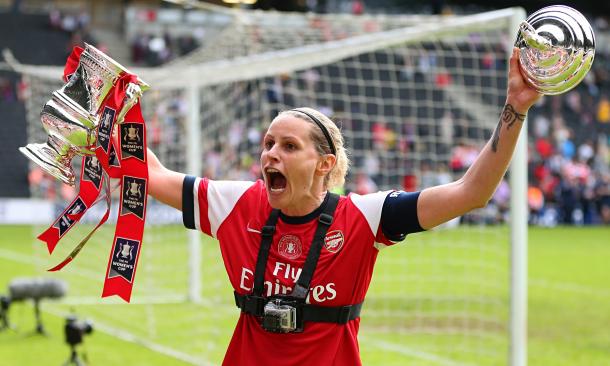 An inspiration to all
She was a striker on whom the club (and also country) would put all responsibility on due to her charisma and leadership, besides the numerous goals she used to score, with which she always guided her team mates.
In her three spells in North London, she lifted no less than 24 trophies between domestic leagues and cups and also a UEFA Women's Cup in 2006-2007, their sole honour in Europe.
Arsenal placed third in the previous season of Women's Super League 1 and this time around they are striving to provide another title challenge and dethrone their London rivals, Chelsea Ladies. They, last season, conquered both the League and the FA Cup under the guidance of former Arsenal Ladies assistant manager, Emma Hayes.
Arsenal will commence their domestic season against Reading on Wednesday 23rd March.