A prosperous season is expectined from the Spanish trio made up of Natalia Pablos, Marta Corredera and Vicky Losada, in North London as Arsenal Ladies are ready to take on the big guns and be among the challengers for the WSL 1 title.
Speaking to Spanish newspaper, AS, Vicky Losada explained how she find herself at ease at Arsenal as it is the right club for her to motivate herself and raise the quality of her game. ''We are treated as professionals, it's like a big family and conditions here are ideal and improving all the time.''
Meanwhile, striker Natalia Pablos added to Losada's words by expressing her happiness of playing in one of Europe's top clubs. Moreover, she is thrilled by the experience she has in England as her quality is tested week in week out when encountering quality sides, unlike in her native Spain where the league is still lacking competitiveness.
Their compatriot Marta Corredera summed up her team mates's words by saying that ''We are a family here at Arsenal - people talk to you, ask you things - they knew you and the fans really get right behind the team. '' She also explained how they prepared for the new season and that they are ready to make the leap of quality in order to be the main club in England once again.
How did Arsenal Ladies change under Pedro Martinez Losa?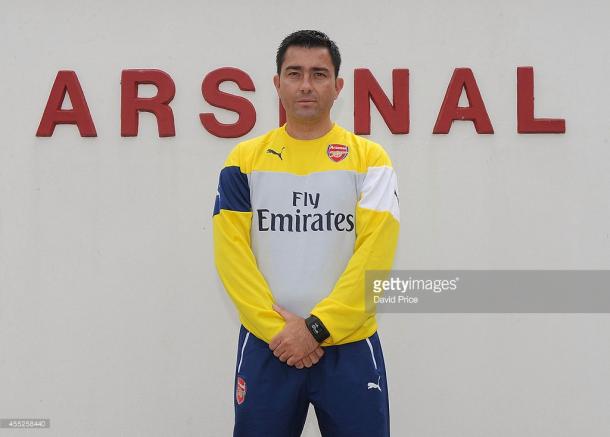 Possession, passing and pressing is the new system seen in Boreham Wood these days, unlike several years ago when women's football was only about long balls. Pedro Martinez Losa has brought in North London his Spanish knowledge of football and he is striving to turn this philosophy into silverwares. In an interview with AS, he explained his philosophy and what are their aims; ''We have sufficient tradition and resources to create a model of our own. We are a team which builds play from the back and right now in the English game, no other team would dare to attempt that.''
Moreover, he also added that sharing the training grounds and also sharing their lunch table with the likes of Arsene Wenger, Mesut Ozil and Santi Cazorla is a situation which automatically helps his players to motivate themselves and it also reflects that they form an integrated part of the club.
With new season on the horizon, Martinez Losa and the Spanish trio are confident that they can add to the 2015 Continental Cup and become once again the top club in English football.