Arsenal's recent form has been a subject of some concern for fans of the North London club. A 3-2 loss at Old Trafford against what was a hugely sub-standard Manchester United side followed by a 2-1 loss at home to relegation threatened Swansea City has cast shadows over what was supposed to a strong title challenge.
Much of the blame is being placed on the offensive options at Arsene Wenger's disposal, who seem unable to find the back of the net on a consistent basis at this moment in time, while defensively the Gunners have also produced some pretty inept pragmatic displays in recent games.
However, much of the issue could stem from the central hub of this Arsenal side, the centre of midfield. Santi Cazorla's adaptation to a deeper central role in early 2015 was a catalyst for a huge amount of success, hence why Wenger's side finished as the most productive and successful team for that year.
His absence since has had a huge effect on how Arsenal have conducted games and now they find themselves entering March having only won three Premier League games.
Coquelin's perfect partner
Much was made about Francis Coquelin's renaissance last season and it coincided with Cazorla's positional alteration. The combative Frenchman was elegantly complimented by the Spaniard's ability to dictate and orchestrate attacks from deep with his accurate passing and discipline.
Next to Aaron Ramsey, Coquelin has looked a shadow of the player who was thought to have brought an end to Arsenal's defensive midfield fiasco. Both players have been unable to dictate the tempo of games and subsequently the Gunners have struggled to bounce back after going a goal down or indeed hold on to leads, as they showed in the recent game against Swansea.
Cazorla was an essential component in Arsenal's midfield pivot and enabled Coquelin to go about his defensive business with more freedom and support.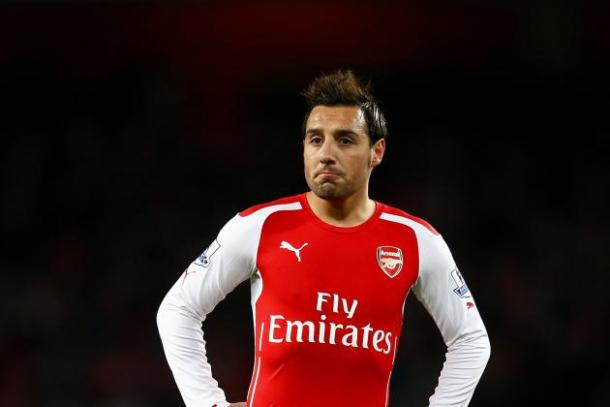 Gives balance to the rest of the team as well
The rest of the team also thrive off of Cazorla's presence on proceedings. Mesut Ozil benefits from having a more effective deep-lying supply line, while even Ramsey himself benefits from being moved out wide so as to focus on his more offensive traits.
What this positional switch also means is that the centre of midfield is bolstered by Ramsey often drifting inside. This in term frees up more space for the bombarding Hector Bellerin to exploit and as a team the functionality greatly improves, as was seen with the positive results achieved with this system in place.
Cazorla's positional awareness also provides more cover for the full backs, namely Nacho Monreal who in recent games has struggled to contend with the lack of cover received from Alexis Sanchez which is quite often eradicated with the Spaniard in the side.
It is almost as if a positive domino effect is in place with Cazorla in the side, something which perhaps wasn't widely noticed when he was playing but has become glaringly obvious since his prolonged absence.
His return in April could be a timely boost
The ambidextrous midfielder is set to return in April and it could be the boost Arsenal need in the final rounds of the season to rebuild their tattered title challenge.
The cohesion between defence and attack and the improved transitional pace in these final games, which Cazorla brings, could be crucial to the Gunners and Wenger will be hoping his key midfielder doesn't take too long to rediscover his form – unlike Sanchez in recent weeks.
Most great teams are built around a solid midfield engine room and while the Arsenal side of 2015 was certainly not one of the historical greats, it certainly was a side vastly improved from the one we are currently witnessing.
Cazorla was one of the most important components in this success and it is only now that we are seeing the true extent of this importance.