Arsenal succumbed to their inevitable elimination from the UEFA Champions League, despite a battling performance at the Camp Nou.
A goal each from Barcelona's stunning front three of Neymar, Luis Suarez and Lionel Messi cancelled out Mohamed Elneny's first Gunners goal and leaves Arsenal chasing runaway Premier League leaders Leicester City for their only hopes of silverware.
Arsenal behind early on
It was a bright enough start from Arsene Wenger's men, who opted to start youngster Alex Iwobi over the more experienced Theo Walcott and Joel Campbell and the Nigerian rewarded his manager's decision with a decent first European start catching the Catalan side out several times on the counter-attack.
However, Barcelona opened the scoring, Arsenal gave away the ball in midfield and allowed Luis Suarez to thread a long ball through to unmarked partner Neymar, who poked the ball passed David Ospina.
It was poor defending from the Gunners who left themselves too exposed and were lucky not to be behind sooner when Lionel Messi brought down a Neymar through ball with ease and was only denied by a reaction save from Ospina.
Gunners adventurous in attack
The Gunners continued to push on in search of a goal and thought they had a solid penalty when Iwobi went down inside the box whilst running clear, contact from Javier Mascherano was inconclusive on the TV replays although it was clear Iwobi had gone down after catching his own heel regardless of contact.
Alexis Sanchez nearly marked his return to Camp Nou with a first half goal, La Masia prospect Hector Bellerin found the Chilean with a great cross but Sanchez' glancing header went just wide of Marc-Andre ter Stegen's goal.
Elneny produces some magic
Despite the impossible task of scoring three goals at Barcelona, the Gunners didn't give in and were rewarded with Elneny's first goal for the club and the equaliser when he connected with a Sanchez cut across the box and a swinging right-footed shot was finished into the top corner.
They almost took the lead when a long ball forward found Danny Welbeck who couldn't evade Mascherano despite his best efforts and the Argentine blocked his shot at goal akin to Mascherano's block on Nicklas Bendtner's effort five years ago that stopped Arsenal progressing from the same stage.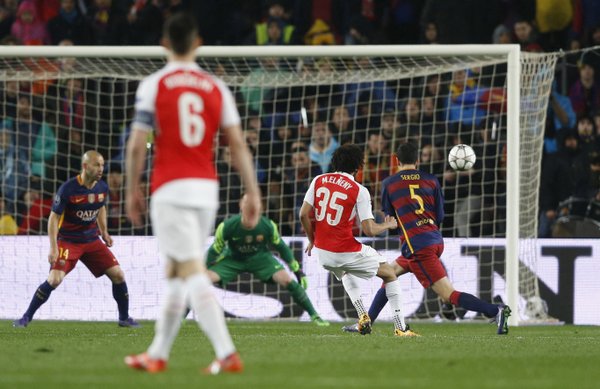 Suarez and Messi finish Arsenal off
The blocked shot turned out to be Arsenal's last meaningful effort as 25 minutes from time Luis Suarez all but killed the tie with an innovative volley from Dani Alves' cross.
Suarez appeared to change direction in mid-air and connected with his shin as the ball nestled into the top corner.
Alexis Sanchez almost made it 2-2 in the last ten minutes with a free-kick from 25 yards but ter Stegen made a great double save, first to stop the free-kick then to deny Olivier Giroud from close range with a strong hand.
Messi finished the game with another goal for his against Arsenal highlight reel, chipping the onrushing Ospina with ease.
For FC Barcelona it's their ninth straight Champions League quarter-final, but for Arsenal, it's the sixth straight-year they've failed to make it to the last eight and now travel to Goodison Park looking to salvage their season.