Since the departure of Patrick Vieira, Arsenal have lacked a physical presence within their midfield.
Champions of recent years have all possessed a player of stature in the middle of the park, and without one a team's title hopes wither as the season progresses.
Arsenal fans have pleaded for years with Arsene Wenger to invest in a ball-winning midfielder, as the side is already festered with an abundance of skilful playmakers.
Elneny has started well since joining in January
In January, the fans finally got their way when Egyptian Mohamed Elneny joined from Swiss side FC Basel for £5 million.
Elneny arrived with a solid reputation having impressed in European competition against several English sides, and in helping Basel win three consecutive league titles.
Since his arrival, Elneny has only played a full 90 minutes once for the Gunners in league competition, and opened his account for the side with a stunning goal in the recent defeat at Barcelona in the Champions League.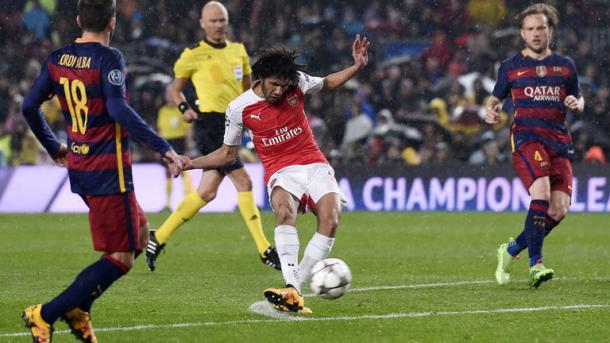 Elneny has very much the same traits as Alex Song, who Wenger opted to sell much to fans dismay in 2012.
The 23-year-old is more of a box-to-box midfielder than someone who has the discipline to remain a protector of the back four.
He fits the bill perfectly as a typical Arsenal player; he is skilful, has a range of passing and can chip in with a goal or two. However, Arsenal fans are not currently wanting or looking for these traits.
Coquelin is the better defensive option
Since his introduction to the side, the Arsenal faithful warmed a great deal towards Francis Coquelin, who is not a typical 'Wenger Player'.
Coquelin is somewhat brutish, he does not try fancy flicks and tricks, rather he attempts to break up play.
Realisation soon kicked in that the Frenchman was not the answer to the North London club's defensive frailties, and that another player's services were required in his position.
Wenger tried to solve his issue with buying Elneny but the Egyptian is not the answer either.
Has Wenger thrown another title away?
Elneny seems to be a great player but he is not what Arsenal need, unless the likes of Mesut Özil or Santi Cazorla depart after the European Championships in France this summer.
Unfortunately, it is becoming more and more clear with every passing gameweek that Wenger's transfer policy has cost the Gunners yet another Premier League title.
The Frenchman needs to realise that he may have to sacrifice some elegant play on the field to clinch a well overdue title. However, is he too stubborn to do so?