The Arsenal academy has produced many great players for the team over the years; talents such as Ray Parlour, Martin Keown and legendary captain Tony Adams, as well as current first team regulars such as Jack Wilshere, Francis Coquelin and Hector Bellerin.
One more name to be added to the crop of academy talent, is 19-year-old Alex Iwobi.
Iwobi, of Nigerian descent and the nephew of cult footballing legend Jay-Jay Okocha, graduated from the academy and has since broken into the first team, featuring normally as a substitute.
In recent weeks, however, the youngster has taken a starting position in right midfield, featuring in the away leg of the Champions League tie against Barcelona. But how have his performances reflected upon his selection in the past few games, and is now the best time to be playing him?
Sink or Swim?
Iwobi has been very much a fringe player this season, making his first team debut in the League Cup, in the 3-0 defeat to Sheffield Wednesday, and then his league debut a few days later against Swansea City. Featuring as a substitute to try and gain some first team experience, Arsene Wenger decided to try something different.
With Theo Walcott and Joel Campbell not in the best form at the moment, and Alex Oxlade- Chamberlain sidelined, the boss then threw Iwobi into the deep end with a Champions League start against Barcelona.
Whilst the Gunners lost the game, ejecting them from the Champions League in the process, Iwobi shone, proving to be calm on the ball and unafraid of taking on some of the best players in the world.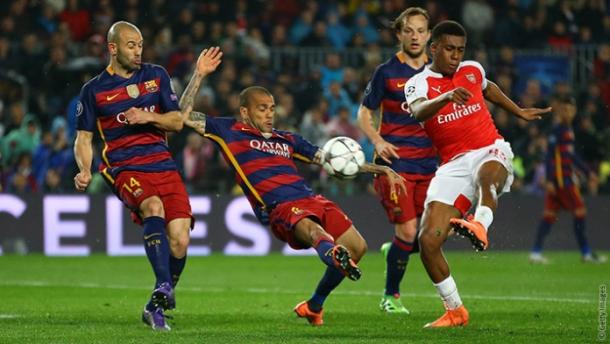 This confidence paid dividends as Iwobi was then handed a Premier League start against Everton the same week. His performance against the Toffees not only brought the youngster his first league goal for Arsenal, but also a vital three points in the fight for the Champions League spots. That win was in no small part due to his performance.
During the game against Everton, Iwobi showcased far more than ability, but an understanding of football and how to play the game. The teenager is not afraid of nearly playing himself into trouble, assured that he can either play himself out of it or one of his teammates will be there to help him out.
This kind of confidence is wonderful to see and plays well into Iwobi's hands to keep pushing his teammates for that starting position which, if he keeps playing at this level, there will be very fierce competition for indeed.