When Arsenal signed Gabriel from Villarreal during the 2014/2015 January transfer window in a deal worth around £11million, not many fans knew what to expect from Arsene Wenger's latest acquisition.
The Brazilian had built up a reputation in Spain playing for The Yellow Submarine as a tenacious, aggressive, speedy centre-back who played the game on the edge; his tangles with Atletico Madrid's Diego Costa had gone viral on the internet and would prove to be a pre-cursor for the events of September 2015, as Chelsea ran out 2-0 winners against Arsenal at Stamford Bridge in a match where Gabriel was controversially sent off.
Wenger, wisely, slowly brought Gabriel into the first-team picture for the latter end of last season, in an attempt to integrate the non-English speaking defender into Premier League football and so that the partnership of Per Mertesacker and Laurent Koscielny would not be disturbed. It was thought that the next season, 2015/2016, would be when he would really lay claim to starting on a regular basis for the Gunners.
Not cementing a place
But that has not been the case. The consensus among commentators both in the public and the media is that Koscielny is the only nailed-on centre-back in the Arsenal team-sheet and the other two, Mertesacker and Gabriel, have their limiting flaws.
Gabriel has started four Champions League matches this season and all four matches have ended in losses for the Gunners. Forgivably, two of these losses were away at the Allianz Arena and the Nou Camp but the other two were against Olympiacos at home and Dinamo Zagreb away in Croatia. It appears that Gabriel maybe lacks the tactical nous to operate effectively in Europe's premier club competition and the more experienced German in Per Mertesacker is the more sensible partner for Laurent Koscielny.
In the FA Cup, Gabriel started the third and fourth round victories as well as the fifth round replay against Hull City, another match where Arsenal prevailed. But, in the recent 2-1 loss in the sixth round against Watford, Gabriel started and had a torrid time against the partnership of Troy Deeney and Odion Ighalo, and the blame for the all-important first goal of the match can certainly be put on his shoulders, where a flicked-on throw-in enabled Watford's Nigerian striker Ighalo to too easily turn him in the box as a result of Gabriel getting far too tight to him, before finishing expertly against Colombian David Ospina in the net.
Recent league performances
With regards to the Premier League, Gabriel has started four of the last five games for Arsenal, in matches where Arsenal have only picked up four points from a possible twelve. His mental deficiencies were highlighted by Manchester United's teenager Marcus Rashford, who slipped away from Koscielny and Gabriel too easily in Arsenal's 3-2 loss. Likewise, in the 2-1 defeat at the hands of Swansea at the Emirates, Gabriel was not authoritative enough in defending the box when Gylfi Sigurdsson whipped in a free-kick from which Ashley Williams scored, following a Petr Cech error. Both these matches show Gabriel's proneness to lapses in concentration and a lack of communication when defending in his own box - possibly due to his imperfect grasp of the English language.
Against Everton however, who were poor for the majority of the game at Goodison Park, Gabriel dealt with the threat of Romelu Lukaku expertly, not allowing Everton's Belgian talisman the chance or the opportunity to influence the game as he has done on many times for the Toffees this season. This microcosm of the season just highlights and evidences exactly what Gabriel is good at as a defender and what he needs to improve on.
Strengths
When coming up against a mobile, strong striker, Gabriel has the physical attributes to go toe-to-toe with him and match him for pace and strength. It was why Diego Costa resorted to antagonising him in that aforementioned Chelsea-Arsenal clash earlier this season; the Brazilian-born Spanish striker was not getting anything from the duo of Gabriel and Koscielny. Lukaku struggled against Gabriel greatly simply because Gabriel can match him when he runs into the channels, and Gabriel was able to match him when the ball was played to his feet.
In a match where Arsenal are going to play against a team that will sit back and counter, Gabriel when coupled with Kosicleny offers Wenger the opportunity to play with a high-defensive line, and push right up to the half-way line in an attempt to catch opposition strikers offside and maintain a high press when out of possession.
Weaknesses
However, Gabriel lacks the ball-playing ability and concentration to play against some of the elite striker the Premier League and Europe has to offer. A defender who relies too much on his physical attributes and playing impulsively will get caught out by a forward who is clever about his movement and can drop deep or alternate how he operates in the final third, like Luis Suarez.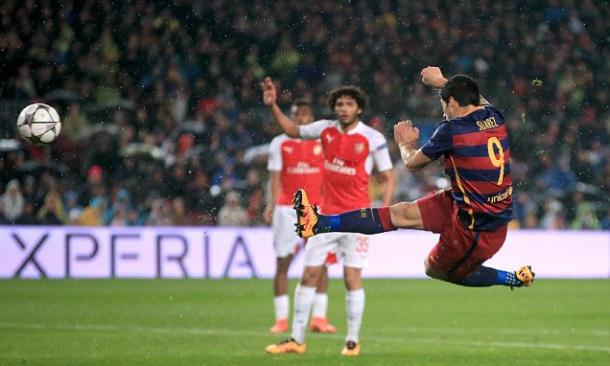 The language barrier can certainly be considered an issue, as Wenger noted when Gabriel came to the club; it cannot be understated how key communication is in the heart of defence. Also, there are times where Gabriel oversteps the mark in his eagerness to impress and defend - a 50/50 in the Arsenal-Watford FA Cup match where Arsenal's Brazilian defender entered the challenge with both feet of the floor and his studs showing was not judged to be a foul by the referee but deserved a red card.
Judgement
Ultimately, Gabriel is not good enough to justify starting regularly for Arsenal but that is not to say that he is not good enough to play against certain opposition. Mertesacker too, is not good enough to justify starting regularly for Arsenal even though he is captain of the club when Arteta does not play. What this points to is a problem for Wenger; he must surely realise the deficiencies he has at the centre of his defence and must act to rectify this problem with the purchase of a top central defender in the summer transfer window.
He already has a supremely talented goalkeeper in Petr Cech and a centre back in Laurent Koscielny who is among the best in the Premier League – he needs a top class partner, too. Gabriel is good enough to be a squad player, where cup games and league matches against weaker opposition or overly-defensive sides is when he should be deployed. But he is not of the quality of player to start for a side that wants to compete for the highest prizes domestically and in Europe.