Since arriving in the Premier League in 2013, German playmaker Mesut Özil has electrified Arsenal's attack with a breath of fresh air following the numerous departures of critically acclaimed 'world class' attacking players.
Özil took his time adapting to the Premier League, his first two seasons spent testing the water before diving into the full force of the league. With the reigns of the assist record in his hands, and his best individual season coming to a close, rumour has it that the German has loosely agreed to sign a new contract with the Gunners, potentially extending his stay in North London.
To celebrate this completely unconfirmed news, it would only be right to commend the majestic midfielder on his instinctive and effortless spark that has brought joy to football lovers this season. Özil has contributed to 23 of Arsenal's 48 goals this season, scoring 5 and assisting a remarkable 18 goals for his teammates.
However, even statistics do not describe the full beauty of Özil's season, creating a massive 116 goal scoring chances also. Should the contract speculation be true, it would be a massive step forward for Arsenal, a club who have struggled to keep hold of elite players in the past.
From the top
After a season of regular occurrences for Arsenal, keeping hold of Mesut Özil may be the overdue light at the end of the tunnel for the club. It's always difficult to put yourself into the shoes of a manager, as nobody knows exactly what these highly criticised professionals have to endure on a daily basis.
However, for this article, I will be putting myself into the shoes of a football manager in the possession of Özil to attempt to puzzle together a team to fully accommodate the wonderful German, in comparison to the Arsenal squad he is currently a member of.
Spanish comfort
Firstly, I must address the role that every football fan craves; a clinical striker, a player that can provide his team with 30+ goals every season and in Özil's case, a fast one. Take a look back to Özil's glorious days in Madrid; orchestrating the attack of his teammates under the gentle rays of the Spanish sun, playing a through ball or two to Ronaldo, effortlessly flicking a ball to Benzema as he applies sun lotion to his skin, kissed by his Turkish-German roots.
While the point I am trying to make is embedded into some comedic metaphorical descriptions, I am essentially attempting to emphasise the ease that having clinical players blessed the playmaker with. Having such players in front of him allowed Özil to perform his magic for the world to see; his unique effortless style causing mayhem to his opposition week after week without even breaking a sweat.
In his final season at Real Madrid, Özil contributed to 22 goals; 9 goals and 13 assists. When comparing this to this season, in which he has contributed to 23 with 8 games to go, it would be silly not to assume that Arsenal have stolen this man from Real Madrid, in the form of his life. His services to Real Madrid did not go unappreciated following his departure, Cristiano Ronaldo declaring: "He was the player who best knew my moves in front of goal...I'm angry about Özil leaving." This says a lot when considering the standards of the 3x Balon D'or winner.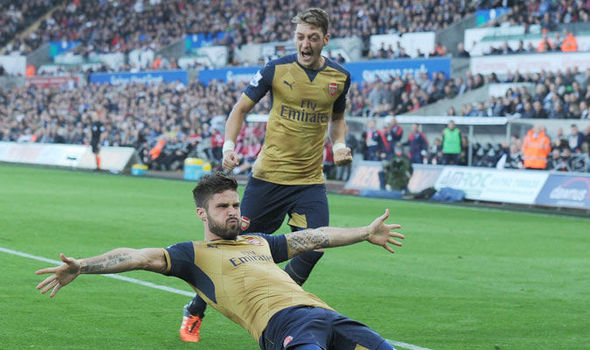 Goal-getter
While the purchase of fellow La Liga graduate, Alexis Sanchez has assisted Özil's ability to assist, the German still plays behind a total of zero clinical attackers. While registering as the second most dangerous duo in Europe back in January, Mesut Özil and Frenchman Oliver Giroud have formed quite the partnership this season with 8 goals assisted and scored between them. While Giroud is clinical when he wants to be, I still feel that Arsenal could benefit massively by providing Özil with a full time clinical goal poacher. Can you imagine the results?
The issues lie in the fact that no team with a clinical striker would be willing to let him go. For example, you could offer Borussia Dortmund £100 million for the services of Pierre-Emerick Aubameyang, but the goals in which he provides his team with are somewhat priceless. The emergence of the availability of 34 year old world beater Zlatan Ibrahimovic has been surfaced this year, with his contract coming to a close with PSG, just in time for the summer transfer window. Could he be the man to fill the cracks hindering Özil's full potential at Arsenal? No one knows, but the fact is Arsenal and Özil would certainly welcome a striker with open arms this transfer window.
New faces
The £42.5m midfielder has already cried out for new signings, following his recent interview with German newspaper Welt am Sonntag he declared: "We need reinforcements if we want next season to be on top again." It is clear what he wants, and if that is what it takes to hold down a player of his standard, then get the cheque book out. Just like Aubameyang's value to Dortmund is irreplaceable, it is beginning to prove that Özil's role at Arsenal is also irreplaceable.
His current manager seems to be like the rest of us, in awe of the talents that the German possesses as he claimed in a recent press conference that; "If you love to watch football, you love to watch Özil." A statement that in some respects cannot be argued following some of his performances this season. At this point in time for Arsenal, is there a bigger form of motivation than to answer the wishes of a player that is critical to the success of the club?
Controlling the midfield
Back to Özil, building a team around the majestic force field of the German is completely necessary. In recent matches, I believe that the stability of Francis Coquelin and Mohamed Elneny has relieved some defensive pressure from the shoulders of Özil. His reliance on the two to make vital tackles and to pivot the play from defense and attack efficiently is key to the danger of Arsenal and Özil on the counter attack, allowing Mesut time to pick a pass and inflict misery on his opposition once more.
As well as a striker, I feel the German is missing something else at Arsenal; someone that can assist him. If anything is holding Mesut back from achieving a European 'team of the season' spot, I believe it is goals. If Arsenal were to enroll an attack minded player on the same wavelength as perhaps Özil and Alexis Sanchez, the possibility of more goals for Mesut would be greater.
Adding this player would also allow for another player for Özil to assist and connect with, going into the next season. When describing this player, I tend to subject my thought around a dynamic player such as a winger like Bayern Munich's Douglas Costa, or Leicester City's golden boy; Riyad Mahrez. Again, players of this standard are difficult to come by, and increasingly challenging to purchase.
The near future
There are many ways in which Mesut Özil has contributed to Arsenal this season, and I feel it may be time to Arsenal to begin to contribute back to the playmaker if he is to commit his future to the club. For now, Arsenal look to recharge their title hopes as they face Watford at the Emirates and I'm sure, at the back of Özil's mind lurks Thierry Henry's Premier League assist record, in which Özil is just 2 moments of magic away from matching.