Just 20 days after their home defeat to Quique Sanchez Flores' Watford in the FA Cup, Arsenal hoped for revenge in yesterday's Premier League fixture between the two at the Emirates Stadium. Revenge is just what the Gunners got, providing Watford with a 4-0 dismantling, but in true Arsenal fashion, the impressive performance has maybe come a little too late in reference to their league title hopes.
Game recap
Two first half goals came from two players recently returning from international duty, Alexis Sanchez and proven youngster Alex Iwobi, who settled the score at 2-0 at the break. Less than a minute after the restart, Arsenal decided where the points were going as right back Hector Bellerin had his shot deflected and converted, extending the home team's lead to 3-0. The final whistle blew shortly after Theo Walcott made it 4-0, slotting home from close range after some illusive play from Mesut Özil and Joel Campbell.
Post-match comments
Arsene Wenger was understandably elated with his team's performance, particularly that of Alex Iwobi. The Frenchman was full of praise for the youngster in his post match press conference: "He came in he had an impact straight away. That's benefited from the fact that he knows everybody and they trust him as well."
Wenger added, " I didn't expect that level of efficiency or impact on the scoresheet."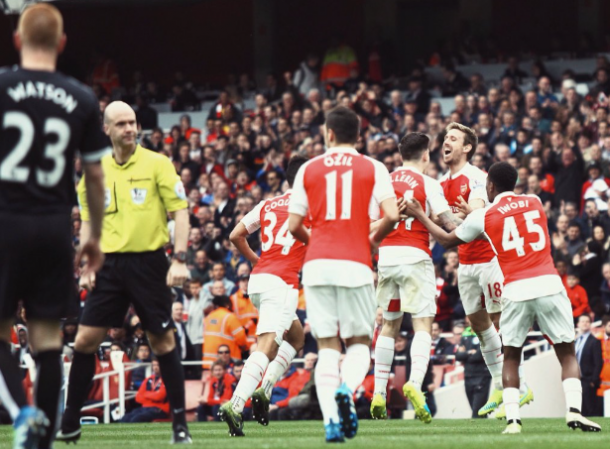 The Nigerian teenager was humble in his man of the match collecting speech, winning his second consecutive individual award following his heroics at Goodison Park last time out.
"When you are young, you dream about it. I'm just enjoying the moment and playing in this team"
As for the Hornets, Quique Sanchez Flores was full of praise for the Gunners following his sides 4-0 defeat, admitting that his team were 'clearly second best' on the day:
"Arsenal played really well, really fast and in a high position, but we conceded the goals. We didn't play with the necessary impetus and energy and finally we lost."
Title desperation
When the topic of the title race came up, Wenger and his team were reluctant to accept the reality that the title is far from a realistic achievement, with 7 games to go and sitting 8 points behind league leaders Leicester City.
Arsene Wenger retained his routine blast of positivity in the press conference when speaking about his title hopes: "...focusing on the next game, focusing on the process, and adding that belief. We can still challenge for the title."
It seems nothing will remove the belief from the Arsenal boss, which isn't necessarily a bad thing with challenging games coming up for his team. One of which falls next weekend, Arsenal's last meeting with in form West Ham United at the Boleyn Ground.