Özil's ability valuable to Gunners, says Mertesacker
Arsenal's Mesut Özil has the ability to be worth 30 points a season for the Gunners, according to team-mate and fellow compatriot Per Mertesacker.
The experienced centre-back lost his place in the starting XI to Gabriel Paulista last month, and has been watching on from the substitutes' bench - where plenty have suggested his experience and imposing figure at the back could prove important to help instill some solidity within the backline.
Despite Arsenal's faltering form, Özil has flourished this term
Özil has been one of the Gunners' few shining lights in an otherwise frustrating season, where they were heavily tipped to win the Premier League title after a highly encouraging start to proceedings. But, somehow, they managed to capitulate in typical Arsenal fashion: dropping points in crucial games, and falling away shortly after the new year of 2016 was introduced - despite beating the likes of league leaders Leicester City and Manchester City.
Özil was named on the six-man shortlist for the PFA Player of the Year award, but Mertesacker told Arsenal Player - a free subscription service for club supporters - that when fit, Mesut would "be at his best".
He also said that he'd hoped the silky German would be able to maintain his level of fitness throughout the campaign, so the team could "get the best out of him" as a result, because he would "help us [the side] win games."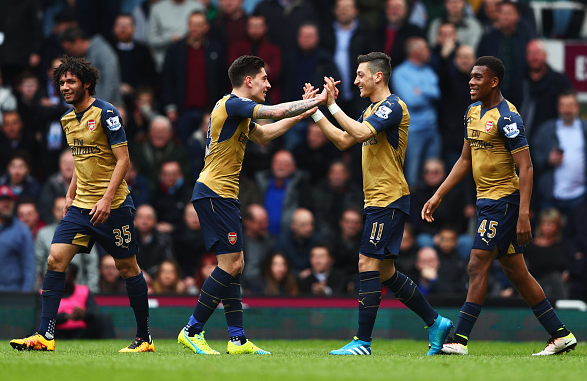 "He is [progressing], especially in the final third. We try to give him the ball to make the final decision, or make the final ball because we know that is where he is at his best."
The 31-year-old continued, saying that with fulfilled potential, Mesut "has 20-plus assists in him" and can even contribute by scoring goals on a more frequent basis.
Mertesacker also spoke about despite the criticism in previous seasons - and his excellence being displayed this term - Özil has yet to maintain his best form and will be able to do so now. He also felt as though Mesut "realises he can now grow here [in England]", even though it's a "foreign country" to his native homeland.
"He gets the respect now and it is going to be even tougher for him. Everyone tries to block his left foot because he is so dangerous with it."