It's a difficult time to be an Arsenal fan, ten points behind Leicester City at the top, five below Tottenham Hotspur and numerous occasions when the bleak score lines seem to sum up the season. It's chaotic at Arsenal, mainly due to the divide in the fan base that is restricting Arsenal fans from coming together and backing the team during this difficult period.
Fan Branding
The divide is split in three; left side of the fence (Wenger out), right side of the fence (Wenger in), and sat directly on the fence (undecided). This has caused a heated feud between Arsenal fans, sparking from the one man that brings us all together; Arsene Wenger, leading me to the topic of this article, the reasoning for the fans that are adamant that this is the end for the Frenchman.
The man with the power
Arsene Wenger is hailed by many as the man responsible for transformation of Arsenal football club. Since being named manager in 1996, Arsene Wenger has changed Arsenal forever, whether it be through style of play, location or honours, the Frenchman has certainly marked his name in the history books of the football club.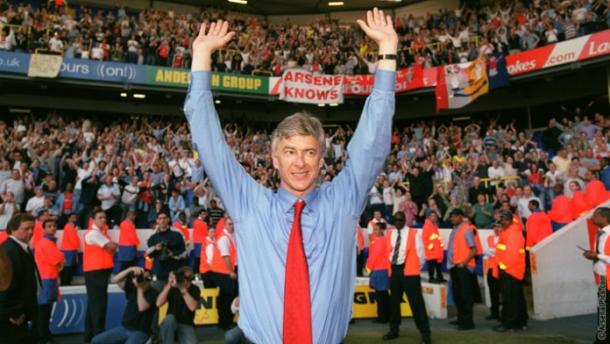 When Wenger arrived at Arsenal he was an unknown man, questions were asked of him even then but he responded perfectly during his second season, winning the club their first ever Premier League title. He went on to win the title once more in 2001/02 and again in 2003/04, a special season in which he achieved what no one else has in the Premier League, an unbeaten season. However, the immaculate season also marks the last time that he won the Premier League, 12 years later and Arsenal have not finished in the top two of the league standings for 11 years. This is the question mark looming over Wenger's head as to whether he is able to take Arsenal any further and any closer to winning the Premier League.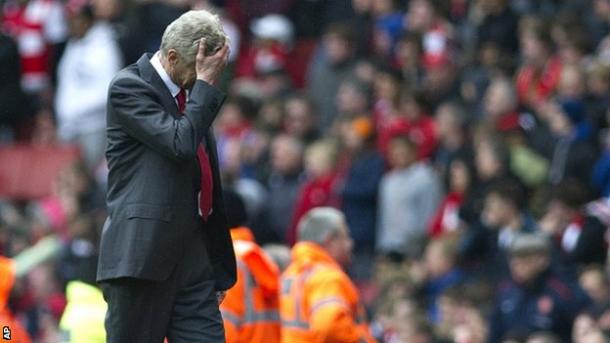 A season to forget
This unfortunately brings me to this season, in which the questioning of the Arsenal manager has never been greater. In a season where the likes of Manchester City, Manchester United, Chelsea and Liverpool have fallen short of challenging for the title, you would expect Arsenal to be lifting their first title since the invincible season. This is agonisingly not the case for the Gunners this season, as they currently fight for a place in the top four. From the start of the season to now, where did it go wrong for Arsene Wenger?
Lack of reinforcements
We start in the summer, Wenger dismissed claims that Arsenal were under pressure to seal the signatures of new players, claiming that "he could not better what he had" with reference to who was available. As an Arsenal fan, I was shouting at the television on deadline day as Arsenal failed to sign an outfield player, a striker in particular that the club have been crying out for since the departure of Robin Van Persie. Saying that, Wenger did introduce Petr Cech to the squad, a leader and a sensational goalkeeper, but the man at the opposite end of the pitch never came. No, managing a Premier League club is not like a FIFA Career Mode, but, from life experiences in general, I know that if you do not try, you are left with no chance. As far as we are concerned, no bids were placed on an outfield player to improve the team.
We fast forward to the first game of the season, a 2-0 home defeat to West Ham United, a shaky midfield and defence and to top it off, an anonymous strike force. The first game of the season was ultimately the first insight to Wenger's weakness, which was exploited expertly by Slaven Bilic, flexible tactics and several possible approaches to the game.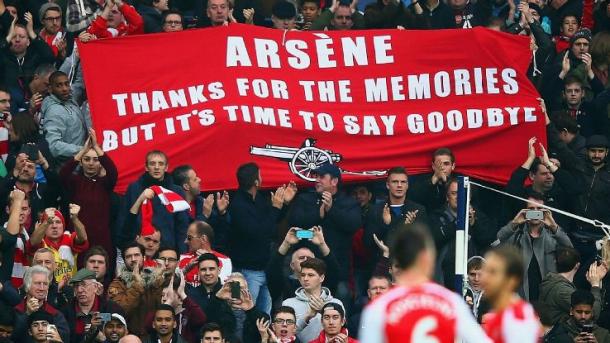 Stuck record
When you have managed a football team for as long as Arsene Wenger, you must feel like you cannot be questioned, which is how Arsenal have seemed to play on numerous occasions this season. On the odd chance, Arsenal will change their game and produce us with a tactical master class performance in which we sing "One Arsene Wenger", take the 3-0 win against Manchester United and the unbelievable 2-0 victory over Bayern Munich in a faultless October. Sadly, this rarely happens and Arsenal resume to being Arsenal, one approach to a game and if it is worked out by the opposition, we drop points. This season it has been particularly noticeable that Wenger has one dimension to his style, quite like when Barcelona's tiki-taka football was found out, Arsenal are in desperate need of a change in style.
There is no variation in play, every season when the inevitable results come about; we take it on the chin because we understand that Arsenal can't adapt their style to their opposition. The poor things. When you consider that the Frenchman is earning £8m a year for his services, you expect that Wenger could beat the Swansea's, the Stoke's, the Southampton's and maybe even the Chelsea's every once in a while. When you also consider that Arsene Wenger has taken a team unbeaten in the Premier League, it is confusing to understand how he does not see where the team is lacking compared to a team that was so exquisitely balanced.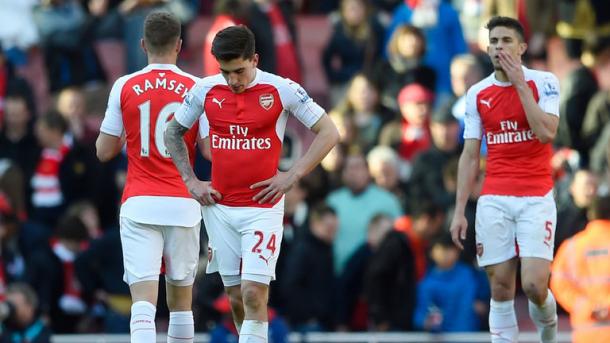 Commitment issues
The invincibles were all internally Arsenal. Defenders that would put their bodies on the line to protect the goal, attackers that would take risks and sprint for ninety minutes, and midfielders that could keep possession whilst running through a pitch black crowded alley. When you watch Arsenal, there is little commitment displayed, heads drop when goals are conceded and leadership is weak.
There doesn't seem to be any distinct personalities that can change the game with encouragement like that of a Vieira or an Henry. You wouldn't naturally consider this a problem, but when you watch Liverpool, West Ham, Leicester City or Tottenham Hotspur, when they are behind in a game, you rarely expect them to lose because of this leadership, belief and commitment to their club. Does this stem from Wenger's vocal absence in the dressing room?
A lack of motivation perhaps; when Danny Welbeck scored that last gasp winning against Leicester City in February, closing the gap to two points, what greater motivation is there to organise players? This didn't happen, the next Premier League game saw us lose to arguably the worst Manchester United side in history in a spineless performance in which we conceded three.
We went on to lose 2-1 at home to Swansea, and now, we sit ten points below the leaders following our decline to third in just two months. Is Wenger's motivation an issue, this would certainly suggest so.
Faith in the manager
The argument is matched by the fans rightfully grateful of Wenger's services, claiming that he should remain respected and should be allowed to see out his contract, ending at the end of next season. There should be no issue with that opinion; we are where we are, at the stunning Emirates Stadium and in the top four teams in England, because of Wenger's dedication to the club.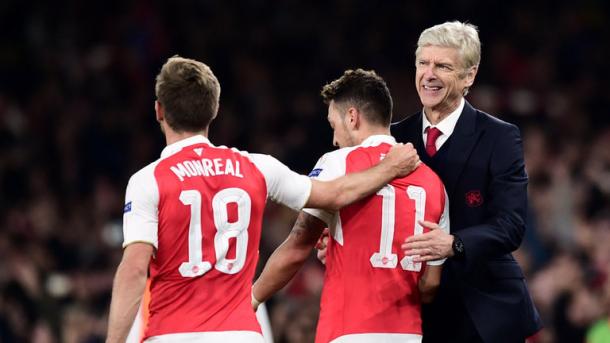 Despite being wanted by Europe's elite clubs, Arsene stayed determined to help Arsenal return to better days following the restricted finances after the Stadium build, and the departure of crucial players. When comparing the expenditure of Wenger's Arsenal and other top clubs over the years, it should be deemed as an admirable success on Arsene's behalf to keep the club in the top four on the limited funds that have been reported.
Despite this terrible season, Wenger staying at the club for one more season is not necessarily a bad thing, IF, he was to join forces with the board and select his successor early, in order to work with the style of the new man to ease the transitioning period when the time comes for Wenger to hang up his long coat.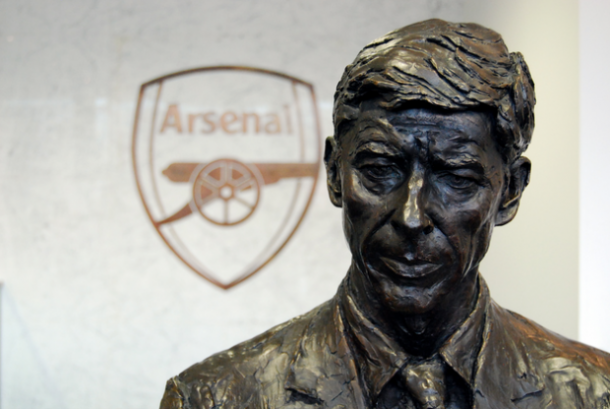 There is no denial of Arsene Wenger's impacts on Arsenal football club and as a fan myself; I know he will forever be respected for his outstanding contribution to the club.
However, it is not unclear that Arsenal are in desperate need of a change with the success of fellow Premier League clubs growing, could Arsenal be left behind in terms of transitioning to the new brand of football in England through upcoming managers. No matter the opinion, no matter the outcome, Arsene Wenger's legacy will remain forever.