Arsenal midfielder Mohamed Elneny, 23, has revealed his happiness at his impressive start to life with the Gunners, saying that he's "joined a big family" in north London.
The Egyptian international, who joined from Swiss side Basel in January, has settled in quickly and established himself as more than just a squad player. Having won two successive Vitality awards for being Arsenal's Player of the Month, he spoke to the club's website about how he's settled in so quickly.
Everyone has been welcoming, reveals Elneny
As quoted by the club's official magazine, Elneny said that "everyone has been so welcoming" ever since his arrival, which has made his life "a lot easier" and consequently helped him to adapt quickly at the club. He also said he considers all first-team players as "brothers", and is "really happy about life" in north London.
Communication also beneficial experience
He also revealed that everybody around him speaks English, which consequently helps to improve his "language skills." In contrast to Switzerland, they "tend to speak German most of the time, and only a few spoke English."
He spoke about Francis Coquelin, his holding midfield partner, and how the pair have "developed a strong partnership", not only on the pitch together but also off-the-pitch too. Elneny likened himself and the Frenchman to "family members", as they sit next to each other in the dressing room and "joke a lot" as well as this.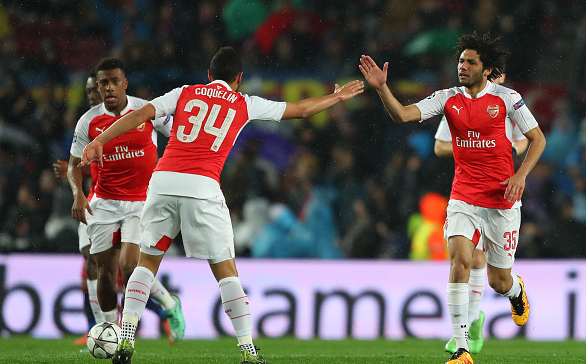 On the pitch though, they're keen to "cover for each other" whenever one of the two has decided to press an opponent.
"The unique relationship shared by the players off the pitch helps improve the team spirit in general, and is crucial to performances."
Many suggested that it might take a few months for Elneny to acclimatise to the rigours of the Premier League - but he said that he was solely thinking about how he'd "become a key midfielder, and important player" for the club. As for his playing style, he's opted to shoot less often in England as opposed to his time playing with Basel - saying that it "sometimes doesn't suit" the current style of play that Arsenal adopt in games. Arséne Wenger has already "taught" him to be more of a team player, as well as being intelligent when taking shots on-goal.
"I also paid attention to my team-mates and took their advice: that has helped me to improve."
Quotes' source: Arsenal's club website