Arsenal's pain has been Leicester City's gain this season as the Foxes have outgunned the Gunners and delivered their first ever Premier League title.
After Danny Welbeck's late Valentine's Day goal, it almost looked destined that Arsenal would break their 12-year wait for a league championship, however, it was the losers that day that would have the last laugh in May.
The autumn months looked promising for Arsenal, they played some of their best football, putting five past Leicester and three past Manchester United in back-to-back weeks however, losing key players in a 1-1 draw at Norwich City in late November and a resulting drop off in form proved costly.
However, it hasn't just been injuries that have plagued Arsenal this season.
What's gone wrong?
Defensively, Arsenal have been poor, especially in the second half of the season, although they've conceded the same amount of goals as Leicester, the results have been far different post-Christmas.
3-3 draws with Liverpool and West Ham, a 2-2 draw with Tottenham and a 3-2 defeat at Old Trafford from a youthful Manchester United have been the worst results of 2016 in terms of goals conceded, coupled with a shock 4-0 defeat at St. Mary's on Boxing Day at the hands of Southampton and you have to question how good Arsenal's back four really is.
Champions Leicester have seen out 11 clean sheets since the New Year, four of those were consecutive 1-0 wins at the most telling point of the season.
In the same four game spell, with the title slipping away, Arsenal dropped leads at White Hart Lane, Upton Park and at home to Crystal Palace.
They say defence wins championships and in Leicester & Spurs above Arsenal, they certainly have championship winning back lines and although Arsenal can boast two of the best fullbacks in the league in PFA Team of the Year's Hector Bellerin and fellow Spaniard Nacho Monreal, the back four doesn't operate as a solid base.
Too often they leave themselves exposed as seen by the mistakes of Per Mertesacker and Gabriel over the season that has caused Arsenal to drop vital points when they can least afford it.
Leicester's back four is clearly the sum of it's own parts, none of Danny Simpson, Robert Huth, Wes Morgan or Christian Fuchs are particularly world class alone but put together they have been one of the most well-drilled units of the Premier League era, of the 34 goals Leicester have conceded, only nine have come after Boxing Day.
It's reminiscent of George Graham's famous back four, outside of captain Tony Adams – who won 66 caps and captained England, none of the Arsenal back four under Graham were outstanding individually but collectively they were the backbone of three league title successes under Graham and Arsene Wenger in 1989, 1991 and 1998.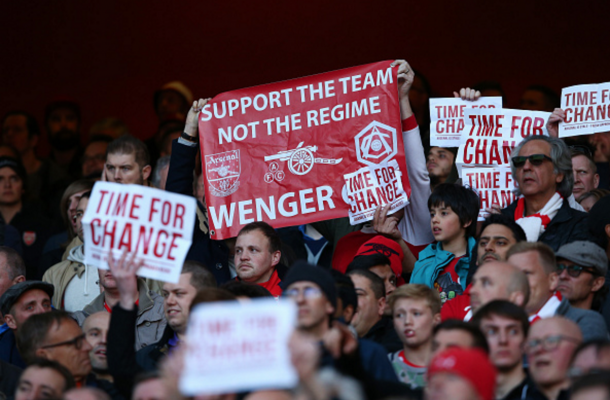 But it isn't just the back four that's made Leicester champions over Arsenal; they've also had a stable midfield partnership of Danny Drinkwater and N'Golo Kante in front of them that has be tireless all season going forwards and back.
Arsenal had stumbled upon a partnership that worked in January 2015 when they partnered Francis Coquelin and Santi Cazorla together against Manchester City and when it delivered another FA Cup success in May it looked like it might deliver more the following season.
However, Coquelin's game has suffered greatly since Cazorla's injury in November as well as recovering from his own and the unstable partnerships involving Mathieu Flamini, Aaron Ramsey and lately Mohamed Elneny have all had their own problems.
Flamini – too reckless, Ramsey – not composed enough, Elneny- adequate but not world class and not aided by those next to him.
They simply don't have the same tireless energy, tactical nous and positional awareness that Drinkwater and Kante have shown all season, instead Arsenal's midfield looks like two players forced to play with each other rather than a duo that instinctively knows where their partner is.
It is always helpful when you have two top goalscorers to bail you out however.
Jamie Vardy and Riyad Mahrez are both within the top five goalscorers this season with 22 and 17 respectively, Arsenal can boast Alexis Sanchez and Olivier Giroud who are joint eighth with 12 each but again the Gunners don't have a goal scorer over 20 league goals.
Time for a change in style?
However, Vardy's goals come from a style of play that's in vogue once again, quick counter-attacks, it's reminiscent of how Arsene Wenger's early Arsenal teams used to play.
However, 2016 Arsenal doesn't have a set style, they're not necessarily a possession-based team because they don't dominate and retain the ball like FC Barcelona and Bayern Munich does and they're certainly not a counter-attack team.
Instead they're a slow, pedantic and limited penetration team, everything Arsenal does is slowed down and easy to defend against.
Whereas Leicester like UEFA Champions League finalists Atletico Madrid is fast, fluent and cutting, when those teams break they don't wait around they go in for the kill, quite frankly, the slow build up and ball retention in front of 11 bodies is a dying art, in fact even Arsenal's best performances against Manchester United, City and Bayern Munich at home have been when they've defied it.
Long live the quick counter attack.