Arsenal captain Mikel Arteta announced his retirement from football, following a dubious final day goal against Aston Villa.
The uncapped Spanish midfielder is out of contract at the end of this season. He came on as a late substitute for Mesut Özil and saw his late effort tipped onto the post and deflect off the back of Villa goalkeeper Mark Bunn for Arsenal's fourth goal.
A great way to depart
It will most likely be awarded as a Bunn own goal but for Arsenal fans and Arteta it will feel like a perfect fairytale ending.
Arteta, who is fully expected to move into coaching following his retirement, said: "I was very scared about this day because 99 percent, that was my last game as a professional footballer." He added, "It's going to be hard for me to move on, but I really enjoyed today."
It is expected the 34-year-old will join incoming Manchester City manager Pep Guardiola as part of his backroom staff next season, who was a big influence in his career.
Arteta joined Arsenal in September 2011 from Everton on transfer deadline day - following the departures of former captain Cesc Fabregas and Samir Nasri - and would go onto make 148 appearances and score 16 goals in his five years at the club.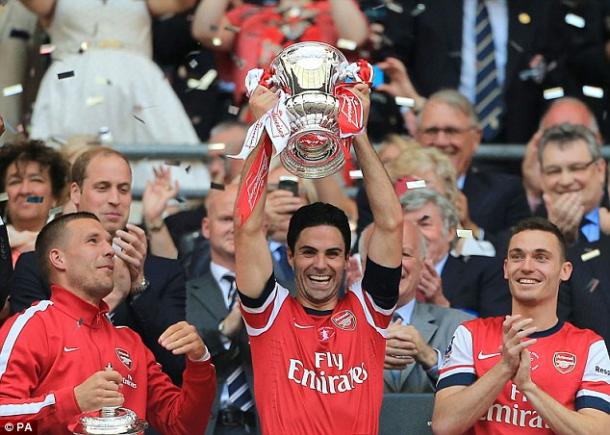 Barcelona beginnings
The Spaniard started his career at FC Barcelona in 1999, making a handful of appearances for Barcelona C before being promoted to the B team. He made 53 appearances and scored five goals.
Two-year spells at Paris Saint-Germain and Glasgow Rangers followed, where he was part of Rangers' Scottish League and League Cup double winning team in 2003.
After a brief return to Spain with Real Sociedad, he moved to England as part of David Moyes' Everton where he was voted Everton Player of the Season two years running in 2006 and 2007. He also beat out PFA Player of the Season, Cristiano Ronaldo, as Sky Sports' Midfielder of the Season in 2007.
Upon moving to Arsenal, Arteta was handed the vice-captain's role in his second season following the departure of captain Robin Van Persie in 2012. With the Dutchman's successor, Thomas Vermaelen, reasonably limited in 2013-14, he would hold the captain's armband for most of the season including the 2014 FA Cup final – Arsenal's first cup success in nine years.
Arteta was finally made official Arsenal captain in 2014 following Vermaelen's departure to FC Barcelona, but his final two seasons in North London were plagued by injury with the Spaniard unable to make more than 10 league appearances in either season.
His contributions cannot go unrecognised, helping Arsenal with his composure on the ball and defensive acumen at a very difficult time for Arsenal's midfield following the departure of two key players and loss of Jack Wilshere to injury in 2011.