Allow your mind to wander back towards the 2013/14 season. Arsenal are leading the pack at the top of the Barclays Premier League title, Mesut Özil is a Gunner and the club are on course to win a trophy for the first time since the FA Cup in 2005.
Lost in the midst of all of this is was the emergence of the latest prodigy from the youth team. Serge Gnabry burst onto the scene in the autumn of 2013; making his first start in the league for the club in a 3-1 win against Stoke. The young German continued to be a bright spark in the Gunners' attacking machine with his appearances, and was nominated for the Golden Boy Award. He was also linked with a call-up to the Germany squad for the 2014 World Cup as the "joker in the pack".
It's been over two years since the 20-year-old has featured in the first team. So where did all go wrong for Gnabry? Can he still come good on his undoubted talent?
Injuries
The first thing that Gnabry struggled with was injuries. He's not an injury prone player for the most part but was very unfortunate towards the tail end of his breakthrough campaign. The versatile attacker picked up a knee on 2 April 2014 and this led to him missing eight games and the end of the season. He timed his return for 18 April 2014 but upon coming back immediately injured the same knee he had injured six weeks prior.
Gnabry missed out on a majority of the 2014/15 season as a result and was unable to consolidate his place in the team. The roles he had previously enjoyred has been taken by a phenomenal Alexis Sanchez, a returning Theo Walcott and the ex-Southampton talent Alex Oxlade-Chamberlain. While all the German could do was bemoan his luck from the treatment table.
Gnabry was back and ready for his spot in the side in the summer of 2015 but Arsene Wenger thought he'd be better placed off out on loan for the year.
Unfortunate loan spell
Gnabry was shipped out to West Bromwich Albion in August in a bid for him to get some first team football. The move was questioned by a few Arsenal fans at first. West Brom have a style so diametrically opposed from the stuff Arsenal show at the Emirates that it just seemed a poor fit all-round when it was confirmed. This was swatted away by some – they claimed that Tony Pulis would be expanding his style of play like he tried to at Stoke after he consolidated the team in the division.
Things got off to a really nice start for the young German; he made his debut in a 3-2 defeat to Chelsea in late August. He showcased his flair with a roulette to completely take ex-Gunners captain Cesc Fabregas completely out of the game with his first contribution of the match – to the delight of the Arsenal faithful.
This was as good as it would get for Gnabry though; this 12 minute cameo was his only appearance for the Baggies. After nearly a year out and no first team football the youngster was left lamenting his fate once more. He pleaded for Arsenal to cut his loan short but the North London side were reluctant to do so.
He eventually returned to the club in January 2016 but again didn't get any first team football.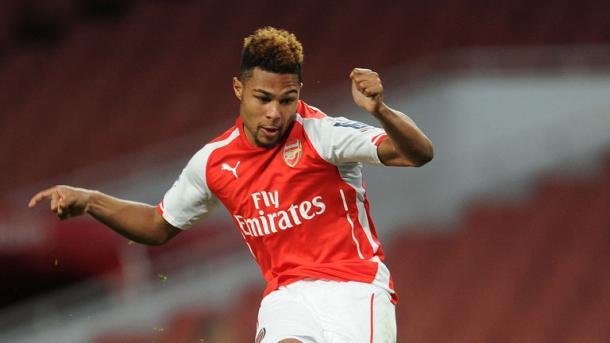 What's next?
Despite so much drama going on around him throughout his career; Serge is still just 20-years-old. A player of his undoubted talented can easily get through this extended difficult patch and establish himself as an even better player as a result. He has three years left on his current contract at Arsenal and will have to get his head down to get the staff back onside in his bid to become the star everyone once believed he could be.
What's most likely for the 2016/17 season is another loan. Hopefully this time more consideration is put into the club chosen. Off the top of my head; I feel like a switch to South Wales and Swansea would do the youngster a world of good. They play a good, attacking style of play and could do with some reinforcements going forward.
As well as the game time he'd most likely get he'd be able to work with another versatile forward who shares the same Ghanaian descent in Andre Ayew. The now former-Marseille midfielder would be an excellent influence in Gnabry and a good experience that could, perhaps, convince him to switch his international allegiances to the Black Stars. A move similar to how another Arsenal starlet, Alex Iwobi, who declared for Nigeria over England.
If a good domestic move doesn't come up perhaps a move back to his homeland could be on the cards? Borussia Monchengladbach could be in a position where they need to strengthen with Granit Xhaka, Mahmoud Dahoud, Havard Nordveit and Thorgan Hazard all set to be signed by some of Europe's biggest clubs.
Overal, many still hold very high hopes for Serge and wish him all the best, whether it be at Arsenal or not.