Aaron Ramsey has been handed Mikel Arteta's former kit number for the upcoming 2016/17 Premier League season.
The Welsh midfielder had recently held the number 16 shirt ever since joining Arsenal from Cardiff City in 2008 but, with Arteta now retired from football, Ramsey has now taken the former captain's number.
Francis Coquelin was tipped to take the number 8 shirt ever since Arsenal announced the signing of Granit Xhaka on Tuesday, who is likely to take Coquelin's number 34, but Arsene Wenger has entitled the famous number to Ramsey.
An iconic number
Arsenal have had a great track record of number 8's over the club's long history. Ian Wright donned the number for seven years as the former Crystal Palace striker became Arsenal's second highest goal scorer of all-time, and Invincible Freddie Ljunberg also wore the decorated number when Arsenal went the entire 2003/04 season unbeaten.
Arsenal cult hero Alan Sunderland, who famously scored the winner in the last few moments of the 1979 FA Cup final to beat Manchester United 3-2, also wore the number 8 shirt during his time at Arsenal.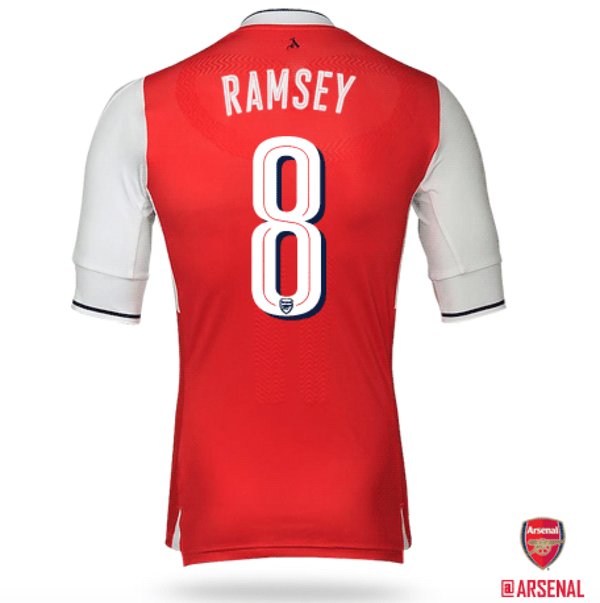 Plenty of numbers changing hands
Ramsey is not the first player to receive a new number shortly following the release of the new kit. Alexis Sanchez has taken Tomas Rosicky's number 7 shirt after the Czech Republic captain finally called time in a 10-year stint with the North London side.
More number changes are expected to happen over the course of the summer, with Petr Cech rumoured to be given the number 1 shirt after wearing number 33 for his debut season at the Gunners. Coquelin is also set to be given a new number due to the arrival of Xhaka.
Arsenal have said that anyone who pre-ordered a Ramsey 16 shirt shortly after the announcement of the 2016/17 kit will be contacted by the club.