When news broke last Friday evening that Arsenal had triggered Jamie Vardy's release clause at Leicester City, the footballing world was rocked.
Up to that point, the main focus of attention regarding exits at the King Power Stadium was midfielder N'Golo Kante. The Foxes have been shaken to the core with a move that is as eyebrow-raising, as it is potently explosive.
As Vardy jets off with England to their Euro 2016 base in Chantilly - if the former Fleetwood Town man does move - it could be that Mesut Özil is the one that takes him, and Arsenal, to the next level.
Vardy arrival may signal change of tactics
On the back of a 24-goal Premier League campaign - one behind Sergio Agüero and Harry Kane - Vardy has become a rarity; a proven, English top-flight goal-getter. That appears to be quite the magnetic force for Arsene Wenger.
The Gunners top scorer last term was the much-maligned Olivier Giroud, with eight less. It's worth noting however that the Frenchman went through a three-month barren spell, arguably costing Wenger's men a longer-standing title tilt.
Vardy is a player that is the antithesis of a Wenger buy. The North Londoners have, for the best part of a decade now, relied on a possession game.
With Arsenal's continual struggles to break opposition defences down, might we be seeing a change of tactics from their most stubborn of coaches, in what could be his swansong campaign?
Özil can become Vardy dream
That is a possible scenario. Aside from all eventualities however, Arsenal have one of the finest passers in the game today in Özil. It is that weapon which could take not only Vardy but the Gunners themselves, to a higher level.
Despite reaching 16 assists after just 23 league games, unfathomably, the German failed to break Thierry Henry's assist record in a season from the 2002/03 campaign, stopping short at 19.
A lot can attributed to that fact. Not only Arsenal's number 12 Giroud, but the team's general level of profligacy as a unit toward the latter stages of the season.
Radical forward could change tale for Gunners
An alternative to Giroud, given the Frenchman's goal drought would not have guaranteed the goals and points, but as we saw with Danny Welbeck's short-live return, the fix was there.
The same is true of a Vardy arrival, should it transpire. However Özil has the wizardry to harness the very best of the 29-year-old, now in his peak years.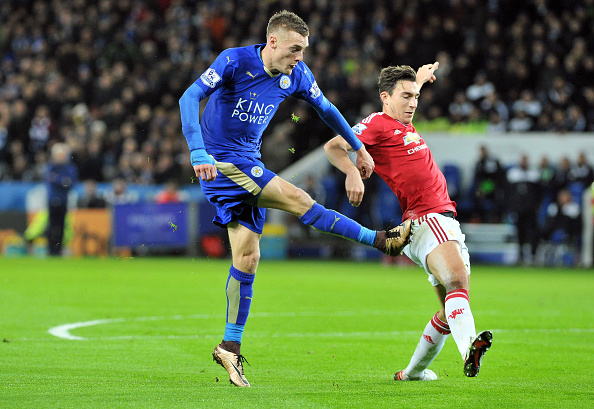 His vision in picking a pass almost like no other could be the perfect foil for Vardy, who has a penchant for playing off the shoulder with the pace he has to burn.
It is almost the opposite of the bullish, but ultimately speed-shy Giroud, who instead thrives on aerial prowess and hold-up play. The former Real Madrid and Werder Bremen maestro is just a key in his play also, but if Arsenal were suddenly blessed the gift of pace of a cheetah in the final third, Özil's contribution could yet become greater.
Following the arrival of Granit Xhaka from Borussia Mönchengladbach last month, Arsenal appear to be finally learning their lessons.
In attack, names like Pierre-Emerick Aubameyang and Alvaro Morata continue to be inexorably linked to the North London club. Just perhaps however, a move for Vardy is a more shrewd one.
For years the Gunner's fanbase have been crying out for a striker of unflinching pace, but above all work-rate. Perhaps it is testament to the progress Vardy has made in two short seasons, that a former non-league footballer could arouse the attention of a man with the philosophy of Arsene Wenger.
The bigger point, not withstanding, is Arsenal have a winning formula in the making; artistry and speed; Mesut Özil and most vitally, but still only potentially, Jamie Vardy.