With the 2016 summer transfer window officially opening today, teams have been busy concluding their early pieces of business in an effort to get everything where it needs to be before pre-season training starts.
Arsenal fans will hope this is far from the biggest headline - if indeed one could call it that - in the next couple of months, but the club today did confirm that highly-rated midfielder Dan Crowley will be joining League One side Oxford United in a deal that is pencilled in for the entirety of the 2016-17 campaign.
Early beginnings
Crowley joined the Gunners from Aston Villa in the summer of 2013, and made an instant impression, scoring two and providing four assists in Arsenal's thumping 6-0 win over Peterborough United in the FA Youth Cup.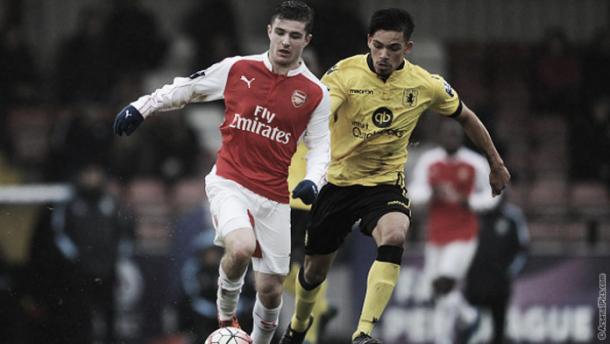 The youngster was also involved in the UEFA Youth League, making three appearances as Arsenal's under-19s reached the quarter-finals, and was ultimately rewarded with his first professional contract after 12 months at the club.
Moving up the ranks
Still only 18 years of age, Crowley spent time out on loan at Barnsley last season, making 13 appearances and netting in a 5-3 Carling Cup second round defeat to Everton. Speaking to arsenal.com in an interview earlier this year, it is a moment that Crowley describes as the "highlight of [his] career so far", and he admits that the time on loan has been "vital for [his] development".
"It was the highlight of my career so far"

- Dan Crowley
Crowley has been a key figure in Arsenal's under-21 side, but admits that he needs more time playing first-team football in order to progress. Highlighting his time at Barnsley, the youngster suggested that he has become stronger "physically" since spending time out on loan, and like many young players trying to break through the youth team ranks and into the big time, he believes that "hard work" is imperative if he is to be "the best that [he] can be".
The move to Oxford United will provide Crowley with the chance to further develop his skills and continue moving on an upward trajectory in his career. Should he be successful, his star turn against Everton in the Carling Cup might not be the last time we see this young Gunner on the main stage.