Picture this; it's the quarter final of the European Championships, Germany play Italy, it's 0-0. In the 65th minute, one man bursts into the box and makes the difference. Who? Mesut Özil. This difference making has been the story of the German playmaker's season in truth, massively influencing Arsenal's second place finish in the Premier League.
A season to remember for Özil
Özil contributed to 25 of Arsenal's 65 Premier League goals last season, scoring six and assisting a remarkable nineteen. The German has put his tremendous individual domestic campaign to the back of his mind, as he continues to dictate the play of the German national team at the Euro's.
In a recent interview with French sports magazine, L'Equipe, Özil discussed his former Real Madrid teammate and three time Ballon D'or winner, Cristiano Ronaldo. The German didn't spend his time admiring the Portugese goal getter, but instead formed a rightful comparison between himself and the notorious number seven.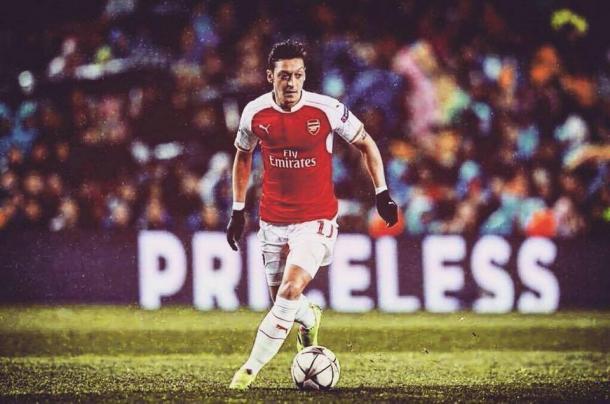 Ronaldo and Özil - a perfect partnership
"Cristiano Ronaldo is obviously very ambitious, but so am I," the German stated, "Personally, I am not as hungry for goals like Ronaldo. But that's only normal. He is an attacker." Özil began.
"For me, scoring goals and providing assists is the same. They both win you matches," a statement backed up by evidence - Özil's instinctive looping cross to find the head of Danny Welbeck in the final kick against Leicester - perhaps the most memorable.
Özil went on to form a double comparison between him and Ronaldo, claiming they are both "perfectionists on the pitch". Having completed a 99% pass completion rate against Northern Ireland at the Euro's for example, this would not be an unreasonable statement to make.
He concluded his interview with some praise for Ronaldo, as he continues to guide the Portugal national team in the tournament. "I saw that he always wanted to win everything, even on the training pitch. He is never satisfied and always wants more." Ronaldo scored the decisive penalty in the 2016 Champions League final, winning Real Madrid their eleventh UCL trophy.
There is a possibility that the two giants could cross paths in the final of the competition, as both Portugal and Germany will play for a spot in the final. At the moment, Portugal must focus on overcoming a spirited Welsh team. Germany will face either Iceland or the hosts, France, in the semi-finals.