Arsene Wenger is looking to put aside the disappointment of missing out on signing both Leicester City's Jamie Vardy and Marseille's Michy Batshuayi by joining the race for Lyon's Alexandre Lacazette and Everton's Romelu Lukaku.
The Arsenal manager had successfully met Vardy's release clause last month, but the Englishman opted to sign a contract extension with the reigning Premier League champions instead.
However both Lyon president Jean-Michel Aulas and Everton chairman Bill Kenwright have dented Wenger's hopes by trying to anchor down their star men.
Speaking yesterday to ESPN, Aulas seemed very determined to secure Lacazette's future and speculated that the 25-year-old may stay at the club he's spent 13 years at a little while longer.
"I think it is his desire, and the coach counts on him."

- Jean-Michel Aulas
That will come as good news to Lyon manager Bruno Genesio, but the seven time French champions may reconsider their position if Arsenal throw in a bid of around £38 million. It would almost certainly be cheaper than Lukaku, who has had a £75m price tag slapped on him by the Premier League giants.
That will come as a kick in the teeth to Wenger, as an Emirates Stadium source was quoted by the Sun saying that "he won't rush anything and overspend."
Reports further suggest that Lukaku may be willing to stay and extend his contract, despite showing signs of discontent throughout last season. He believes that the side may finally break into the elusive UEFA Champions League spots with new shareholder Farhad Moshiri's influence.
Any potential signings will apparantly not hurt current marksman Olivier Giroud's future at the North London club, the source saying that the French star is "very much in Wenger's plans." after scoring 24 goals in the last campaign.
But the dark cloud that hangs over Giroud's head will not be easy to shift; the 29-year-old has been criticised for his inabilty to score regularly, given the chances he is presented with. Most pertinently, this led to a three-and-a-half month barren run at the beginning of 2016, which many believe cost Wenger a first Premier League title in 12 years.
But, how would Lukaku or Lacazette fit into Arsenal's preferred system?
Arguably, a case of being "Premier League proven" could be made for the big Belgian. Lukaku has spent the past five years in England, scoring 60 goals in 149 Premier League appearances, working out at around a goal every 180 minutes, or two games. Comparative to Giroud, it's a lower strike rate, the Frenchman scoring every 170 minutes on average in the League.
Would that be worth the extra money? One would suspect not, but one has to consider the difference in the side around Lukaku and around Giroud. There is no Mesut Ozil, Santi Cazorla or Alexis Sanchez at Everton. However, Lukaku was snubbed by Chelsea after just 10 Premier League appearances, only scoring one goal.
Whilst he may be brilliant in flashes, his goals against Arsenal in 2014 and Chelsea in last year's FA Cup is testament to that, he's no more lethal or spectacular than Giroud. A lack of consistency is most definitely not what Wenger needs.
Then there's the style. Would Lukaku's direct running compliment Wenger's 'walk it in' tactic? After spending that much money, he may be tempted to revert to a more direct, flamboyant and counter-attacking style, akin to that of the Invincibles that conquered English football for the best part of 18 months. He would certainly bring more pace to Arsenal's front line, a weakness to Giroud's game that is seized upon by many Premier League defences, leading to slow and eventually stagnant football that has boiled the blood of many Emirates faithfuls.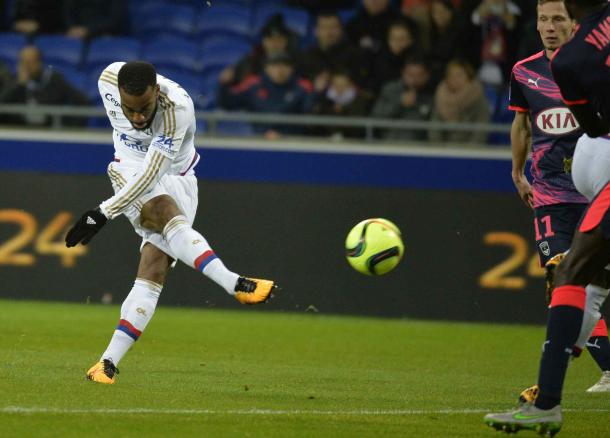 On the other hand, Lacazette in a natural goalscorer. Quicker and more agile than Lukaku, he rose to prominence after coming in off the wing (the similarities to a former French striker that is known at Arsenal are in abundance here...) during the 2013/14 season, scoring 22 goals in 54 appearances over all competitions. That was followed by a devastating 2014/15, where he notched up 31 goals in 40 games, a goal every 111 minutes; vastly superior to Giroud and Lukaku. But take this with a pinch of salt, let's compare the competitiveness of the Ligue 1 to the Premier League.
Able to link up the play and take his man on in equal measure, one would be inclined to think that Lacazette would be the preferred choice. His preferance to shoot from anywhere inside and just outside the box is encouraging too, again poles apart from Giroud's time at Arsenal. Given the right service, which he undoubtedly will be, he may just be the man Wenger's side is screaming for.
To conclude, don't expect Takuma Asano to be the only new striker walking into London Colney this summer.