The shy, timid on field figure of Mesut Özil has been banished from the Premier League by none other than the man himself. When the German signed for Arsenal back in 2013 on deadline day, he broke Arsenal's transfer fee record, and became the most expensive German footballer in history.
Under the spotlight
With a £42.5m price tag on his head, Özil was placed under the microscope of Premier League figures and opposing fans as most expensive foreign players regularly are. It seemed that every wrong move the midfielder made was the topic of the headlines on the newspapers the next day, as he appeared to be a fatigued and fragile shell of the man that was loved at Real Madrid.
Perhaps that is a bit harsh on the magician, but it would only be fair to point out the fact that he naturally took time to adapt to the demanding nature of the Premier League.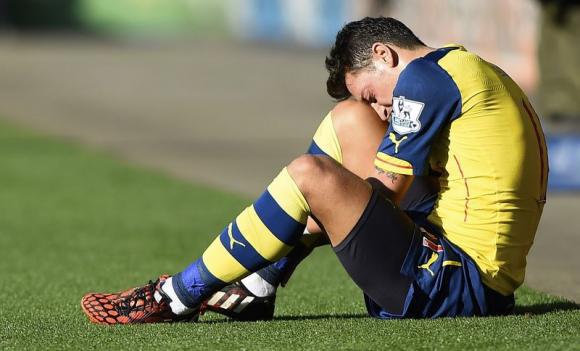 Turning point
The turning point for Özil was notably his injury in October 2014, leaving him on the side line for three months after he ruptured a ligament in his knee. The time out of action massively benefitted the playmaker, although injuries are never easy to deal with, especially when Özil was aiming to make his mark in the league that season.
During his time recovering, Özil focused on his side of the game that he never really had required in La Liga, but is an essential part of playing in the centre of the park in the Premier League. He wasn't prepared to deal with the physical ambush commonly associated with the carnage of a trip to the Britannia stadium, but he set his targets high, and focused solely on improving his upper body strength.
Özil made his comeback in January, a home game against Stoke in which he could put his new physique to practice. Fans were in shock at Özil's transformation, as his Puma tight fitting kit seemed to have been sprayed on, a positive transition as his overall game sped up as a result.
All hail the King
As for this seasons form, Özil hugely benefitted from spending his first pre-season with the gunners, as he started his admirable Premier League campaign in style after the squad's trip to Singapore.
In his first season as a red, Özil was signed on deadline day, meaning his first appearance came on the second day of the season. Preparations for his second season were put on hold as he recovered from winning the World Cup with Germany in a tremendous feat in Brazil.
Spending time with his Arsenal teammates was essential for Özil, as his performance in pre-season gave fans a glimpse of what their club paid £42.5m for…he was running the show for Arsenal.
He continued to do so, registering 19 assists and scoring six goals in the Premier League that season.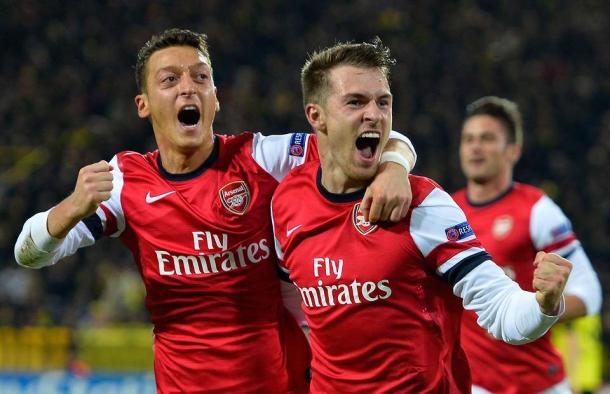 Negative Factors
Tactically, Özil's game has been stalled by those around him, before he took flight last season.
In his first season, his adapting period of course slowed down the pace of his true ability, as did the incredible form of fellow midfielder Aaron Ramsey. The dominance of a borderline world-class Ramsey pushed Özil aside, as he was unable to find his feet alongside the ravishing Welshman.
In his second season, before his injury, Özil was commonly played on the left wing rather than his favoured, and renowned central attacking midfield position. This was in some way destined to happen, following his success at the World Cup in which Joachim Löw predominantly played Özil on the left wing.
However, a left winger in La Liga/International level varies in value of the expectations of a Premier League winger; the fact being, if you don't have pace, it won't work for you. The German playmaker was unable to dictate the play of his team as he is notorious for doing, pulling the strings in the traditional number ten role.
Central attacking brilliance
When it finally clicked for Özil, it clicked, and it clicked well. He was the dominant figure of Arsenal's second place finish in the Premier League, breaking the record for the most chances created in a Premier League season – 144. Although only nineteen of his 144 were converted – painful for anyone to read – his efforts did not go unnoticed as he was rightfully crowned Arsenal Player of the Season.
It has taken a long while for Özil to live up to his expectations in an Arsenal shirt, mainly because of his heroics in Madrid that put stars in the eyes of Arsenal fans. He has certainly put his critics to shame this season, it would be incredibly difficult to criticise an area of his season, unless of course you mention the fact that he doesn't fit the admired figure of a traditional powerhouse, workhorse, goal scoring Premier League attacking midfielder.
We'll keep Özil just the way he is, performing in his prime at Arsenal Football Club.