Arsenal's Youth Academy team has been announced as one of the 16 Category One academies invited into next year's English Football League (EFL) Trophy where they shall play alongside teams from EFL League One and Two.
Formerly the Johnstone's Paint Trophy (Football League Trophy), it has been rebranded for the upcoming season and the tournament has been restructured to include a group stage and 16 Category One academy teams to accompany the 48 clubs from the bottom two divisions of the EFL.
Under the new format, there shall be 16 groups of four teams, with the top two teams advancing to a knockout round, the EFL also announced that matches in group stages that end in a draw after 90 minutes will go to a penalty shoot-out to award an additional point to the victors – both sides will be awarded at least one point for a draw after 90 minutes.
At least one of the invited academies home games must be played at their first team stadium, meaning at least one of Arsenal's matches must be played at the Emirates Stadium.
The Gunners have a proud history in youth football, last season making the FA Youth Cup semi-finals before losing 4-3 on aggregate to Manchester City.
They are also seven times winners, winning it most recently in 2009 with a team that included the likes of Francis Coquelin and Jack Wilshere who have since been promoted to the first team.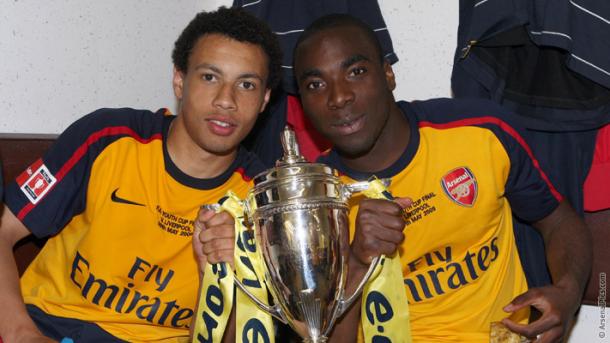 Changes come with criticism
Having been in the top flight of English football since 1919, Arsenal have never had to compete in the EFL Trophy and the changes to the competition have been widely criticised by some fans in the lower leagues as a stepping stone to controversial changes to implement a League Three in the EFL that would include Premier League Academy teams or 'B' teams.
Current FA Chairman Greg Dyke proposed the idea of including 'B' teams in the Football League in 2014, the concept would be similar to sides like FC Barcelona B and Real Madrid Castilla who have played in the Second tier of Spanish Football in the past and are used to develop players ready for the first team.
The proposals were rejected by many including Arsenal manager Arsene Wenger who argued: "The supporters of Barnet do not want their club to be stopped to be promoted because the reserve team of Arsenal is in front of them."
The other invited clubs in next season's EFL Trophy include: FA Youth Cup holders Chelsea, Everton, Premier League champions Leicester City, Liverpool, Manchester City, Manchester United, Middlesbrough, Newcastle United, Southampton, Stoke City, Sunderland, Swansea City, Tottenham Hotspur, West Bromwich Albion and West Ham United.
Each of the invited clubs must field six players who are at least 21-years-old by June 30 and the group stage draw will be made by the EFL in due course.