Arguably one of Arsenal's best centre-backs in history, and arguably the best defender in the league, is the Gunners' number six, Laurent Koscielny.
The Frenchman has served Arsenal for six years, and has recently been honoured in the club's monthly edition of the Arsenal Magazine. The 30-year-old defender is currently serving his country at the European Championships, in which the host nation take on Germany tonight.
'Ain't nobody like Koscielny'
Koscielny is a hugely rated and adored figure at Arsenal, his loyalty and commitment to the club is recognised by his heroics on the pitch by those in the stands, but his time in North London hasn't always been this perfect.
Koscielny – who is expected to be crowned as club captain – has earned his status at Arsenal. From the 24-year-old inexperienced defender from Lorient, the Frenchman has blossomed into his role at Arsenal.
As stated, things haven't always been easy for the centre-back, as back in 2010 on his Premier League debut for the Gunners, he was sent off in a 1-1 draw at Anfield for a reckless challenge.
If anything, this highlights the growth and development of Koscielny, as he is in line to take the captains armband from retired skipper, Mikel Arteta. If speculation is true, Koscielny follows in the footsteps of some other former Arsenal centre backs to have taken the armband, club veteran, Tony Adams being the most notable – ultimately honouring the services and efforts that Koscielny invests in the club.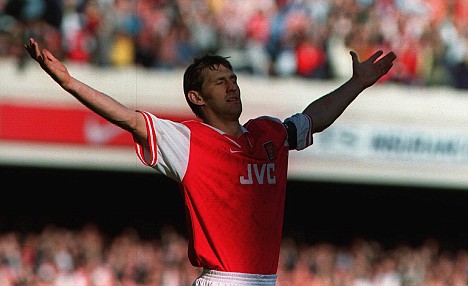 Praise from club and players
Many current Arsenal players came forward to honour Koscielny in this month's edition of the Arsenal magazine. One being the budding talent of fellow defender, Hector Bellerin. The young Spaniard began his respects to Koscielny with a bold statement, referring to Koscielny as "…one of the top centre backs in the world right now and has improved a lot in the last four or five years."
Bellerin will certainly be looking for inspiration in Koscielny's up rise in world football, as he continues to impress in Arsenal's right-back role.
Another flattering compliment came from World Cup winner and centre-back partner, Per Mertesacker. The German was full of praise for his French teammate, claiming they have the 'perfect partnership'. He added, "I've played with many good centre backs with different qualities, but Laurent, he's one of the quickest players I've ever played with."
Koscielny will come up against one of his biggest challenges tonight, as his French team clash with Germany for a spot in the final of the European Championships.
We wish Koscielny, and of course fellow gunner, Mesut Özil the best of luck in tonight's game.