Former Arsenal midfielder, Ray Parlour has recently spoken about his former club's transfer situation.
The Gunners have so far, completed the signings of two players, Granit Xhaka and Takuma Asano, but Parlour, like many others associated with the club, believe that Arsenal desperately need to recruit if they are to maintain a shot at the Premier League title next season.
Arsenal need players
Speaking to Sky Sports, Parlour began by saying: "I think they've [Arsenal] got a very good squad, I think the age of the squad is good."
With an average age of 25 years, he would not be wrong in saying so.
Parlour continued, stating that: "It's not rocket science for the Arsenal fans who they want." Going on to say, "They need another striker, Lukaku has been mentioned, Griezmann who we'd all love the see at Arsenal, that level of quality."
Antoine Griezmann is the world's man in form at the moment, scoring six goals so far in the European Championship, as the competitions top goalscorer. However, any move to any club has been all but ruled out by the player, as he recently signed a contract extension with Atletico Madrid.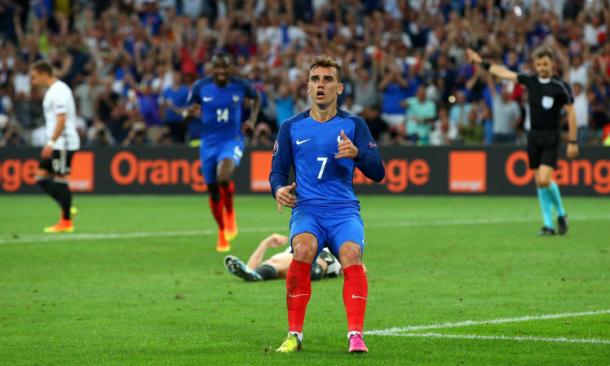 Three players are essential
Parlour went on to explain Arsenal's current situation, claiming that a striker, midfielder and centre-back is essentially needed in North London: "They need, right down the spine of the team, three players."
He would not be wrong, as Arsenal have been described as 'two players away from title winners' for around four years now.
Fellow panellists on the Sky Sports showing asked former Gunner, Parlour, what position he'd choose the strengthen if only one was possible.
The retired English midfielder was quick with his answer, exclaiming: "[It] Has to be a striker, they [Arsenal] do create chances."
He continued to explain the creative ability that Arsenal have among their ranks. "You see Özil, and the way he created chances for Germany at the Euros, he'll always create chances."
Mesut Özil alone created 144 chances for Arsenal last season, as we are aware, only 19 were converted to goals.
The search for a prolific goal scorer continues
He concluded the topic with: "Giroud is good, he's a good player, but they need someone in the calibre of a Suarez of an Aguero."
Olivier Giroud has had a great spell at the Euros, scoring three goals and assisting two, however, he has struggled on many occasions for Arsenal during his time at the club, sometimes haltering the club's ability to break into the barrier of being sincere title challengers.
Arsenal have the remainder of the transfer window to attempt to bring in some much needed players, however, whether the Gunners do or not is another question.